Cover Media/VideoElephant
Clarkson's Farm presenter and former Top Gear host Jeremy Clarkson has become the latest TV personality to speak out in defence of Phillip Schofield , as the ex- This Morning star continues to face intense online and media scrutiny over an affair with a younger male colleague.
In May, the broadcaster quit ITV before later issuing a statement via the Daily Mail in which he confirmed he had a "consensual on-off relationship" with the individual which was "unwise, but not illegal".
"I am painfully conscious that I have lied to my employers at ITV, to my colleagues and friends, to my agents, to the media and therefore the public and most importantly of all to my family.
"I am so very, very sorry, as I am for having been unfaithful to my wife," Schofield said.
Then, in an interview with the BBC's media editor Amol Rajan after revealing the relationship, he said he understood "how Caroline Flack felt" and that if his daughters "hadn't been there" for him last week, "I wouldn't be here".
He added: "They guarded me and wouldn't let me out of their sight.
Sign up to our free Indy100 weekly newsletter
"It's like a weird numbness. I know that's a selfish point of view, but you come to a point where you just think, 'how much are you supposed to take?'
"And this is how Caroline Flack felt, and it didn't stop."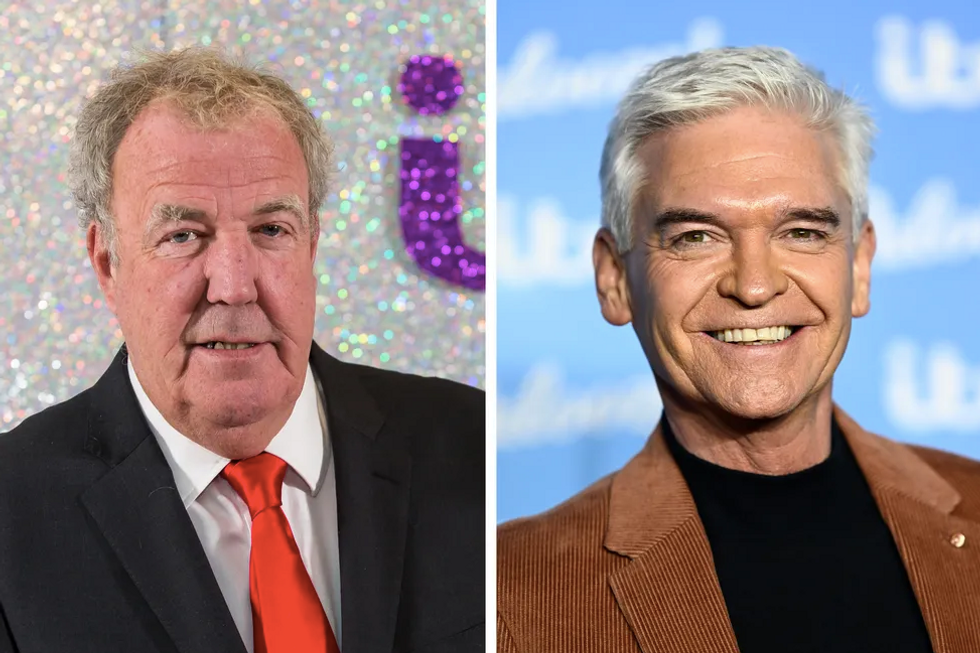 Clarkson has come to the defence of Schofield Getty Images
In a separate interview with The Sun , in which he was asked if he "groomed" the young co-worker, Schofield said he "did not".
Now, in a comment piece penned for The Sunday Times , Clarkson has intervened to argue that while he doesn't know Schofield "at all well" and has "no skin in the game", the ITV presenter "is only guilty of being what he said he was: gay".
"When it emerged that he'd actually done homosexuality, everyone went berserk. He maintains that his lover was over the age of consent when their relationship became physical, but that hasn't silenced the howls of disgust.
"And I find that weird … [We] nod appreciatively when we learn that the age gap between Al Pacino and his pregnant girlfriend is 54 years, which means that when he was starring as an old man in Scent of a Woman , she wasn't even an embryo.
"But Phil and his toy boy? Noooo. That's totally unacceptable," he wrote sarcastically.
Further illustrating the point, Clarkson went on to add the situation is somehow so unacceptable that "all the charities he's supported must turn their backs, his wine business must be wound up and, from now on, WeWontBeBuyingAnyCar.com" – referencing the car selling website Schofield once collaborated with on a marketing campaign.
"And that's just the start of it. Everyone who's ever walked past him in the street must be sacked as well.
"And those who paid his wages or sat next to him in the studio must be hauled into televised committees so that bramble bushes can be inserted into their bottoms. I've never seen a witch hunt like it, and what baffles me most of all is that, as things stand, no crime has been committed," he continued.
However, Twitter users aren't too supportive of Clarkson's remarks about a "witch hunt", seeing as he received widespread condemnation in December for a controversial piece in which he claimed he dreams of the Duchess of Sussex being made to "parade naked" in public while people "throw lumps of excrement" at her:
Clarkson's not the only person to be accused of "hypocrisy" over his comments about Schofield and a "witch hunt", either, as former Good Morning Britain presenter Piers Morgan's own attacks on Meghan were brought up following his remarks on the scandal .
"Unless Phillip Schofield's ex-lover contradicts his version of events to The Sun and BBC, then it's time to stop this relentless persecution of a guy who's lost everything and looks right on the edge to me.
"He doesn't seem to have committed any crime, and he's not a govt minister," he tweeted.
Have your say in our news democracy. Click the upvote icon at the top of the page to help raise this article through the indy100 rankings.