It's fair to say that Labour's PLP meeting on Monday night didn't run particularly smoothly.
While Blairite MP Ben Bradshaw was reported to have stormed out of the Commons committee room claiming the meeting was a "total f---ing" shambles and Bassetlaw MP John Mann labelled it a "huge joke", another told the New Statesman's George Eaton "I've never seen anything like it."
A large section of the party's MPs were reportedly upset that John McDonnell, the shadow chancellor, had announced a U-turn on Labour's stance towards proposed new rules which would require the government to balance the nation's books, a vote for which takes place on Wednesday.
While many backbenchers have voiced their anger anonymously to journalists, others have been more vocal in their growing frustration with the party's leadership.
One of those is Mike Gapes:
In a series of tweets on Tuesday, the MP for Ilford South spoke out against the leadership of Jeremy Corbyn and the huge following he has gained over the summer:
He made some very salient points about going against the leadership:
And stood up to those who abused him:
ConservativeHome editor Mark Wallace went as far to describe Gapes as the "unexpected Rambo of the PLP":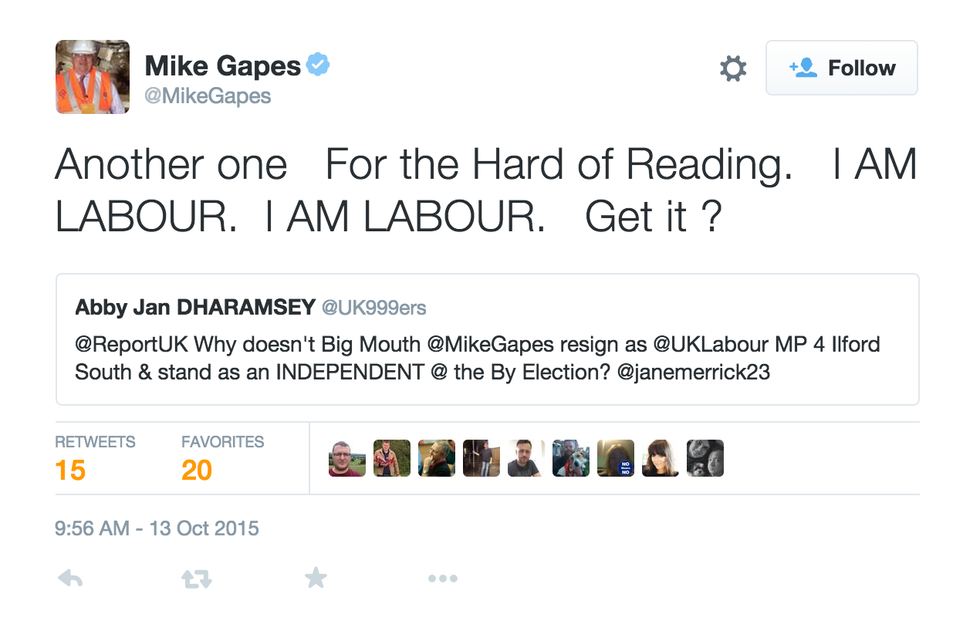 Good for you Mike Gapes:
More: What you need to know about Labour's new 'Momentum' movement