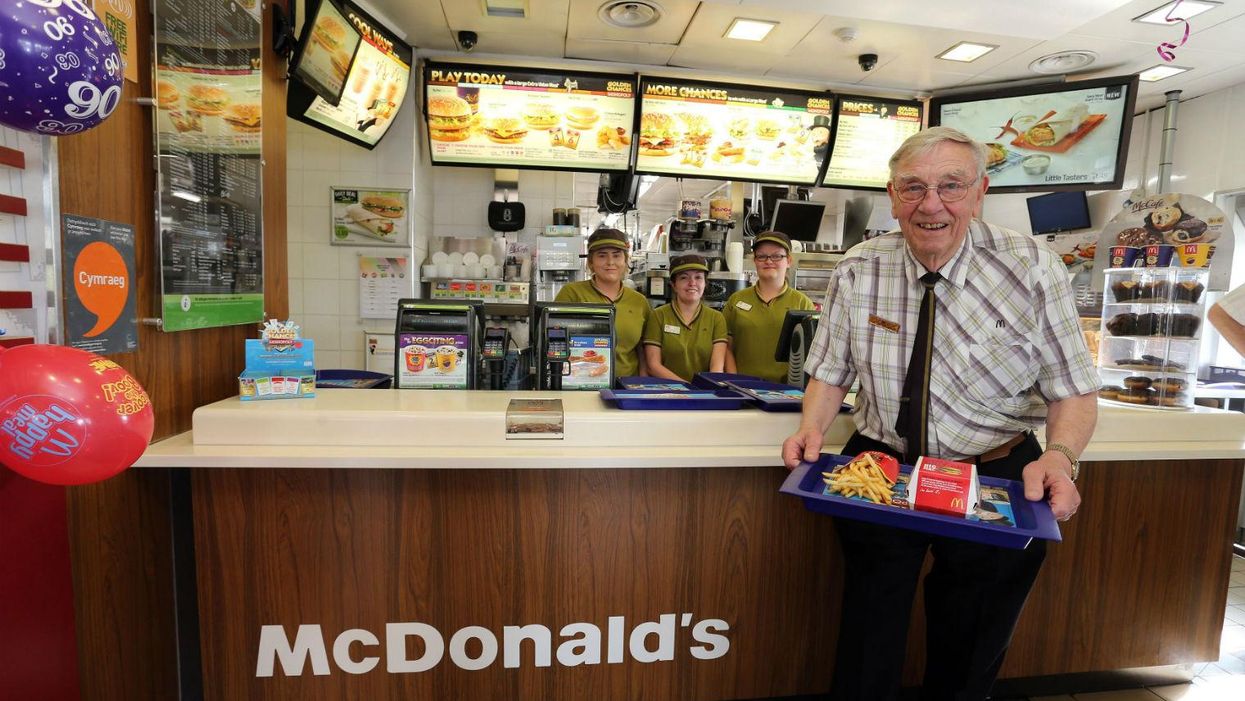 'Old McDonald had a birthday, ee i ee i…. oh…
No, not from the nursery rhyme. Bill Dudley - an employee of fast-food chain McDonald's and affectionately called 'Old McDonald' by his wife Margaret – celebrated his 90th birthday yesterday, making him the oldest employee of the fast food outlet in Europe.
What a milestone!
Dudley, from Connah's Quay in North Wales, marked his birthday with a bash at the restaurant where he works in Mold, Flintshire. But don't worry, he had more than just a Big Mac – cake and balloons were provided too.
So does he serve up the fries?
Actually, the great-grandfather joined the restaurant's customer care team nine years ago, as a part-time worker. He was previously a train driver and then a taxi driver.
Didn't suit retirement, then?
You could say that. The former Second World War navy driver, who won a medal for heroism, said that he was bored at home: "I was bored pottering around the house and my wife wouldn't let me help out with the gardening, so [I] applied for a job at McDonald's and I haven't looked back."
Bet he's thinking about putting his feet up soon, though?
Not at all. "Despite working since the age of 12, I still love coming to work. The camaraderie is fantastic and I'm really lucky to be surrounded by a great team who are like my family," he said. Last year, he told the Daily Mail: "I will carry on until I fall – I will only give up when I get too old to manage..." He also said he knew of a US centenarian McDonald's staffer.
He must be a hit with customers
Stewart Williams, the restaurant's franchisee, said that the "regular customers and crew members alike are all incredibly fond of him". Williams added: "He's fantastic with people and I admire his constant enthusiasm to do the job that he loves. We are all incredibly proud to work alongside him as he's such an inspiring member of the team. I look forward to celebrating his birthday again next year."
More: [Scotland's oldest woman attributes long life to eating porridge, avoiding men]1