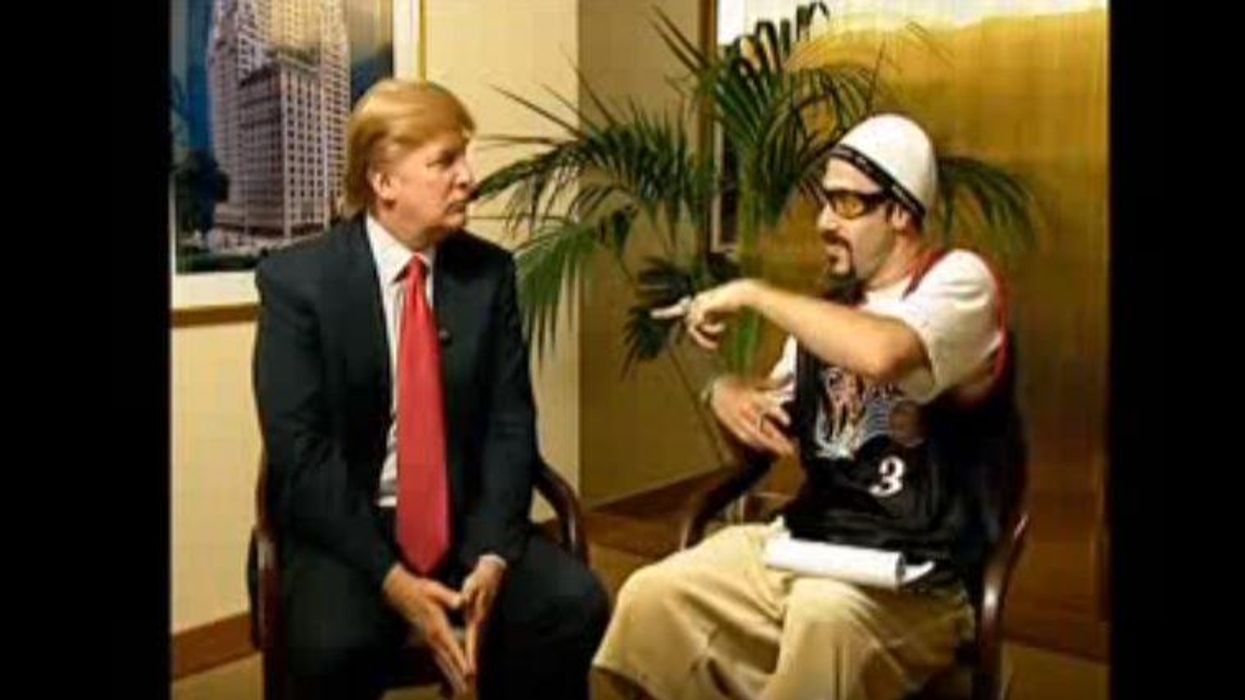 Da Ali G Show/YouTube
Back when Donald Trump was just a chap with a few billion dollars to blow, he was interviewed by Ali G.
Appearing on the James Corden Show, the actor and comedian Sacha Baron Cohen recounted his meeting with Trump in 2003.
In an episode of the Da Ali G Show, Baron Cohen, in character as Ali G pitched his idea for an 'ice cream glove' to Trump.
In the video clip, (below) Trump humours the ruse for a few minutes, but is noticeably cold and aloof during the interview.
He declined Ali G's offer to get in on the lucractive business opportunity.
Baron Cohen claims the interview lasted for a number of minutes. In 2012 Trump claimed he had walked out of the interview.
Baron Cohen rejects this claim.
Speaking to Corden earlier this year, he said:
He claims that he did [walk out]. He claims that he saw through the interview. But actually he was there for about seven minutes.
There is little love lost between the two men. In the same year Trump went after Baron Cohen over his film The Dictator and an appearance at the Oscars.
In the full tweet, Trump called for a member of the security staff at the Oscars to be fired.
Baron Cohen retold the story of the glove and his impressions of Trump.
I was the first person to realise he was a dick.
He then explained the ramifcations of this ice cream glove partnership that never was:
Anyway, he did not invest, and decided to move into politics instead.
Trump may be reconsidering the business opportunity, given the six point lead his opponent Hillary Clinton scored, in a poll on Tuesday by Fox News.
The full clip of Ali G with the Donald can be seen here. Coincidentally, it comes from the episode entitled 'Politics', series 2, episode 3.