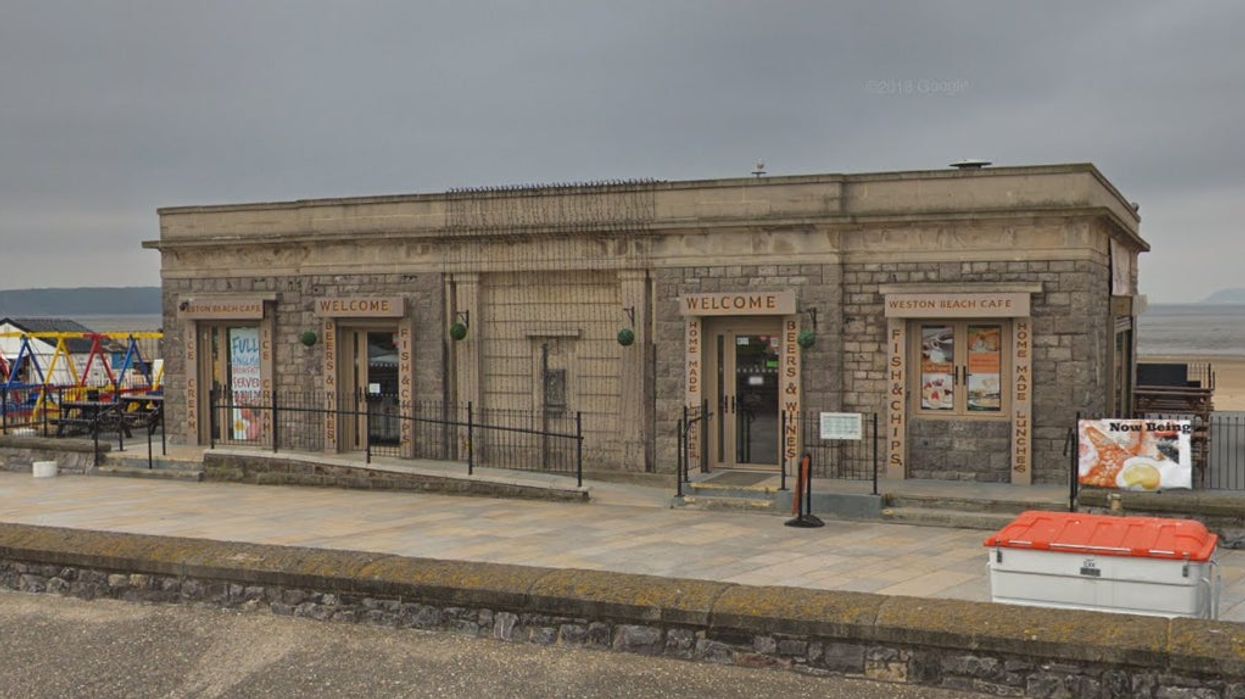 Google Maps/ Screengrab
25-year-old Lauren Monument was left feeling "degraded and embarrassed" after she was turned away from a cafe in Weston-super-Mare because she had her guide dog with her.
Lauren, who is blind, was visiting the seaside town with her husband, David and their two nephews and had agreed to meet the rest of their family at the Weston Beach Cafe on Sunday.
However, when she tried to enter the establishment with her dog, Goldie, she was refused entry by staff for 'hygienic reasons' with her dog being blamed as the cause.
She recited the incident in a Facebook post, urging people to avoid the venue at all cost.
In the post she wrote:
Would definitely not recommend the Weston Beach Cafe!

Attempted to go in with my husband and our nephews today and was denied access due to having a Guide Dog.

I tried to explain my rights as a Guide Dog owner and after having to justify why I have a Guide Dog the woman said I was not welcome in the cafe and would have to sit outside in the cold.

We tried to explain the law to them by using my official Guide Dog access denial book but none of the staff in the cafe would read it or listen to the law.

They sheepishly hid behind the counter and in the kitchen and walked away to avoid all conversation. They accepted my dog was a Guide Dog and refused entry regardless.

Access was refused on the basis it was unhygienic due to the carvery, this was despite the fact there was sufficient space at the opposite side of the cafe. This is in breach of the Equality Act of 2010.

My 8 year old nephew even chose to speak up and wanted to call the police saying "it wasn't fair".

I will be taking all the appropriate legal action required and also want to urge you to think twice about whether this is a place you want to spend your money at.

Please support me and other Guide Dog owners by avoiding this place at all costs. 

I left feeling degraded and embarrassed.

Avoid, avoid, avoid.
Within the post she included a sign that the cafe had up in a window which stated that 'small well behaved dogs' are allowed from Monday to Saturday but dogs cannot be allowed on Sundays due to a carvery being served.
The Facebook post has been shared over 500 times since it was posted on Sunday, yet the cafe has issued it's own response, stating that at no time was the dog identified as being a guide dog.
Their response reads as follows:
It is with much regret that I must make this statement concerning a person being refused entry to our café with a guide dog.

I have spoken to the waitress that refused the customer entry and she is adamant that at no time did the dog owner identify her dog as being a guide dog.

I myself asked why she felt that it was discriminatory to refuse a dog entry, at which point she identified that she is blind and her dog is a guide dog.

I immediately offered the group an inside table to which she replied, "I don't want to now!"

It is very unfortunate that the lady feels she was discriminated against. We have ALWAYS allowed guide dogs inside the cafe, even during peak season.
The Daily Mailreport that an investigation is being carried out to learn what happened on that day with a spokesperson adding:
I'm currently having the cctv footage reviewed and a copy will be made available to any parties concerned to resolve this misunderstanding.

It is understandable that the lady was very upset to be refused entry due to our dog policy, but I feel this could have been avoided had she identified her dog as being a guide dog upon entering.
A spokesperson from the UK Guide Dogs charity added that it was distressed to hear of the incident.
It is always distressing for a guide dog owner to be refused the access they are entitled to by law and we are saddened to hear about this incident.
HT Daily Mail