Sweets Way estate has been used as social housing by Barnet council for the past six years.
The north London council had leased the land, via Notting Hill Housing Trust, from private housing group Annington Homes.
But in December Barnet council granted planning permission for the land to be redeveloped into luxury flats by Annington - meaning all 160 of the families living in Sweets Way would be forced to leave.
By March 2015, the majority of the families on the estate had been evicted, with comedian-turned-activist Russell Brand attending a protest calling on the council to halt the redevelopment.
Three months on and despite a campaign supported by thousands only one family, who are resisting eviction, remain on the estate.
Barnet Homes, the housing organisation created by Barnet council, says it has offered all ex-residents alternative "suitable" housing, but if a resident turns down the offer they can be discharged from the waiting list for two years - effectively making them homeless.
Justin is one child whose family now face that very issue. His mother is a domestic violence survivor who alleges Barnet Homes tried to re-house her in the same borough as her abusive ex's sister. Barnet Homes refuses to comment on individual cases but put out a statement saying it did not tolerate domestic violence.
This is a letter written by Justin, 9, about his housing situation in April: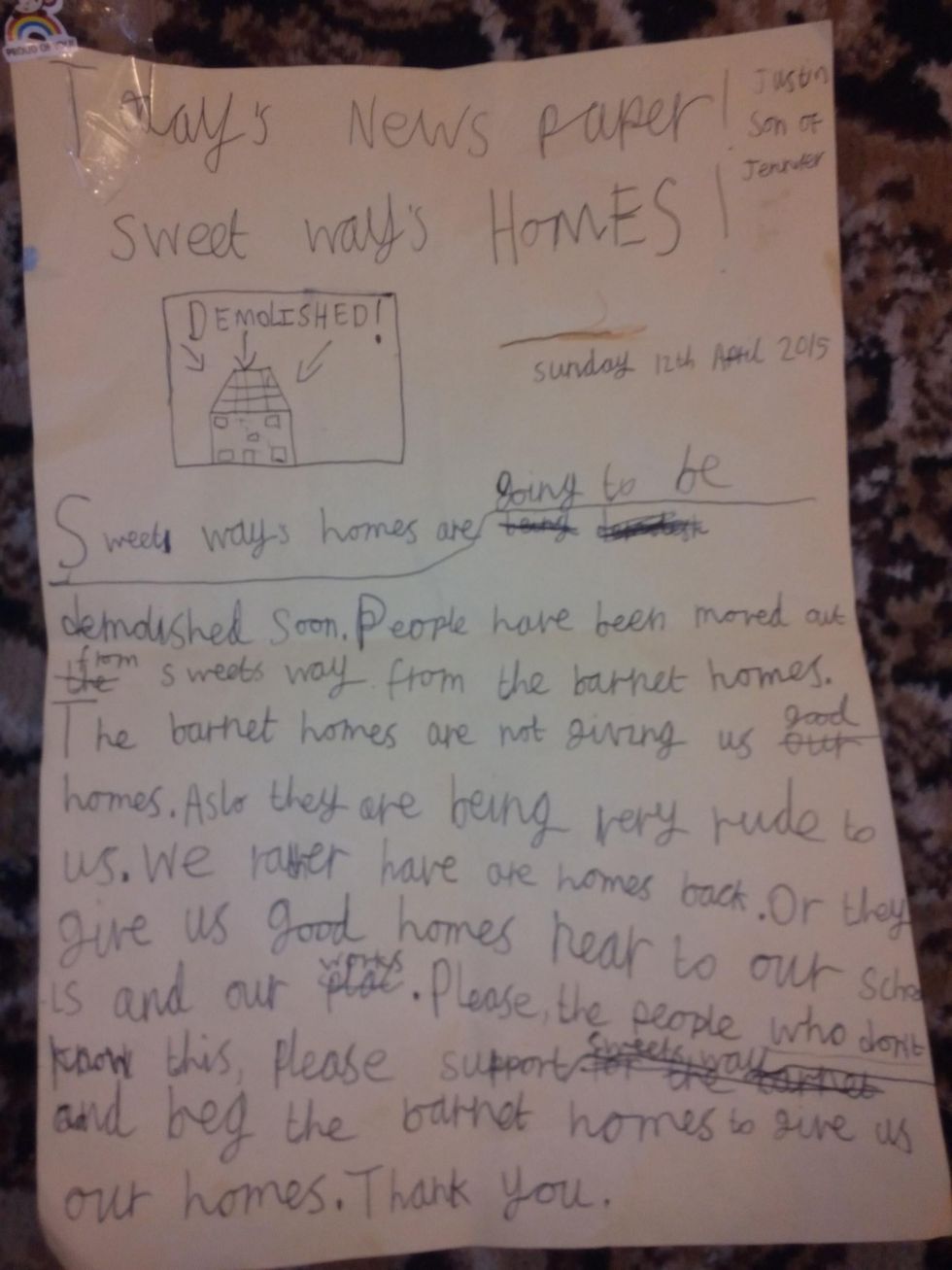 The letter, and the following pictures drawn by other affected children, were provided to i100.co.uk by community protest group Sweets Way Resist. Without passing judgment on Barnet council, we are publishing them to highlight the human cost of London's social housing crisis.
Here is a drawing by Mia, 5, who was also evicted from Sweets Way.
And art by Kauthar, 13 and Leanne, 12 who also lived on Sweets Way.
Finally a note from Daniel, 7, who was forced to leave his house.
In April The Independent revealed that more than 50,000 families had been moved out of their London boroughs in the past three years, in what has been labelled "social cleansing".
A spokesperson for Sweets Way Resist told i100.co.uk: "The emotional costs of the Sweets Way demolition on the children of the estate, certainly don't seem to have factored into the council's decision making processes when they granted Annington Properties planning permission."
Troy Henshall, chief executive of Barnet Homes, said of the Sweets Way protets: "It is very important that tenants listen to the advice of our housing options advisors, rather than other well-intentioned advice or hearsay. A lot of the distress and uncertainty we are currently supporting individuals through stems directly from their misunderstanding of the Council's 'one offer' policy. We're here to help residents understand, whilst being realistic, exactly what their housing options are."
(Pictures published with kind permission from parents. All children's surnames have been intentionally withheld)