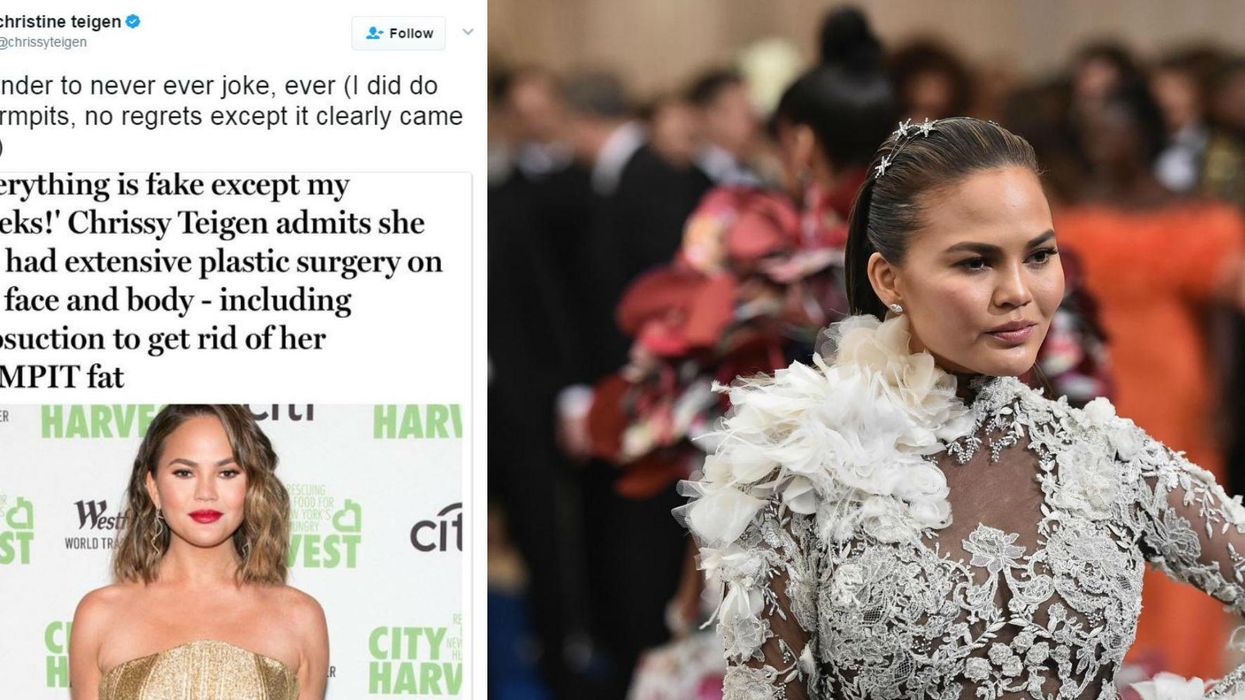 left: @chrissyteigen/Twitter, right: MIKE COPPOLA/Getty Images
People should know better than to mess with Chrissy Teigen.
Known for her strong Twitter game and sweetly intimate Instagramming, the super model's online fame has surpassed that of her husband, singer John Legend.
There was that time that she protested Casey Affleck's Oscar win, on the grounds of the sexual harassment allegations made against him...
And when she, a supermodel, shared a photo of her perfectly normal stretchmarks with this simple caption...
She even did the impossible - took down an alt-right Twitter troll with seemingly zero effort...(in case you forget, alt-right leader Richard Spencer got punched in the face and became the stuff of meme legends)
And now she has taken it to a whole new level - by dropping some knowledge on the tabloid press.
Following an interview with Teigen, a Byrdie article reported that she had revealed her plastic surgery procedures: "Everything about me is fake except my cheeks".
She also explained the "craziest beauty treatment" she'd ever received - liposuction in her armpit.
And of course, the MailOnline ran with the restrained headline:
Chrissy Teigen admits she has had extensive plastic surgery on her face and body - including liposuction to get rid of her ARMPIT fat.
The online wing of the daily paper quoted a dermatologist (who never treated Teigen) as saying it is "quite possible" that she'd had Botox.
They probably should've done their research a bit better - Teigen is known for having this thing called a sense of humour.
She recently "admitted" to Botox in her jaw...
So when she pointed to every part of her face and said "fake, fake, fake, fake," it's 'quite possible' that was also a joke...?
And then she delivers this epic comeback...
Teigen is the sass goddess you wish you were.