MANDEL NGAN/AFP/Getty Images
Following their heavy losses in the House of Representatives, the Republicans have been left a little red-faced.
Still, they strive on and despite them clearly losing a lot of seats they are still touting conspiracy theories about how the Democrats are cheating in order to defeat them.
Then really needn't spout any fantastical stories about why they aren't doing so well as you only need to look at a picture of the newly elected members of the house to see why.
For instance, here are the 31 new-elected Republicans to the house. Notice anything unusual?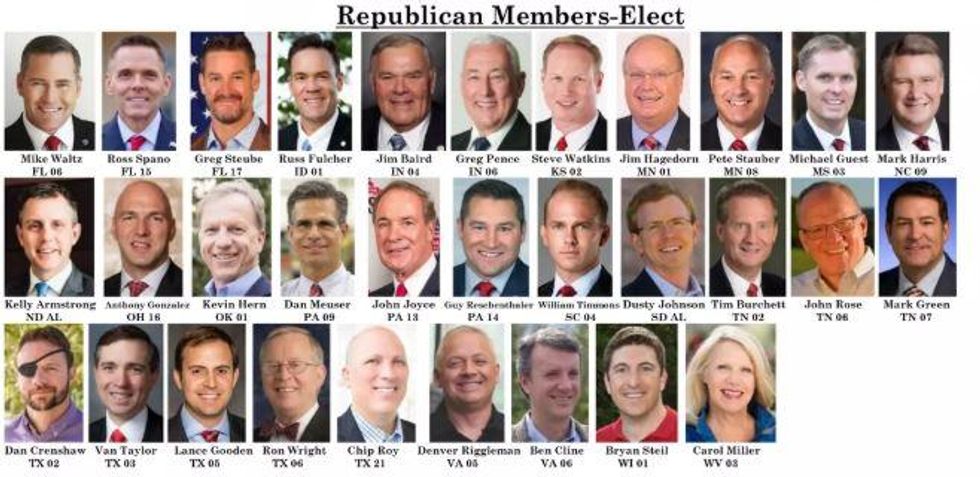 Picture: Kelly Ryan/ Handout
Not only are they predominantly older white men, but there is also just one woman, that being Carol Miller who won the vote in West Virginia's third district.
Now take a look at the 40 Democrats that were elected and see what the difference between them and their Republican counterparts are.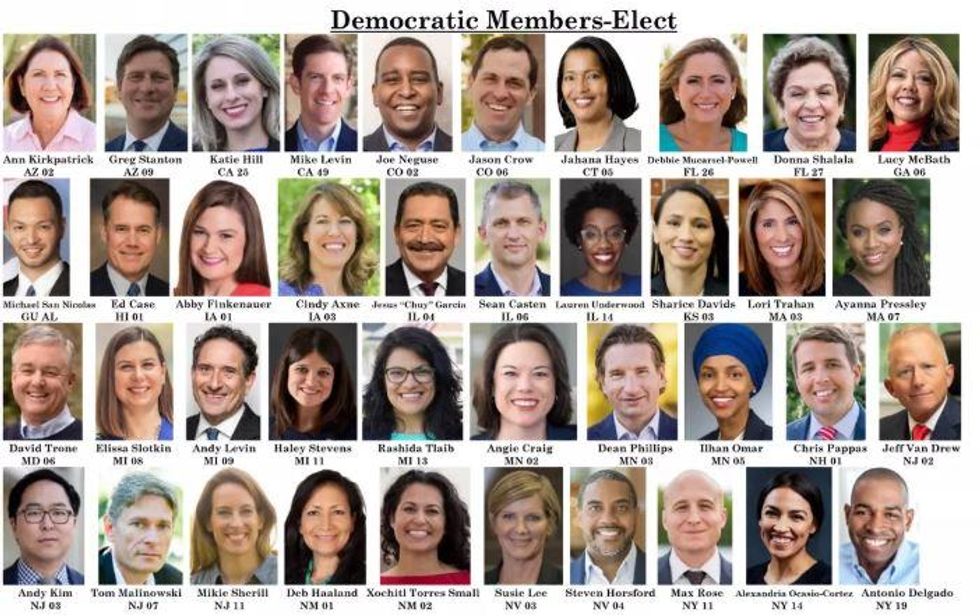 Picture: Kelly Ryan/ Handout
We don't really need to point out the obvious but the Democrats are considerably more diverse, not only in ethnicity but also in gender representation.
Of the 40 elected more than half were women and only a handful were white men.
Amongst their numbers are Rashida Tlaib and IIhan Omar, who are the first Muslim women elected to Congress.
Elsewhere there is LGBT representation from Kyrsten Sinema, Katie Hill and Sharice Davids, who was also one of two Native American women to be elected, alongside Deb Haaland.
Ayanna Pressly became the first black woman to represent Massachusetts in the house with Veronica Escobar and Sylvia Garcia becoming the first Latinas from Texas elected.
This image of the stark difference between the two parties was shared on Twitter by Washington Post journalist Erica Werner who made a point of highlighting the obvious difference.
This tweet soon went viral and people had a lot of thoughts.
Not everyone agreed that diversity was necessarily a representation of a good politician.
There wasn't a complete lack of progression on the Republican side as Kristi Noem beat Democrat Billie Sutton to become the first female governor from South Dakota to be elected.
While there are some elections that are undergoing recounts and are still too close to call, Dave Wasserman of the Cook Report, shared his analysis on Twitter where he found that the percentage of white men in the Democrats will decline, while it will increase amongst Republicans.
HT Newsweek