Around a million people are marching in a unity rally in Paris after 17 people were killed in terror attacks last week at satirical magazine Charlie Hebdo and a kosher supermarket.
Joining them are around 50 world leaders, but how much do some of those attending really care about the freedom of the press within their own countries?
Nine of those countries being represented today are in the final third of the World Press Freedom Index, compiled annually by Reporters Without Borders.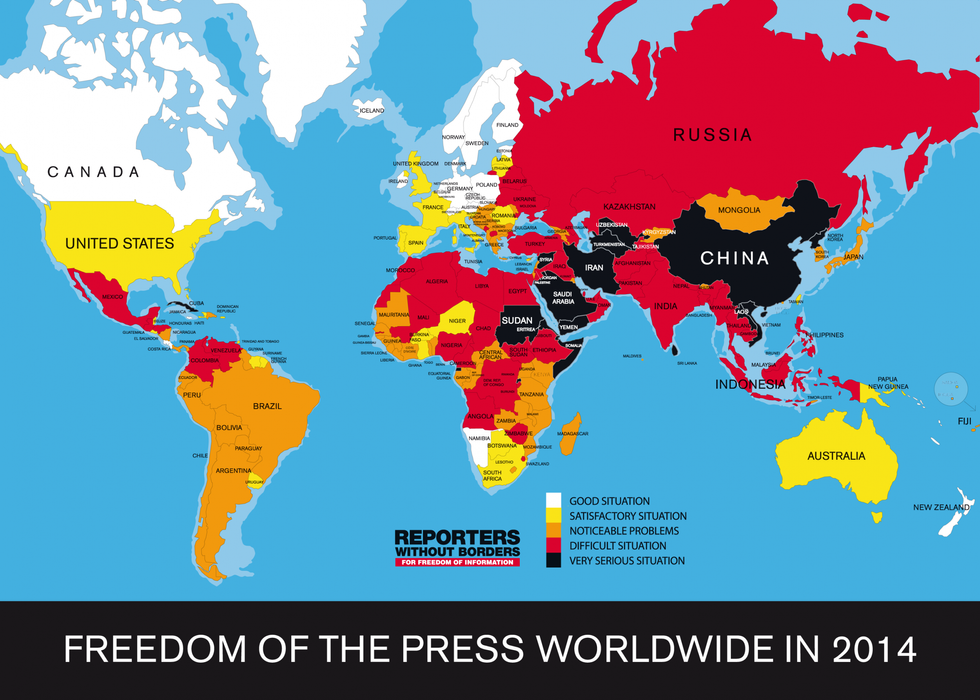 Here they are with their ranking, out of 180, on the index in parentheses:
Algeria (121)
Represented by foreign Ramtane Lamamra
Mali (122)
Represented by president Ibrahim Boubacar Keita
Ukraine (127)
Represented by president Petro Porochenko
Tunisia (133)
Represented by prime minister Mehdi Jomaa
Palestinian Authority (138)
Represented by president Mahmoud Abbas
Jordan (141)
Represented by King Abdullah II and Queen Rania
Russia (148)
Represented by foreign minister Sergei Lavrov
Turkey (154)
Represented by prime minister Ahmet Davutoglu
Bahrain (163)
Represented by foreign minister Sheikh Khaled bin Ahmed Al Khalifa and Prince Abdullah Bin Hamad al-Khalifa