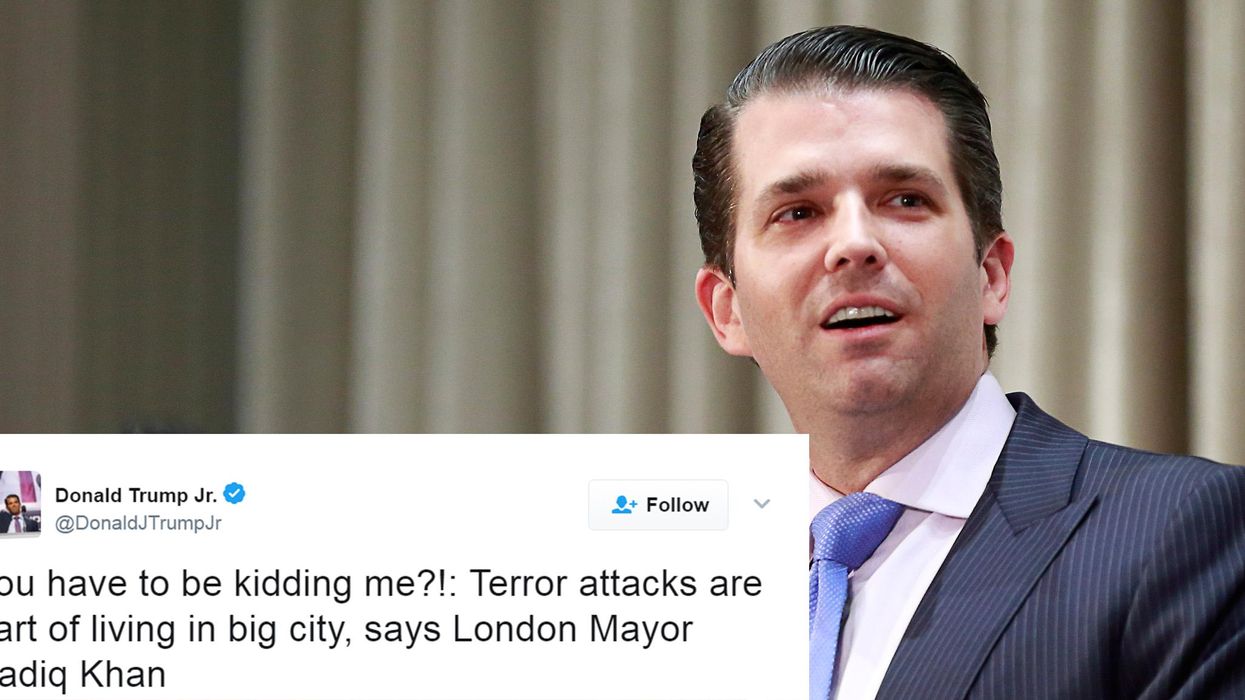 Jeff Vinnick/Getty Images
On Wednesday afternoon a police officer was stabbed and killed by an assailant outside the British Houses of Parliament .
A car then ploughed into a crowd of people on Westminster bridge, killing one woman and injuring at least 10. Three French teenagers on a school trip to London were also badly injured in the attack.
At the moment, the situation remains fluid and facts are scarce. indy100 is updating their page with exactly what we know and what we don't know throughout the evening.
Elsewhere on the internet, Donald Trump Jr, Donald Trump's eldest son, decided to share an article from seven months ago.
Mr Trump Jr shared an Independent article titled: Sadiq Khan: 'London mayor says terror attacks 'part and parcel' of living in a major city.'
His comment alongside the article read:
You have to be kidding me?!
The article was originally posted in September 2016 , and was a plea from the Mayor for Londoners to be vigilant to the dangers of living in a big city.
The Mayor told the Evening Standard that he had many 'sleepless nights' after a bombing in New York last year , and said that London needs to be prepared for these kinds of attacks.
He added:
That means being vigilant, having a police force that is in touch with communities, it means the security services being ready, but it also means exchanging ideas and best practice.
Donald Trump Jr's choice to share a seven month old article, seemingly without reading it or pointing out that it was an old quote, was received with disbelief and overwhelming denigration.
Channel 4's Ciaran Jenkins asked if Mr Trump Jr had even read the article "before goading London's Mayor during a live incident'.
Tom Coates was much more to the point:
Many other people roundly criticised him.
More: Westminster terror incident: What we know and what we don't know
Watch: London attack: What you need to know