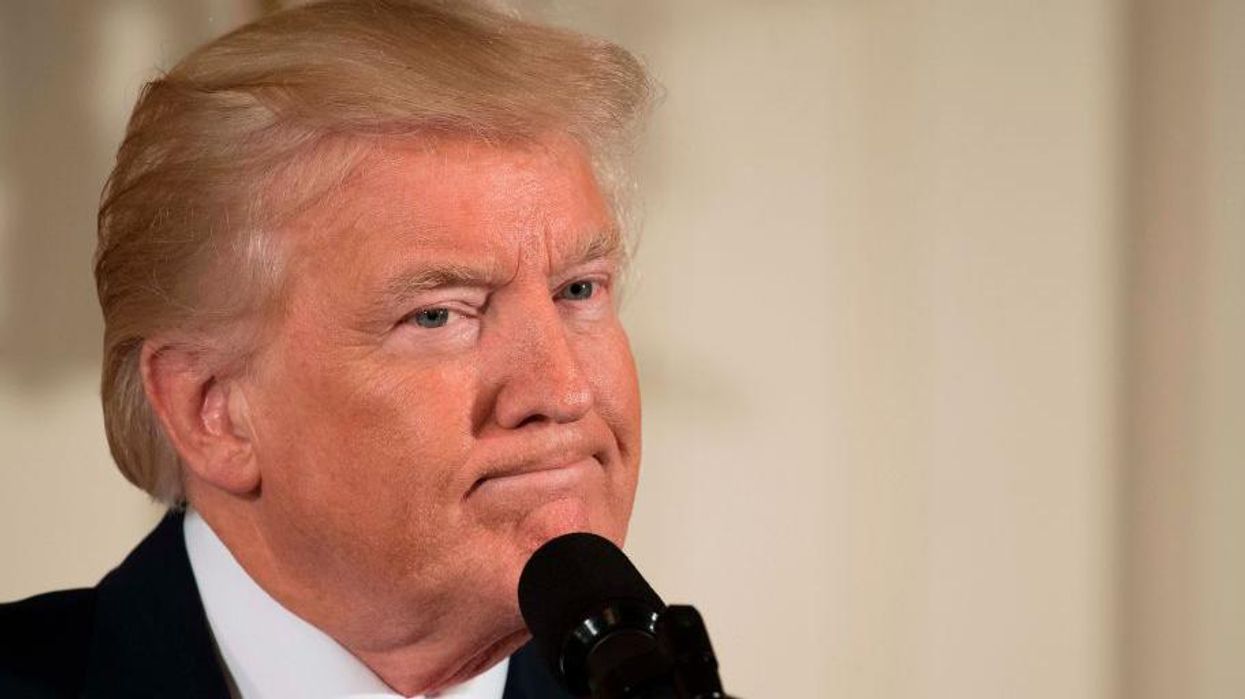 Getty Images
Back in 1997 Donald Trump became the principal of a public school in New York City.
No this isn't an awful story line for a sitcom or one of his businesses, it is actually something that happened (sort of).
In April of that year, Trump took part in The Principal for a Day program, an educational scheme that aimed to positively impact young students lives.
It also wanted to show the New York elite how the less well-off people in the city lived their day-to-day lives, in the hope that they might be more philanthropic.
Trump, who was sent to Public School 70 in the Bronx, tried to share a little bit of his wealth but it backfired spectacularly.
In a report from the Ocala Star-Banner published 21 April 1997, Trump immediately tried to win over the young student base by doing what he does best, spending money.
Addressing the school's population, most of whom were from ethnic minorities, Trump reportedly announced via a megaphone:
First of all who likes Nike sneakers?
Predictably, every hand of every child shot into the air. Then Trump unveiled his plan which sounds more like one of his old challenges on The Apprentice.
If everybody puts their name on a piece of paper right now, I will pick 15 people and I'll take you to the new Nike store that I just opened at Trump Tower.
According to the article, Trump's plan went down pretty well with the kids.
Sensing an opportunity, the future President launched into a speech about how to get rich and live the American dream.
Is there anyone here that doesn't want to live in a big, beautiful mansion?

You know what you have to do to live in a big beautiful mansion?
'You have to be rich,' a voice from the crowd replied.
That's right.

You have to work hard, get through school. You have to go out and get a great job, make a lot of money and you live the American dream.

And you're going to have fun doing it. It's a lot of fun. 
So, you have a man who inherited a fair amount from his father telling a group of kids, who mostly came from poor backgrounds, that working hard will make them rich. So far, so Trump.
The property developer's lecture quickly fell apart however, when he began taking questions from the students.
11-year-old Andres Rodriguez seemingly saw through Trump and expertly challenged him.
Ocala report that she asked:
Why did you offer us sneakers if you could give us scholarships?
Zing!
Trump was reportedly dumbfounded by Rodriguez's question and he couldn't offer a real answer in response.
The 11-year-old, whose father had passed away and whose mother couldn't work due to a disability had just stumped the future President of the United States.
Of course this was decades ago, when Trump was a real estate developer. Surely he has learned some lessons by now?
At least that's what Sylvia Simon, the real principal at that school in 1997, now hopes.
Last year she told The 74 Million:
I would have preferred that he gave the money that those sneakers cost to the (school).

It's not that you live well, and you live in a nice environment and you have made lots of money. It's the ability to put yourself in [another's] place. I hope [Trump has] learned to do that.

I'm not so sure that he — he didn't understand, to give low-income kids a lottery for sneakers was an insult. But hopefully he's learned ... it was a long time ago.
All in all Trump's visit to the school only lasted two hours before he departed in his limousine.
David MacEnulty, who worked at the school and now teaches chess at the prestigious Dalton School in Manhattan didn't give a glowing assessment of Trump either.
The thing that it really left me with was that this man had absolutely no clue about education.

He certainly had no clue where he was and who he was working with, and I just got the impression that this is a guy who shoots from the hip and whatever's on his mind at the moment is what's going to come out.