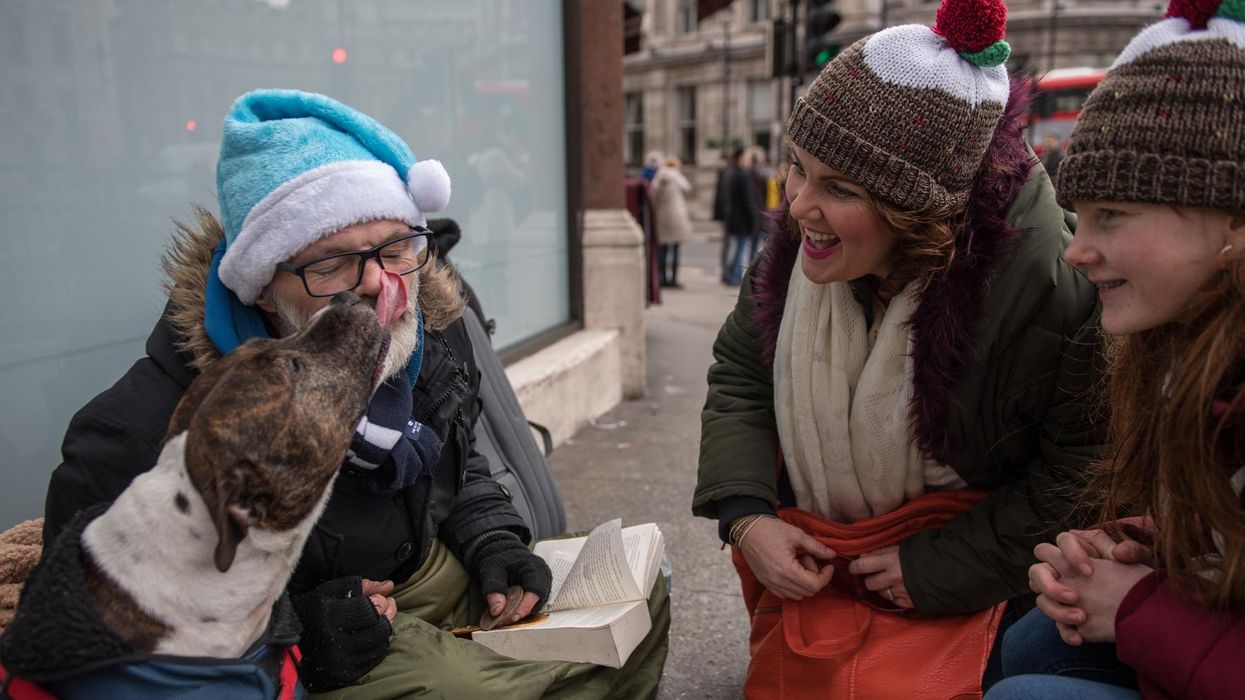 Chris J Ratcliffe/Getty Images
To some people, Christmas is a day set aside to celebrate the birth Jesus, while for others it's a great chance to take some time off work and see the people we love.
We, on the other hand, prefer to think of it as a time of goodwill to all men, women and those who identify outside of the gender binary.
A good example of this came earlier this month, when Network Rail volunteers and charity workers announced that they would turn London's Euston train station into a homeless shelter on 25 December, decking out the station's concourse with boughs of holly and laying on a festive spread for 200 of the most in-need.
It led to restaurant chain Leon - who have a branch at the station - volunteering to "help feed those in need on Christmas Day" following a Twitter exchange with a user who had a particularly good idea.
@PSJF @Pret @BurgerKing @jimwaterson YES.WE.CAN. We would love to help feed those in need on Christmas Day. We'll g… https://t.co/j2hvk1ndpO

— LEON (@LEON) 1513115437
So we got thinking; maybe some of the other major chains based in Euston station would be willing to help donate to the homeless and make their Christmas better.
As well as Leon, there are 26 other restaurants, coffee shops or outlets that sell food and drink in the rail station: All Bar One, AMT Coffee, Boots, Burger King, Café Rouge, Caffe Nero, Caffe Ritazza, Camden Food Co, Costa Coffee, Delice de France, Doric Arch pub, Ed's Diner, Gino D' Acampo, Hotel Chocolat, Itsu, M&S Simply Food, Mi Casa Burritos, Nando's, Patisserie Valerie, Pret a Manger, Prime Burger, Sainsbury's, Starbucks, The Pasty Shop, Upper Crust and a WH Smith
Whether it was through their media contacts or their official websites, we reached out to every single one of them to see if they'd be willing to join Leon. Here are the people and organisations who replied, and what they're planning to donate.
1. Café Nero.
We think that using Euston in this way to help the homeless is a great idea and we are very happy to be supporting it.
2. Café Rouge.
Café Rouge Rapide in Euston will also be participating and donating good on Christmas Day. We are in the final stages of organising the logistics with Euston station who will be collecting the supplies from the restaurant.
3. Caffé Ritazza, Camden Food, M&S Simply Food and Starbucks.
SSP UK, which runs a number of units in Euston station, including Ritazza, M&S, Starbucks and Camden Food, will be supporting Network Rail on Christmas Day by donating packaged foods, snacks and treats. 

This is a fantastic initiative from Network Rail and as one of its main retail and food and drink partners, we're pleased to be able to play our part in helping hundreds of homeless people have a delicious Christmas dinner plus extas to take away, too.
4. Costa Coffee.
We're pleased to say that we will be supporting Network Rail and will provide sandwiches and sweet treats for Christmas Day. Our local area manager has been in touch with Network Rail to organise this.

As a business, we very much encourage our store teams nationwide to get involved in local initiatives - be this donating food, time or space in store - and have policies in place to enable this.
5. The Doric Arch - Fuller's Pub and Restaurant.
We are offering 200 shower gels/toothpaste and toothbrushes, as well as soft drinks and some chocolate brownies for 200 people.
6. Gino D'Acampo restaurant.
We are actually sharing our panettones with the Network Rail station to be served on 25 December. With this gesture, we hope that people less fortunate than us can enjoy a proper Christmas Day, warm and happy, and especially in an Italian way.
8. Pret a Manger.
We can confirm that the Pret Foundation Trust will be donating food from Pret a Manger.
So if you're travelling home to be with your loved ones this Christmas, waiting at Euston station with your suitcase and a bag for life brimming with hastily-wrapped presents, think about what's going to be happening on the concourse on 25 December, and if you can spare it, consider donating your time or money to these fantastic causes:
Shelter - details can be found here.
The Albert Kennedy Trust - details can be found here.
Crisis - details can be found here.
St Mungo's - details can be found here.
The Salvation Army - details can be found here.