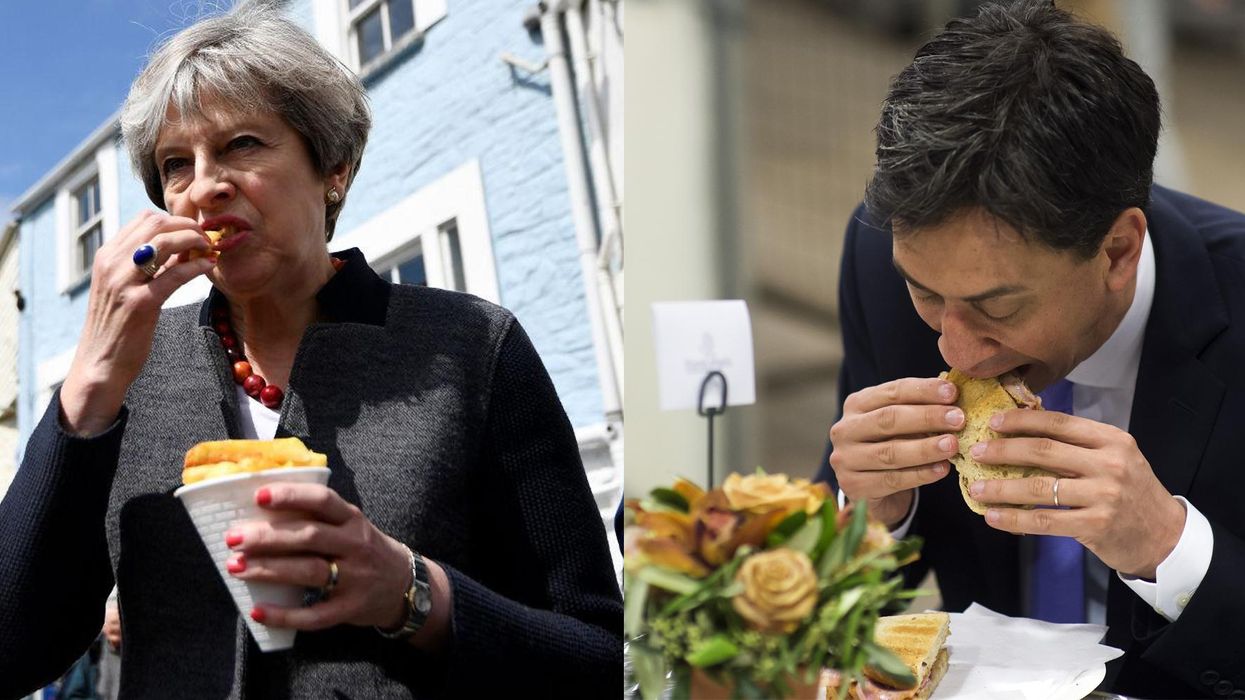 Composite picture: left: Dylan Martinez/WPA Pool/Getty Images right: Ben Cawthra/REX/Shutterstock
It's arguable that the Prime Minister Theresa May has taken on Milibandism.
Pledges to crack down on letting agent fees, promises to set limits on energy prices, which were dismissed as 'disastrous' by the Conservatives under David Cameron and his MPs, are now being adopted by Theresa May her MPs.
As there's still to be an election, it's worth remembering these are for the majority, the same MPs.
Until Tuesday, the transformation was restricted to adopting Ed Miliband's popular policies, but now the prime minister appears to be taking on his less popular features too.
For instance, being photographed eating food to the delight of journalists.
Photos of the prime minister in Mevagissey, Cornwall, went viral after the unflattering capture of her mid-chip gobble.
Before you laugh too much, nobody looks good eating chips which is why most of us eat them under cover of darkness, as we stagger home.
Enter Miliband
The comparison with the infamous bacon sandwich which summed up the problem some voters had with Ed's personality is too visible to ignore.
Picture: Ben Cawthra/REX/Shutterstock
Miliband, who since standing down as leader in 2015 has become the sass king of Twitter, responded to May's misfortune with this:
Theresa May we should talk ...
This is why he was Milibae to many.
Miliband is standing in Doncaster North for the Labour Party, and has been pictured by constituents mowing their lawn.
He's since retweeted the images of him mowing with his own captions.
Following instructions for grassroots strategy in Doncaster North
And a reference to the famous 'Ed Stone' by the Independent's Tom Peck got this response:
Yep. There's always a smart-arse that has to spoil it.