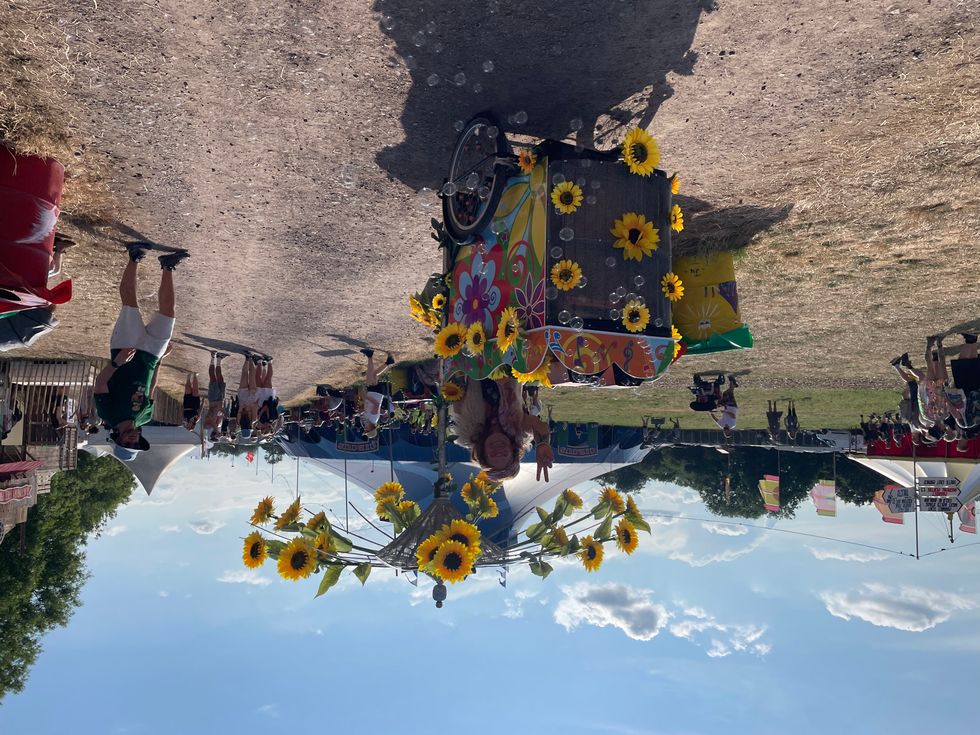 Edd Dracott/PA
A Glastonbury festival-goer who first attended the event 40 years ago has recalled friends entering then with just "a bin bag in their hand" but after "so many changes" over the years he now calls it "the most beautiful thing on the planet".
Steve Apelt, from Chiselborough, Somerset, regularly attends the music event and also makes novelty bicycles – this year donning hippy attire and attending the festival riding a bike covered with sunflowers, bubble machines and blasting hit songs from the 1960s.
Mr Apelt, who owns performance and entertainment company Steve Apelt Productions, went to his first aged 21 in the early 1980s, which he thought was "chaotic" compared to now.
"It went through that time when it was a festival when everyone was jumping the fence, and it all became a bit chaotic, to now, which is the most beautiful thing on the planet," the 60-year-old told the PA news agency.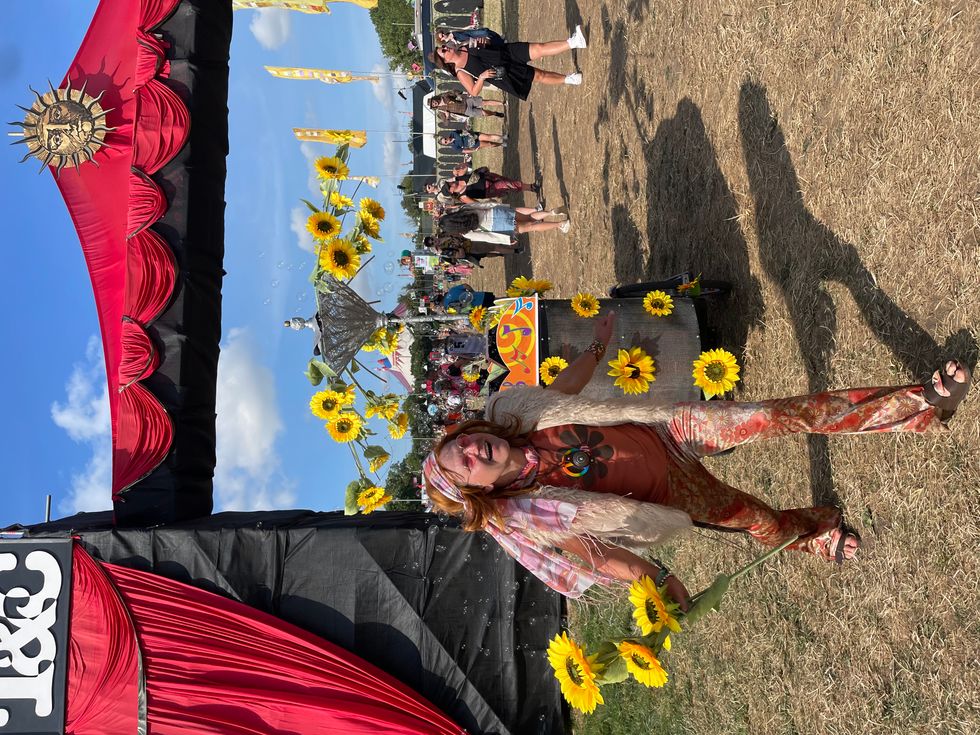 The 60-year-old from Somerset regularly attends Glastonbury to bring joy to revellers with his quirky bike (Edd Dracott/PA)
"Last night, we spent hours just walking around and every corner that you turn there's something else that's so innovative, beautiful, pretty and so many people just love it for that."
He also spoke of how easy it was to enter the festival in comparison to today.
"A couple of my friends were just coming over here with a bin bag in their hand, and coming in because in those days, dare I say, it was quite easy to come in," Mr Apelt explained.
Veteran Glastonbury goer, Ben Rogers, from nearby Wells, who has attended the famous event every year since 1978, said the festival is "simply the greatest show on Earth".
"I wouldn't miss it for the world," the HGV driver, who first attended Glastonbury aged one, told PA.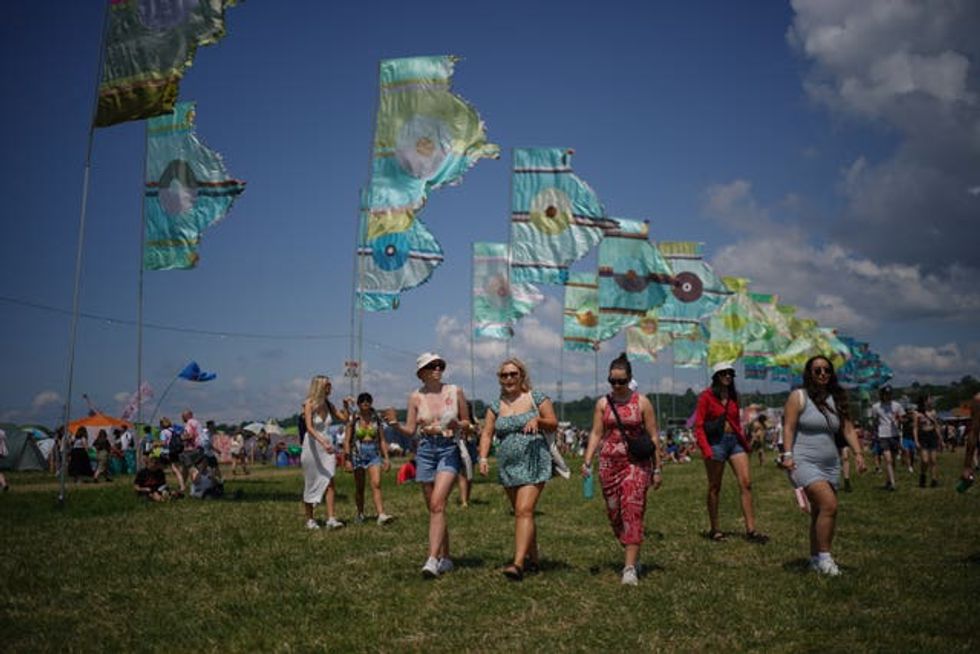 Glastonbury veterans say that the festival now is the best it's ever been (Yui Mok/PA)PA Wire/PA Images - Yui Mok
He spoke of how the site has grown into "the extraordinary scale and mind-blowing variety of entertainment you see today", which is "unique to Glastonbury".
The 46-year-old added: "Many say it's too commercial now, but for me, it's still kept that incredible vibe and atmosphere you simply can't explain to anyone who hasn't been.
"Everyone comes and instantly embraces – it's impossible not to."
Meanwhile, a pensioner who has attended every Glastonbury festival since its inception echoed Mr Rogers's viewpoint that the festival has gotten bigger than ever, but added the festival has become "quite political".
Pat Rogers, 73, a retired car technician told PA: "At my age, it irks me a little the political side of stuff as everything is in your face. Everybody has got to have a voice for something, but it's too much down your throat, in my opinion."
It's quite simply the greatest show on Earth

Ben Rogers, who has attended Glastonbury since aged one
What makes Glastonbury different from other festivals is "variation", he added.
"You don't just turn up for the groups and go home, there's so much to see at Glastonbury," he explained.
Alongside camping and watching star-studded acts light up the Pyramid Stage, regular Glastonbury attendees can enjoy artistic works such as Mr Apelt's sunflower-printed bike.
His three-wheeled bike, known as the FlowerPower hippie bike, has a large box attached to the front to hold his speaker and bubble machine, and features a bright paisley print and a large umbrella made from sunflowers.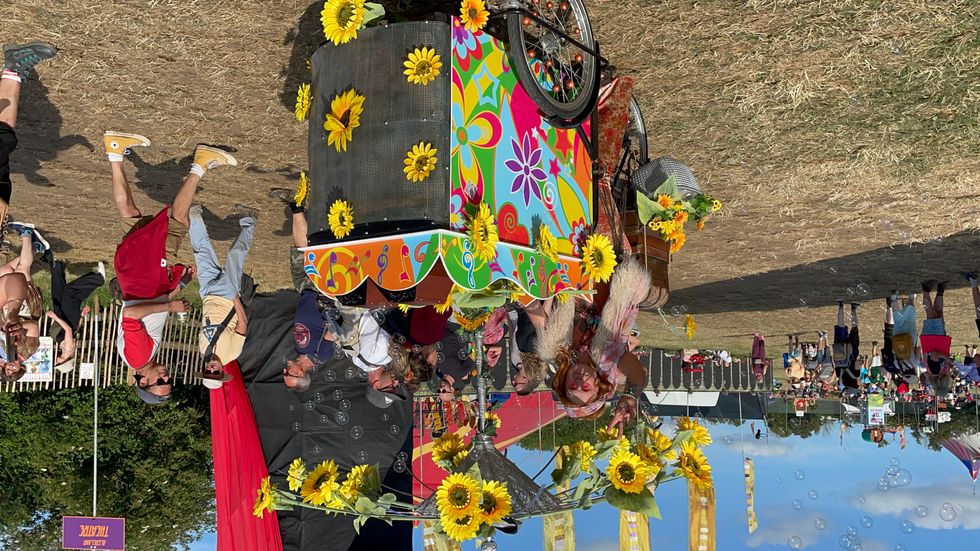 The FlowerPower bike has a bubble machine and speakers which play hit songs from the 60s and 70s (Edd Dracott/PA)
His idea to create the FlowerPower began when he spotted an unusual bicycle in Bristol.
"Over many years, I've created pieces of theatre, and I used to work with other people. Then I think it was about 15 years ago, I was in Bristol and I just I eyed up somebody with a quirky bike," he explained.
Speaking of his excitement ahead of this weekend's lineup, which includes the Arctic Monkeys and Guns N' Roses, Mr Apelt said: "Elton John has to be the big one for me."