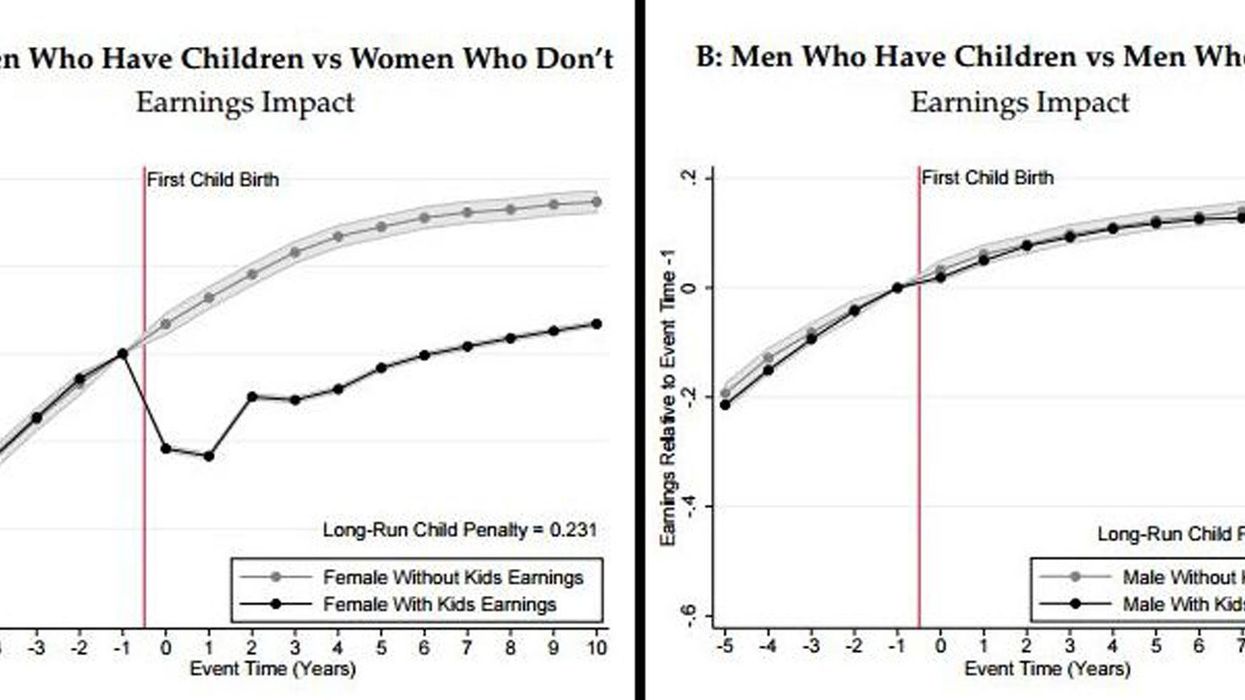 Screengrab Henrik Kleven Camille Landais Jakob Egholt Søgaard
Recent literature on the topic of gender and equal pay has established that women who have children, on average, find a significant dip in their earnings after they give birth.
A report from the Institute of Fiscal Studies and the Joseph Rowntree Foundation found that mothers suffer "striking" long-term wage penalties from taking on part-time work after they give birth.
Another report by the Trades Union Congress, called 'The Pregnancy Test', found that six out of ten women felt "sidelined" at work after announcing their pregnancy, and four out of ten managers said they were wary of hiring a woman of "childbearing age".
Now, a new study by the National Bureau of Economic Research in Massachusetts has found that women are disproportionally affected by a negative impact in earnings after having a child – but men are not.
Screengrab: Henrik Kleven, Camille Landais, Jakob Egholt Søgaard
Of the findings, the study authors write:
Despite considerable gender convergence over time, substantial gender inequality persists in all countries.

Using Danish administrative data from 1980-2013 and an event study approach, we show that most of the remaining gender inequality in earnings is due to children.

The arrival of children creates a gender gap in earnings of around 20 percent  in the long run, driven in roughly equal proportions by labour force participation, hours of work, and wage rates.

Underlying these "child penalties", we find clear dynamic impacts on occupation, promotion to manager, sector, and the family friendliness of the firm for women relative to men.
Buzzfeed's Anne Helen Petersen shared the graph on Twitter, and people were shocked to say the least.
People argued that part of the reason for the results was that house chores are distributed 'unfairly' among working couples.
While one woman shared her intimate experiences with the findings of the study.