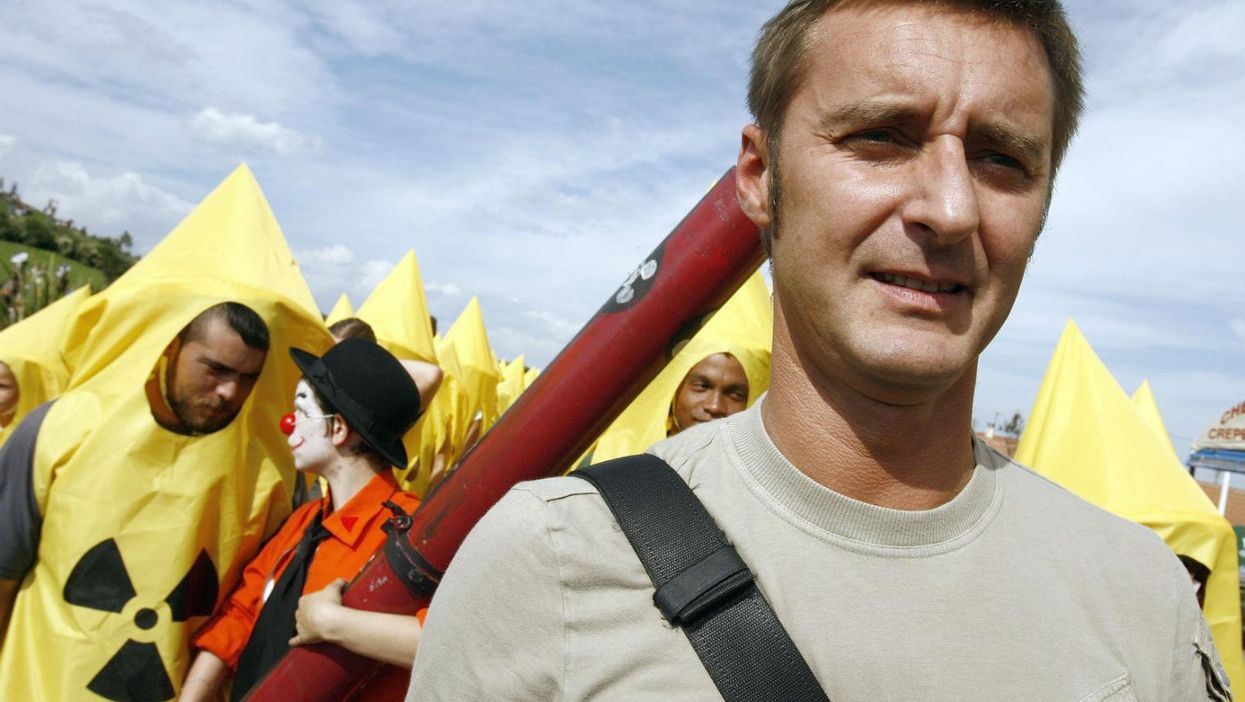 Dozens of Greenpeace workers have signed a letter urging the group's international programme director to quit after it emerged he was commuting from Luxembourg to Amsterdam by plane.
The letter, first published in Dutch newspaper Volkskrant, comes a month after it was revealed Pascal Husting was flying to work.
It is signed by 43 staff members, but not Dutch director Sylvia Boren, and also claims the position of the green charity's international executive director, Kumi Naidoo, who initially backed Husting, had been "severely damaged".
"This flying scandal seriously undermines our credibility as an organisation," the letter says.
"Every time we criticise politicians or companies, this story will come back, as we are already experiencing. Campaigners are getting questioned by companies and politicians. If Greenpeace does not walk the talk, why should others do so?"
Read the letter in full:
Dear Pascal, Dear Kumi,
In this letter we would like to express the deep concern that a great number of GPNL staff have regarding the reaction of you both on the issue of you Pascal, commuting to the Greenpeace International office in Amsterdam by plane. We are gravely disappointed by the role you both played in this matter.
Furthermore, we feel that you are not dealing with this disaster in a pro‐active manner and to the benefit of the whole organization. The lack of an appropriate external response is seriously undermining the campaign, mobilization and fundraising work our organization is doing. We find it shocking that our International Programme Director has been commuting by plane and that there was an agreement made between you both about it, even though this goes against the official Greenpeace code of conduct.
In your positions you should have the moral compass to know this crosses the line of what is acceptable, and you should also have the understanding that this would create a scandal if discovered by the media. As we know, the scandal was discovered by the media. Following that, the reaction you both gave in the media made matters worse. Kumi you used argumentation in the media about the difficult situation Pascal is in.
This should never be a defense and in public opinion this will obviously not be accepted as an excuse, as campaigners, press and comms officers know from experience. It is exactly the kind of argumentation that governments and companies use when we ask them to do more to save our planet. And that line of reasoning is something we do not accept.
In an interview with the Dutch Press Agency (ANP) Pascal you explicitly drew the conclusion that Greenpeace cannot always live up to its own standards2. By saying that, you project your own misbehavior onto the whole Greenpeace organization. It is a remark that is extremely damaging for Greenpeace campaigns and a slap in the face to all the employees that do follow the code of conduct. You decided to further state in the Dutch media that you do not have a luxurious lifestyle because you earn a mere 6.075 euro per month and do not like airports or flying. You compared your income to what can be earned in industry, as to convince the audience of the modest salary you receive. Obviously, 6.075 euros a month is multiple times the average income and therefore a huge amount for the majority of our supporters.
Thus, this statement only made things worse. It is disrespectful to our fundraising staff, who work very hard to increase our fundraising results and then see hundreds of supporters leave us in one week because of the behavior of our IPD. It is also an insult to our supporter services staff, who have to deal with hundreds of angry phone calls, and to our social media team who had to react on many angry tweets and posts. And most importantly it is offending our volunteers who give us their time and energy and are confronted on the streets and festivals with questions about the flying behavior of our IPD.
Pascal you also stated that nobody within the organization had ever raised this issue before, which we understand is not true. Besides this, that statement implied that everybody within Greenpeace agrees with this behavior, making it seem a mistake of Greenpeace as a whole. We find this unforgivable. Of course everybody makes mistakes and there should be room for making mistakes within Greenpeace. However, this is more than a mistake. It was discussed, thought through and went on for two years. But it was only after the story broke to the media that you acknowledged it as a mistake. Apart from the ethical boundaries that have been crossed, the media statements that you gave Pascal completely disqualify you as a programme director.
The whole flying scandal undermines the motivation of many dedicated people that work for GPNL. It is an affront to all the hard‐working professionals within Greenpeace who are committed to the goals Greenpeace is trying to achieve and who are proud of our organization. We feel that the least you could do Pascal is apologize in writing, or preferably in person. While Kumi and Bunny took the time to come and talk to the Dutch staff, you did not even take the effort to write an email. Externally, this flying scandal seriously undermines our credibility as an organization. Every time we criticize politicians or companies, this story will come back, as we are already experiencing.
Campaigners are getting questioned by companies and politicians. If Greenpeace does not walk the talk, why should others do so? You do not seem to grasp how public opinion works and do not seem aware of the magnitude of the long term reputational damage that has been caused by commuting by plane and the chosen media response. It could have been, at least partly, repaired by presenting a quick and strong reaction showing what Greenpeace will do to prevent this from happening in the future. We understand that you are working on internal measures that will be communicated externally, but until now this response is lacking, and hence solidifying the damage to our organization.
By not reacting appropriately, you display a lack of understanding of integrity and reputational management. Pascal if you keep your position while externally no measures of improving our own behavioral standards are communicated, we cannot repair our loss of credibility. We will surely lose effectiveness in our campaign work.
Therefore, we urge you to take measures that improve our behavioral standards very soon and we urge Pascal to leave the organization and take public responsibility for the mistakes that have been made, including the given media statements.
Kumi your position has been severely damaged as far as we are concerned, among many in our office your integrity is debated. We urge you to reflect on this. We are willing to further express our concerns in a conversation. Best wishes,
Best wishes,
[names have been removed with respect to the privacy of the employees]