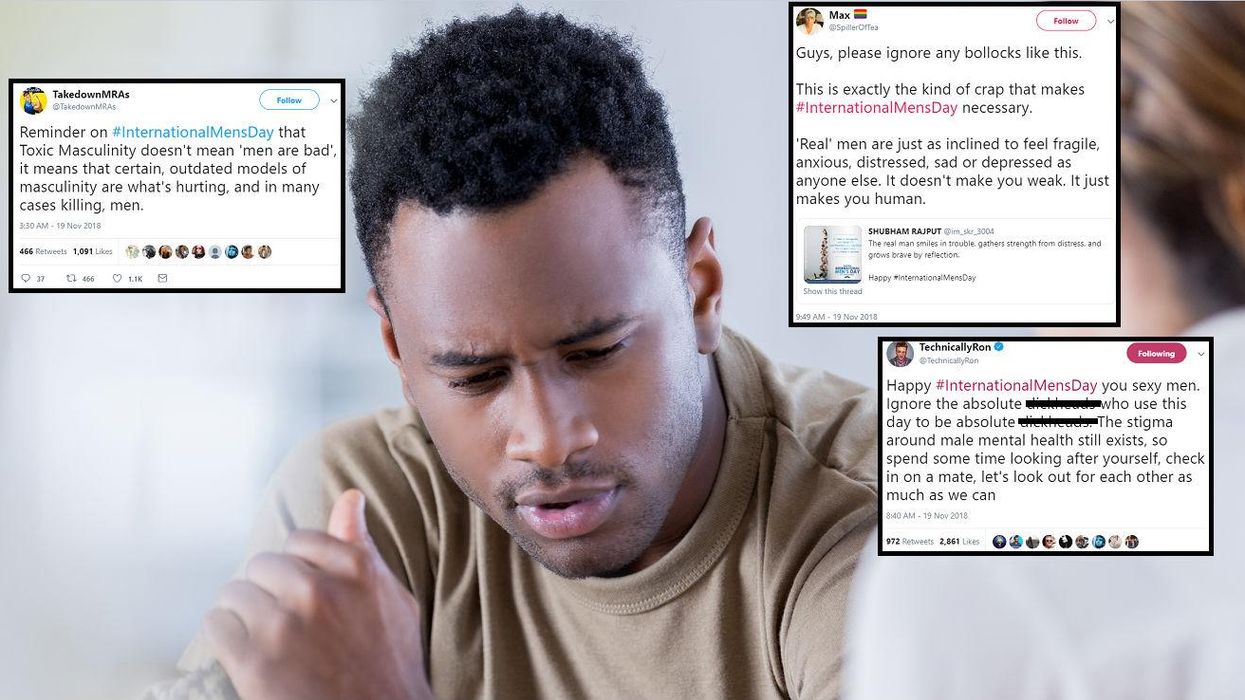 iStock and Twitter screengrab
Every year, International Men's Day celebrates men and helps raise awareness of issues that men face, including mental health challenges.
Male suicide continues to be the biggest killer of men under the age of 45, according to the charity Calm.
The fact that men are three times more likely to take their own life demonstrates a mental health tragedy among the ranks. However, what's also troubling in the context of International Men's Day is the propensity, from some people, to define manhood in often restricting ways.
A pervasive narrative that continues to colour ideas of manhood is the 'real men' trope. A brief look through Twitter sees that lots of people are still using this descriptor to define men, and it ends up being exclusionary. One Twitter user was criticised for writing: "The real man smiles in trouble, gathers strength from distress, and grows brave by reflection."
This is counterintuitive for a day that is meant to amplify quiet voices and offer support to all types of men.
With that in mind, here are a few things to remember for International Men's Day:
1. It isn't weak to talk about mental health.
On Good Morning Britain, Dr Hilary Jones says:
Men are raised by their mothers and they see illness as s sign of weakness. They think it's a bout of courage not to say anything so they store it all up and keep it within.

What they need to know is that doctors…they will see people with anything. They are never going to laugh at them. Men need to realise doctors are there for them.
According to Men's Health Forum, some 12.5 per cent of men in the UK suffer from a common mental health disorder (depression, anxiety, phobia, obsessive compulsive disorder and panic disorder).
Such statistics suggest that male emotional and psychological distress "may emerge in ways that do not fit comfortably within conventional approaches to diagnosis".
2. Toxic masculinity is alive and kicking.
Men are often placed under enormous pressure from damaging definitions of masculinity. A recent survey of 1,000 men aged 18-30 in the UK, US and Mexico found that those who embrace rigid ideas of manhood are more likely to suffer depression, engage in self harm and display risky behaviour like binge drinking.
These men are also more likely to experience, and engage, in online and physical bullying.
3. Men are sexual assault victims, too.
Women bear the brunt of sexual assault, with one in five women having experienced rape at some point in their lives.
During International Men's Day, it is important to highlight that men can be victims of these crimes, too. According to the National Sexual Violence resource centre, one in 71 men will be raped at some point in their lives.
4. There isn't a catch-all for men. They're different and have a variety of needs.
Men, like women, have complex and wide-ranging needs. What works for one might not work for another, and it's important when talking about men to take this diversity into consideration. It's all well and good to call for men who suffer from mental health disorders to get medicated, but it might be that therapy is more useful. There isn't a "correct" way to be a man.
5. Queer men and trans men are men, too.
Trans men are men. Queer men are men. Let's repeat it altogether now.
Studies show that almost half of trans young people have attempted suicide, and the tragedy in that statistic is that it isn't surprising, given the stigma attached to being a trans man or woman.
People on Twitter are reminding men (and women!) to include all identifying men in the celebrations.