Chip Somodevilla/Getty Images/Dimitrios Kambouris/Getty Images for FENTY PUMA by Rihanna
In news that you definitely didn't expect to read today, Ivanka Trump now follows Rihanna on Twitter.
Unless you avidly keep track of everything the President's daughter is up to on social media you might have missed this one.
Thankfully the Trump Alert Twitter bot is on hand to keep us on top of everything the First Family are doing. It sent out this notification at 8:50 PM on Thursday night.
The proof is in Ivanka's following list: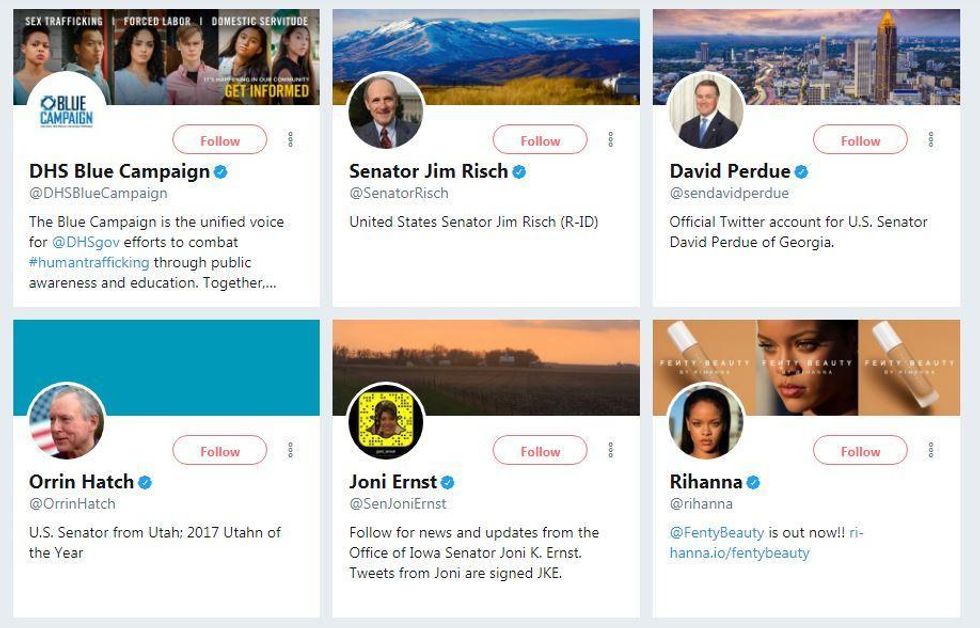 Picture: Twitter/Screengrab
There could be an agenda here as earlier this year Rihanna had tweeted a number of world leaders asking them to commit to education in the developing world.
Perhaps Ivanka saw an opportunity to get Rihanna onboard with the Trump administration? But the R 'n' B superstar sent those tweets in June, so maybe not.
The most logical explanation is that Ivanka is probably just a fan of RiRi.
In 2011 Ivanka shared a tweeted about how the singer had listed the Trump Waikiki complex as one of her favourite hotels in Vanity Fair.
Then just a couple of months ago Ivanka shared a Spotify playlist which may or may not have been her and Jared Kushner's sexy time music.
Although that playlist only contained 16 songs it did feature Rihanna's 2012 number Stay - so it does seem like Ivanka is a fan of the Umbrella singer.
Unfortunately for Ivanka, Rihanna has not followed her back at the time of writing.
Incidentally, Ivanka has followed quite a few high-profile accounts this month including SpaceX and Maria Sharapova, so Rihanna is in good company on Ivanka's timeline.
More: Ivanka Trump tried to give people Thanksgiving advice and the responses are brutal