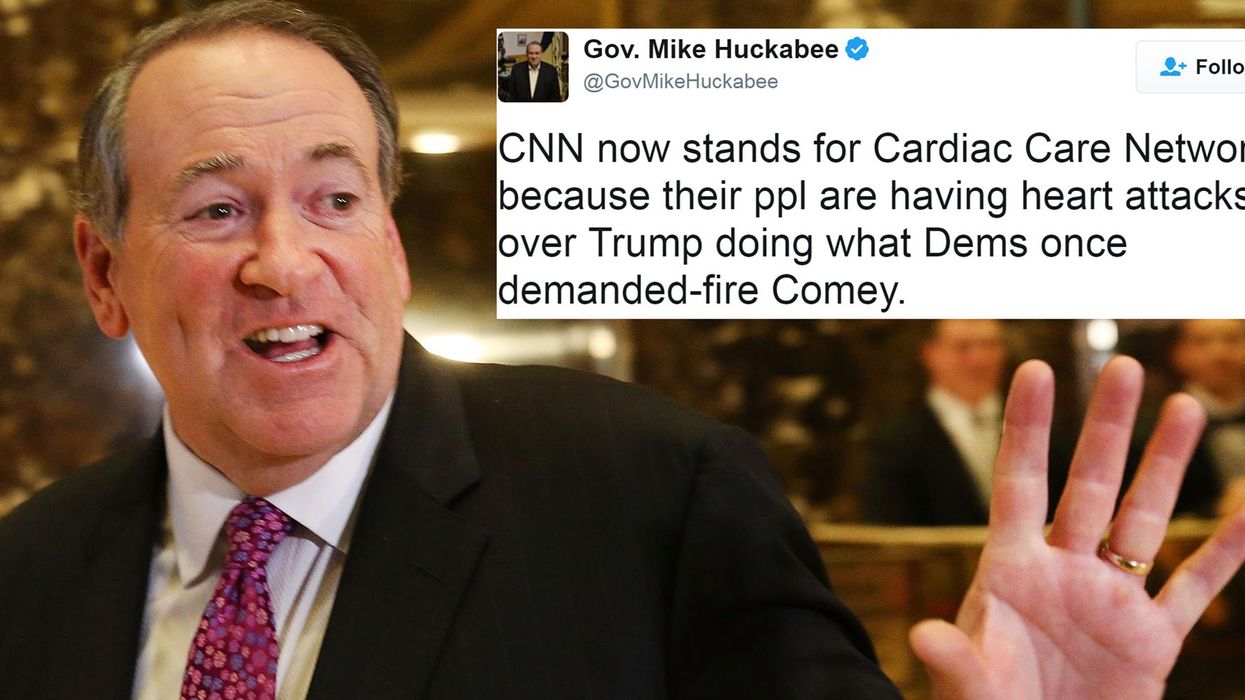 Spencer Platt/Getty Images
If you haven't been near a screen in the past 24 hours... Lucky you. Return to your idyllic desert island. FLEE.
If you are in the loop however, you'll probably know that former game show host and current President of the United States Donald Trump fired James Comey from his position as Director of the FBI.
Comey was involved in an ongoing investigation into alleged Russian interference during the 2016 election.
Since his dismissal was announced late last night, rolling news channels have been covering the possible reasons behind it, as well as the possible repercussions.
One such network covering the news is the Cable News Network, or CNN for short.
Former Arkansas Governor, and big Trump fan, Mike Huckabee today decided to throw his hat into the ring and comment on the media coverage of Comey's departure, remarking that CNN's broadcasters and pundits were having 'heart attacks' over the action.
He wrote in a tweet: "CNN now stands for Cardiac Care Network because their ppl [sp] are having heart attacks over Trump doing what the Dems once demanded-fire Comey."
Eagle eyed readers might have noticed that Cardiac Care Network is CCN... Not CNN.
His faux pas has certainly not gone unnoticed by the Twitter community, who were quick to question what the hell was actually going on?
Seriously, that's a fairly gargantuan point to miss while drafting a tweet.
The tweet, at time of writing, is STILL live. Meaning there are going to be plenty more people getting involved.
To quote Disney's 2006 classic High School Musical... "Get your head in the game".
RIP Mike Huckabee's Twitter notifications.