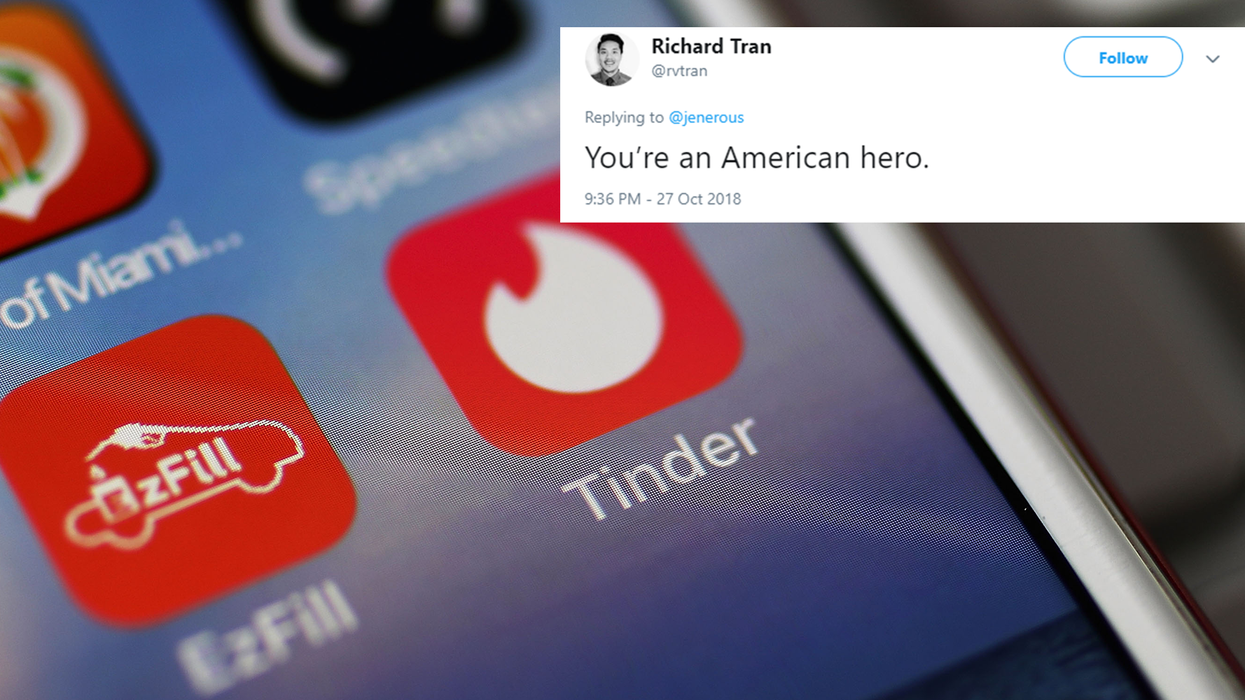 Getty Images / Twitter
We all know that Tinder can be the kind of place that, oh, you know, saps your will to live one swipe after another.
However, instead of attending questionable dates, making conversation about the weather, and trying not to have an existential crisis, this woman has struck on a novel way of using the dating app: as a way to canvass for the Democrats in the midterms - nice one!
Writer, speaker, and self proclaimed 'meme person' Jen Winston explained how she got Tinder Plus, which costs $9.99 a month, and originally was worried it was a waste of money or a stupid idea.
However, then it dawned on her that one of its perks is that you can use it in multiple locations - which meant she was able to influence potential matches in a range of swing states.
Genius!
In a now viral tweet, she shared an interaction she had with a man in Georgia, but she had more on her mind than simply a hook up. She wanted to make sure he was voting for the Democrat candidate Stacey Abrams.
Taking to the social media site, she wrote:
I paid $9.99 for Tinder Plus which seemed dumb until I realised I could change my location & campaign in swing states.
Many other social media users were quick to applaud the move.
Speaking to the HuffPost about her original outreach tactics, she said:
I'm passionate about politics and also a serial online dater, so combining the two made perfect sense.
Winston, who is currently writing a book called The Big Unclean which chronicles her experiences with political activism, was also keen to express how she's trying to make activism more accessible.
Speaking to the publication, she added:
Activism has this barrier to entry where everyone thinks they have to be perfect to fight for justice, when in reality we can all fall down as long as we promptly get back up again.

Most of my work aims to de-intellectualise the activism space, and this 'Tinderbanking' project definitely falls into that category.
HT Someecards