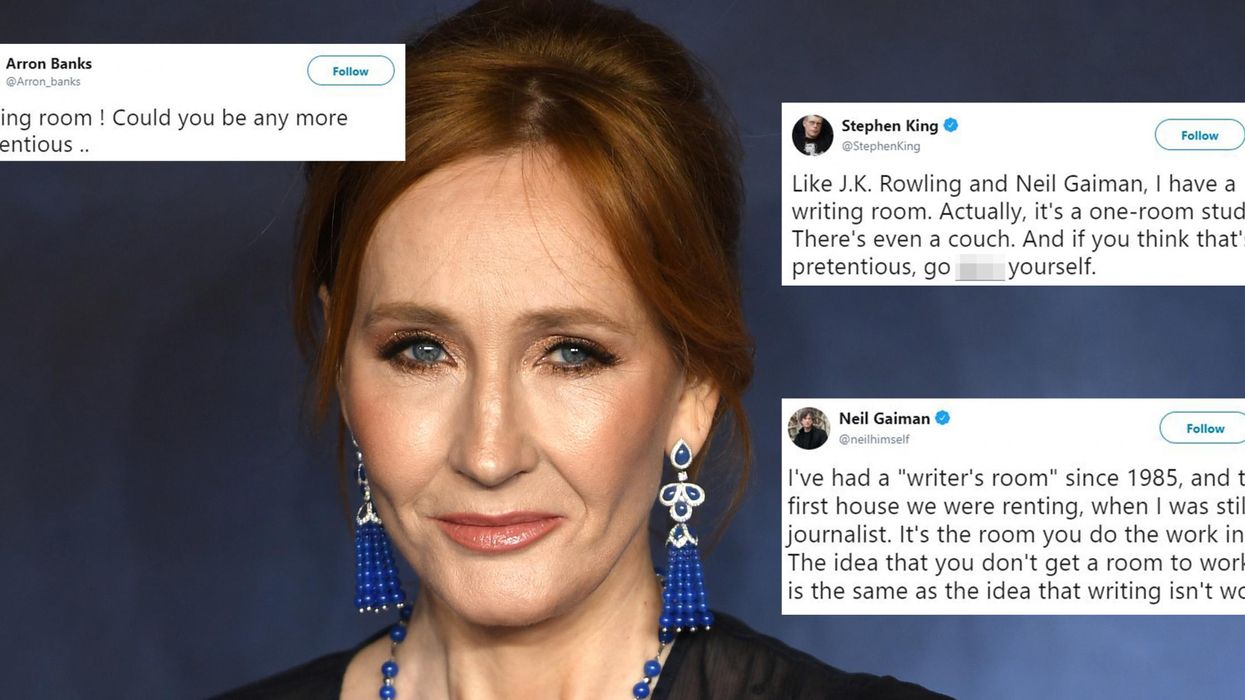 Neil Hall/ EPA/ Twitter
Harry Potter creator JK Rowling has made no secret about her dislike of Brexit but a recent Twitter rant on the subject has seen her earn some new enemies and strong allies.
In calling for a People's Vote, the 53-year-old author lambasted Theresa May and the politicians who backed the Leave campaign and even went full on with the aggressive caps lock.
I swear to God I'm trying not to bang on about #Brexit but for FUCK'S SAKE, every time I come out of my writing roo… https://t.co/kZAvxOxzgQ

— J.K. Rowling (@J.K. Rowling) 1543424746
Rowling's strongly worded rant is a bit out of character for her as she usually has a more poignant and dignified way of addressing things that she disapproves of but given the current state of Brexit, she, like the rest of us, is more than welcome to vent her frustration.
Bizarrely the nature of the tweets isn't what she was pulled up on by Arron Banks, the co-founder of Leave.EU and Nigel Farage's best mate, who criticised her for mentioning her 'writing room' and branded her as 'pretentious.'
Writing room ! Could you be any more pretentious .. https://t.co/mBO4gYLDqv

— Arron Banks (@Arron Banks) 1543447219
The pettiness of Banks's reply didn't exactly win him any fans as he was royally mocked for the remark on Twitter.
@DavidGArnold @Parkerbats @jk_rowling there's this flash butcher I know with a SHOP

— Dom Joly (@Dom Joly) 1543575597
Yet it was Rowling herself who proved to have the best response.
Writing in Russian, a clear reference to reports tying Banks and his campaign to Russian officials, Rowling accused him of spending his money 'not on writing rooms, but on expensive lunches with suspiciously rich Russians.'
.@Arron_banks Ага, зато этот человек скромный аж некуда — деньги вкладывает не в писательские кабинеты, а в дорогие… https://t.co/MuU2kUu1cR

— J.K. Rowling (@J.K. Rowling) 1543609193
Unfortunately, that didn't shut up Banks who continued to criticise Rowling for her use of Russian and even claimed to have Guardian journalist Carole Cadwalladr 'trapped in the writing room.'
Ps have got the award winning crazy @carolecadwalla trapped in the writing room too. https://t.co/eANrq8IAFl

— Arron Banks (@Arron Banks) 1543613669
Quite why Banks was so irate about a writer doing their job in a room specifically designed for their profession is a little beyond us.
We'd like to see where Banks does his job, whatever his job is.
Anyway something amazing happened from there as people, including Stephen King and Neil Gaiman, came to Rowling's defence and admitted that they also have a writing room.
If this is MY writing room, @jk_rowling should have a writing PLANET. https://t.co/FuCrmQpKUH

— Dennis Detwiller (@Dennis Detwiller) 1543682838