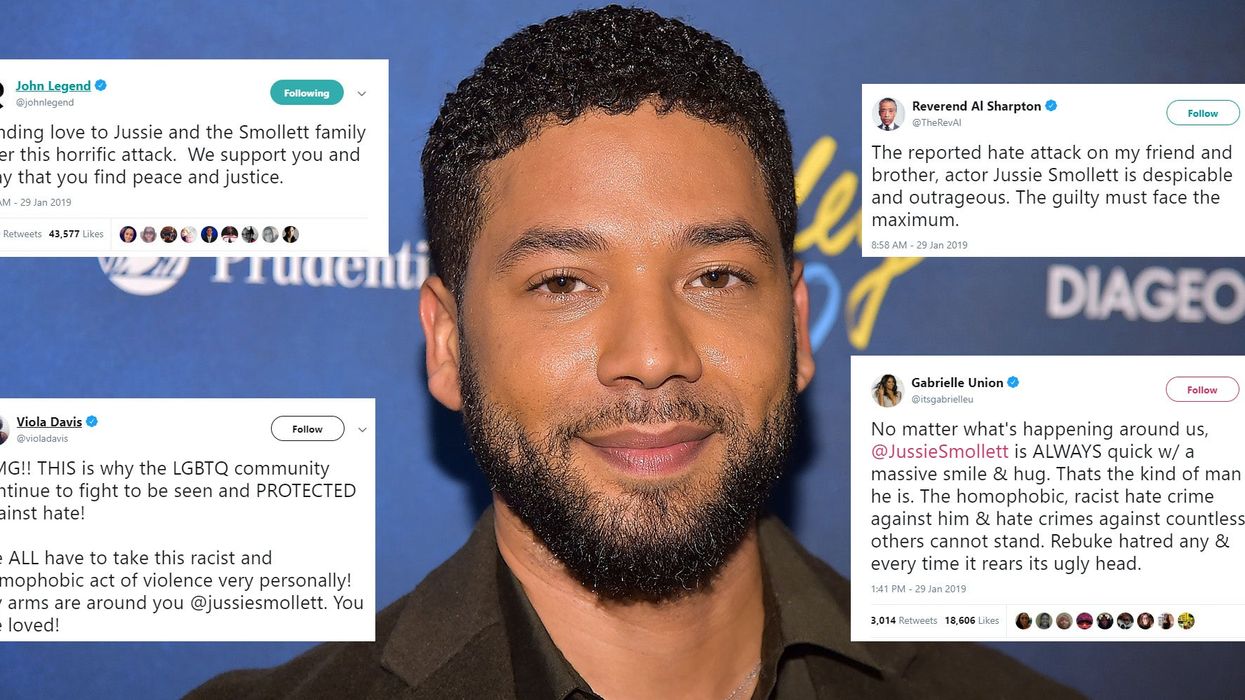 Getty Images
Empire actor Jussie Smollet, who was the victim of a hate crime in Chicago on Tuesday, has spoken out for the first time since the attack, telling his fans: "My body is strong, but my soul is stronger."
In an exclusive statement to Essence, the actor who was hospitalised after the attack, said:
Let me start by saying that I'm OK. My body is strong by my soul is stronger.
The 36-year-old also thanked people for the "outpouring of love and support", which has "meant more than I will ever be able to truly put into words".
The actor also addressed the rumours that he might not be cooperating with the police in the investigation by continuing:
I am working with authorities and have been 100% factual and consistent on every level. Despite my frustrations and deep concern with certain inaccuracies and misrepresentations that have been spread, I still believe that justice will be served
We will talk soon and I will address all details of this horrific incident, but I need a moment to process. Most importantly, during times of trauma, grief and pain, there is still a responsibility to lead with love. It's all I know. And that can't be kicked out of me.
Police are still searching for the two masked men who attacked Smollet in the early morning of 29 January.
The actor, who came out as gay in 2015, was attacked by two men who allegedly yelled racial and homophobic slurs at him, tying a rope around his neck and pouring an unknown chemical substance on him. Smollet also claims the suspects were making MAGA references during the attack.
Chicago police are treating the case as a hate crime, and have since released a surveillance video depicting the two people of interest, tweeting that they were "taking this development seriously".
Smollet has had a huge amount of support on social media, with actor Ellen Page coming to his defense on the Late Show with Stephen Colbert, when she dismissed the "absurd" theories that his version of events is "fake news".
On Thursday, the family of the actor also released a statement condemning the violent attack:
Jussie is a warrior whose light cannot be dimmed. We want people to understand these targeted hate crimes are happening to our sisters, brothers and our gender non-conforming siblings, many who reside within the intersection of multiple identities, on a monthly, weekly, and sometimes even daily basis all across our country.

Oftentimes ending fatally, these are inhumane acts of domestic terrorism and they should be treated as such.

They will continue to occur until we hold each other accountable. Make no mistake, words matter. Hateful words lead to hateful action.
Smollet has since returned to work, having been seen on set of Empire season 5.
HT Mashable
More: Kevin Hart responds to backlash over his Jussie Smollett sympathies tweet