France has become the latest European country to start building a wall to stop the movement of migrants and refugees.
Though the wall is situated on the doorstep of 'the jungle' camp in Calais, the funds for construction are supplied by the British government, as Home Secretary Amber Rudd has told the Commons Home Affairs committee:
It's up to them to decide where they are going to build a wall, a fence, whatever it is they want.
The planned barrier will run for one kilometre along the main road in Calais, and will be four metres tall.
Picture: Philippe Huguen/Getty
The wall, which costs £1.9m, is to be paid from a £17m budget David Cameron set aside at the beginning of the year.
This is not the only wall of its kind in Europe
Radio Free Europe has created an interactive map with a timeline, which details all the countries that have erected physical barriers or have tightened border control, highlighting both in red: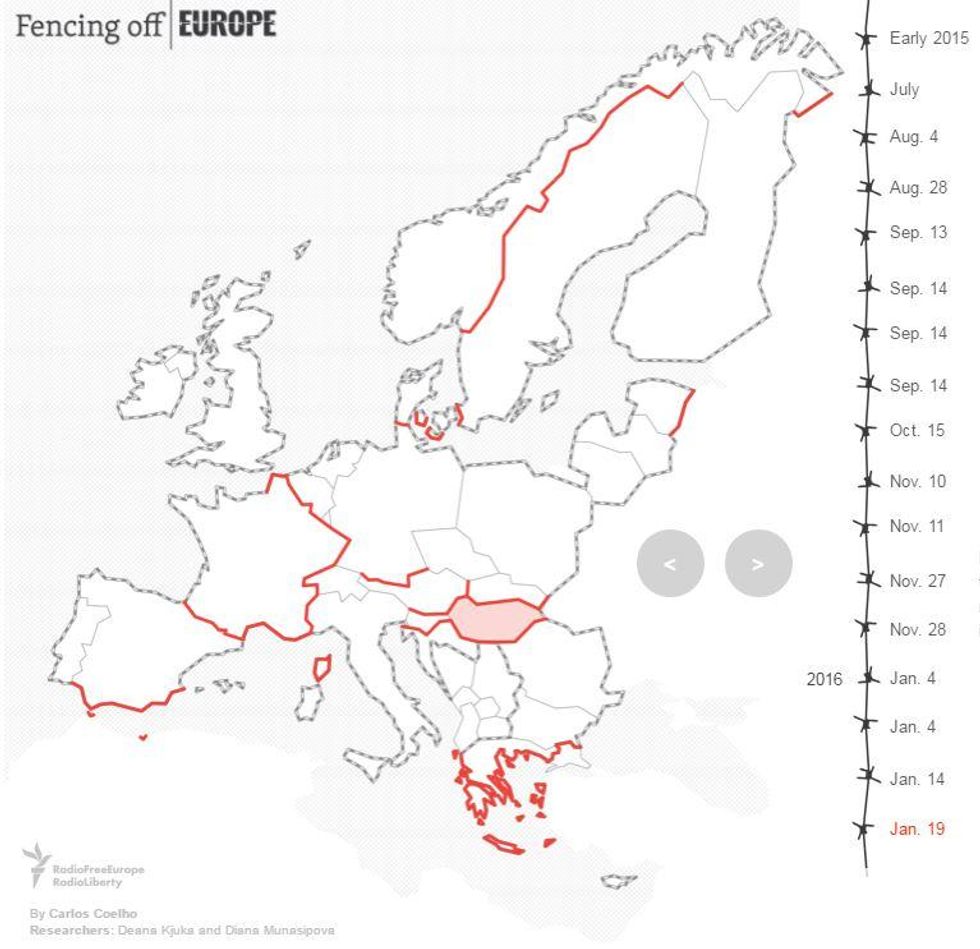 Picture: Radio Free Europe/Carlos Coelho
The countries that have erected barriers are:
1. Bulgaria
The country built a wall along the Turkish border, which was completed in August 2015. It marks the beginning of the walling off of Europe, as some are referring to it.
2. Hungary
Hungary completed its wall along the Serbian border on 14 September 2015, and the wall along the Croatian border a month later.
3. Slovenia
Slovenia built a razor sharp fence, cutting across the Croatian border in November last year.
4. Macedonia
At the end of November, Macedonia completed a wall along the Greek border topped with barb wire.
5. Austria
In April of this year, Austria began construction of a 'fence' along the Italian border.
6. France
Now France joins them, funded by the UK.
A number of countries have also tightened their border controls
Norway has increased border checks and ferry arrivals from Germany, Sweden and Denmark are being scrutinised more thoroughly by officials. Belgium has also tightened controls, as has Slovakia. Stricter measures have been imposed on refugees coming from Syria and Iraq.
Those from Afghanistan have been refused entry in several countries, including Macedonia.