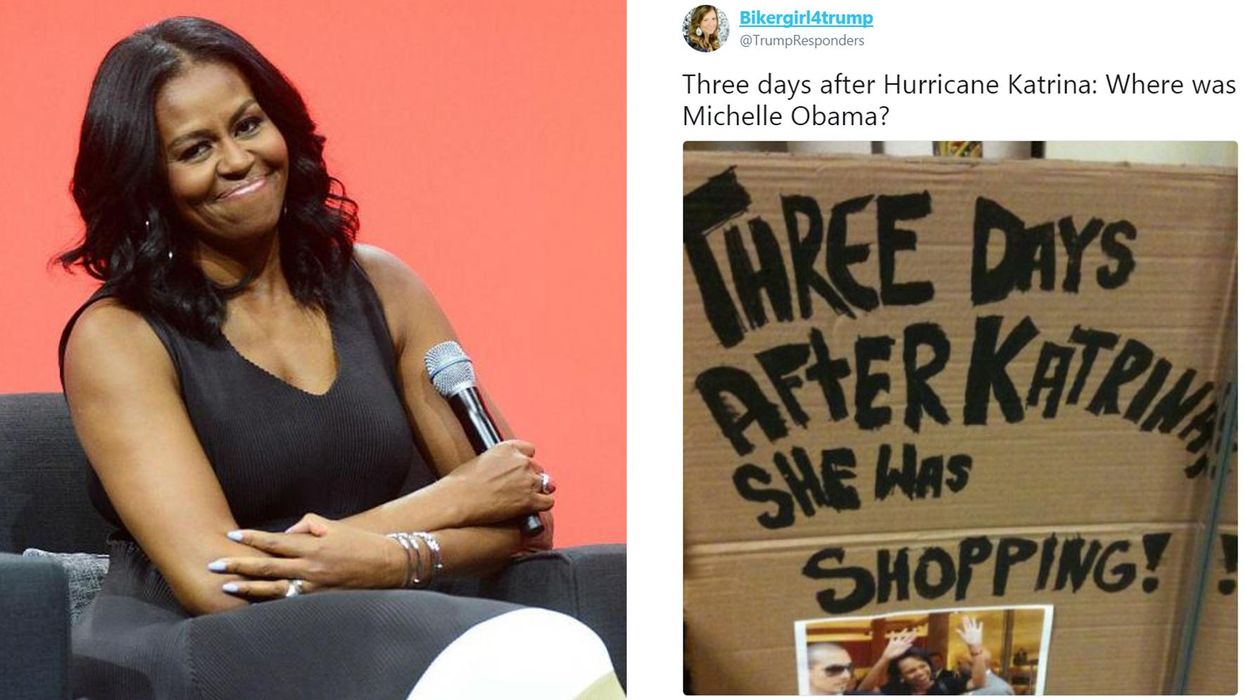 Picture: @TRUMPRESPONDERS/TWITTER / GERARDO MORA/GETTY IMAGES
A Donald Trump supporter mistook Condoleezza Rice for Michelle Obama, and Twitter is roundly mocking them for it.
In February 2017, one Twitter user with the handle @TrumpResponders shared this image, accusing former First Lady Michelle Obama of shopping just days after Hurricane Katrina hit the United States in 2005.
There is quite a bit to unpack here.
1. That is not Michelle Obama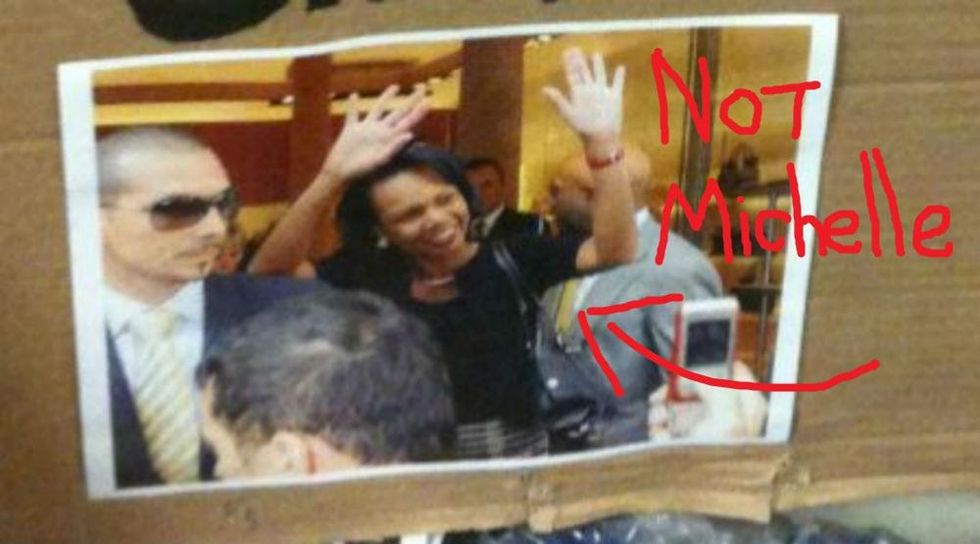 Picture: @TrumpResponders/Twitter screengrab
The photo within a photo is not one of Michelle Obama.
That is Condoleezza Rice, former National Security Advisor and Secretary of State in George W. Bush's cabinet.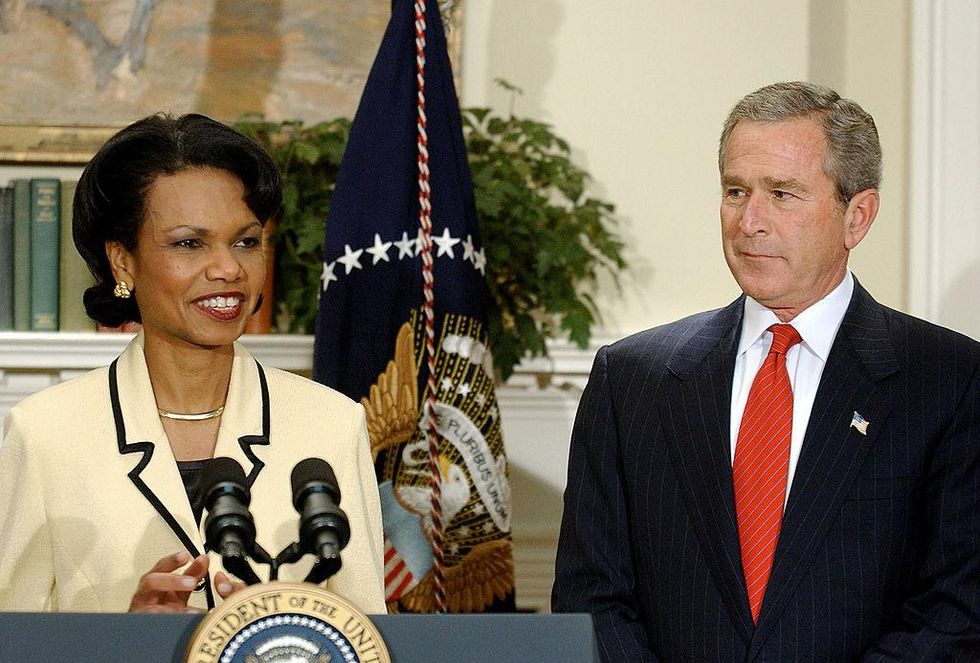 16 November 2004: Condoleezza Rice speaks after U.S. President George W. Bush announced her nomination to be the next Secretary of State at the White House in Washington DC.
In 2005 when Hurricane Katrina devastated New Orleans, Louisiana, Rice was photographed shoe shopping in New York City.
At the time, the story that she had spent thousands of dollars in an expensive Manhattan retailer was broken by the New York Daily News.
In her 2011 memoir, 'No Higher Honor', Rice admitted she should not have done that.
The memoir confirmed she had travelled to New York to see a play on Broadway, and then done some shoe shopping Ferragamo.
The next morning, I went shopping at the Ferragamo shoe store down the block from my hotel, returned to the Palace, and again turned on the television. The airwaves were filled with devastating pictures from New Orleans. And the faces of most of the people in distress were black. I knew right away that I should never have left Washington. I called my chief of staff, Brian Gunderson. 'I'm coming home,' I said.
2. Michelle Obama was not the First Lady during Hurricane Katrina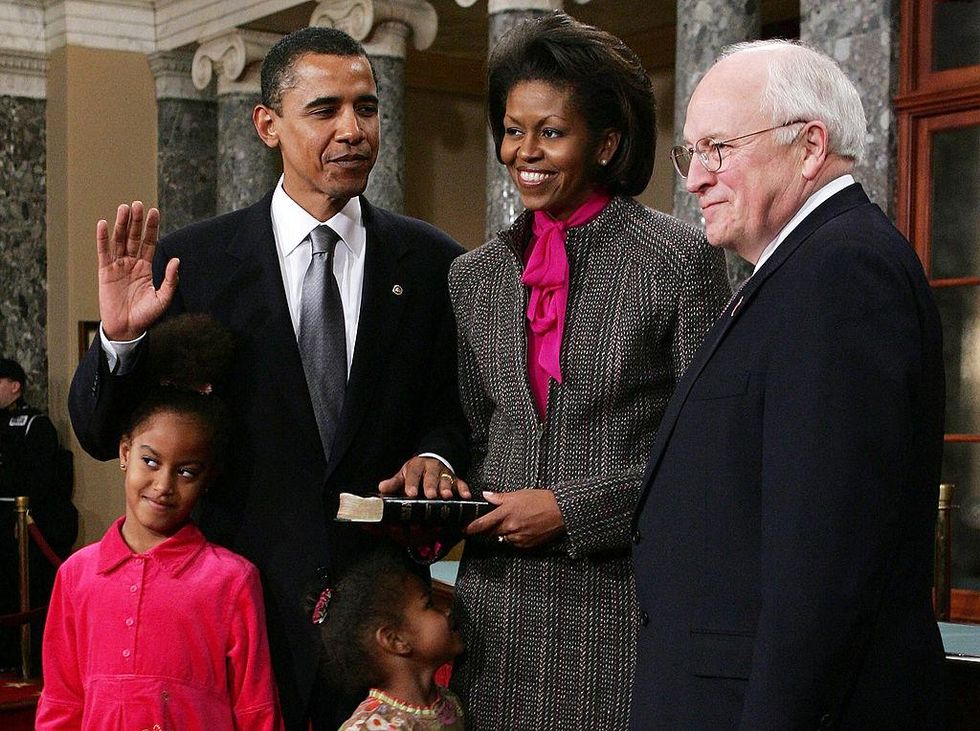 4 January 2005: U.S. Senator Barack Obama (D-IL) (2nd L) poses for with his wife Michelle (2nd R), Vice President Dick Cheney (R), daughters (C) Malia and Sasha during the reenactment of a swearing -in ceremony on Capitol Hill in Washington, DC. The entire 109th Congress was sworn in 4 January.
In 2005, Michelle Obama was the Vice President for Community and External Affairs at University of Chicago Hospitals.
She was also married to the junior Senator from Illinois, Barack H. Obama.
Michelle Obama would not be First Lady for another four years.
She would not be President until at least 2020.
The post by @TrumpResponder was created in February 2017, a month into Donald Trump's presidency.
It has resurfaced as part of an argument over President Trump's handling of Hurricane Harvey, which has killed at least 30 people in Houston, Texas.
On Tuesday he and first lady Melania Trump touched down in Corpus Christi, Texas. President Trump was widely criticised for failing to meet with any of the victims of the disaster.
In defence of President Trump, his supporters have tried to shift focus to the lack of effort made by President Obama during Hurricane Katrina (see above for basic notes on the linear passage of time).
One photo taken by Richard Carson for AP has been shared by Twitter users attempting to debunk said Trump supporters, and shows a cross party representation of compassion for victims of Katrina.
It shows former Democratic President Bill Clinton, former Republican President George H.W Bush, and then Senator Barack Obama meeting with Katrina evacuees.
It was taken 5 September 2005 in the Reliant Center, adjacent to the Astrodome in Houston, Texas.
The photo of Condoleezza Rice has also been shared by Twitter users seeking to lampoon Trump supporters.
Put under the fiery focus of Twitter's eye of Sauron, the account @TrumpResponders has been subjected to hostile remarks.
indy100 has contacted @TrumpResponders for comment.