Nike
Figure skater Zahra Lari and weight lifter Amna Al Haddad designed and tested Nike's newest product for women: the Nike Pro Hijab.
The scarf won't be in stores until 2018 but its creation has prompted some strong reactions on both sides of the fence.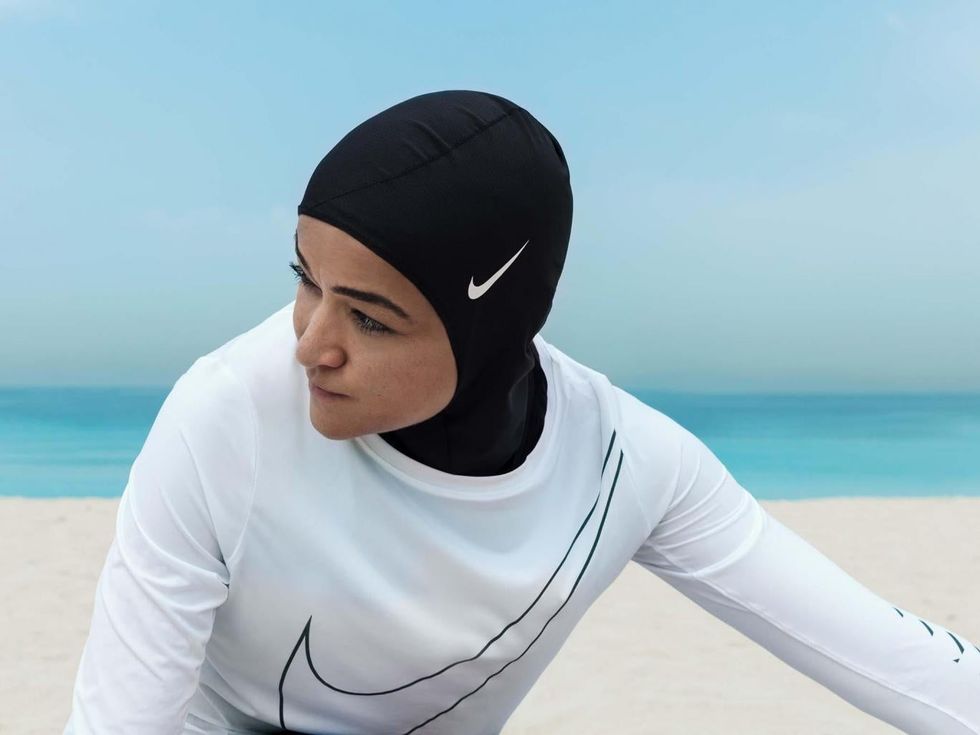 Picture: Nike
In a statement, the brand said:
The Nike Pro Hijab has been a year in the making, but its impetus can be traced much further back to Nike's founding mission, to serve athletes, with the signature addendum: If you have a body, you're an athlete.
Some people are in celebration:
Others are calling for a Nike boycott (?!)
The reasoning behind their outrage remains muddled.
The attention prompted Amna to release a statement on her official Instagram account:
From my perspective as a former athlete who competed in Hijab, in the past, the big brands didn't see the need or market for it as it was not "popular" and it was unheard of to see women train, exercise and compete in hijab. It is a recent phenomenon where more women have expressed a need for it and more professional athletes have fought for rights to compete with a headscarf, and have an equal playing field.
indy100 spoke to journalist and researcher Afia Ahmed. She thinks Nike's decision is about inclusivity, and calling it 'Pro Hijab' can "reflect an openness and acceptance towards and of Hijab".
What about consumerism and religious attire?
I don't think it delegitimises the religious aspect considering it's allowing for women to adhere to some of their religious values whilst participating in their chosen sport, and thus making it easier on them.
Afia points out that Muslim companies have been making "hijab-friendly sports gear for a while," and the changing nature of the industry means that more and more mainstream brands will incorporate Muslim fashion.
In terms of main stream brands or Muslim start up brands being the future of the industry, I think it's safe to say that we already know which brands dominate the markets and will be monopolising on 'Muslim' and 'Islamic fashion'.

I think we'll have a few rule breaking exceptions; I.e. A few Muslim start-ups will 'make it', but the industry itself is dominated by well-known brands which will integrate the Muslim market into their client base. They already have the resources to do so, whereas start-ups would require the initial backing and funding, which can prove extremely difficult.
Saying that, Afia believes that Nike's decision is still a far cry from making Hijab a mainstream and accepted concept.
I believe that the catapulting of the Hijab into the limelight doesn't suddenly mean a universal acceptance of Islamic values.

No. It simply means that capital markets, private market forces, are now able to make benefit from Muslim women, attaching monetary value to them.