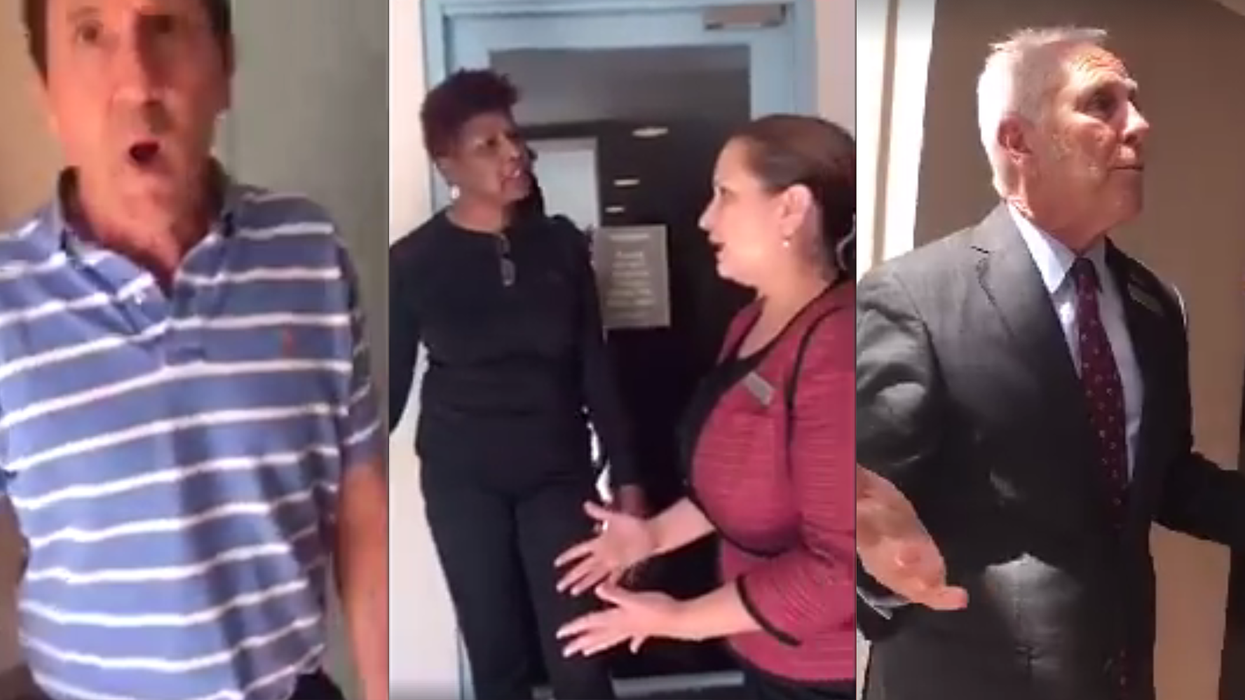 Carle Wheeler / Facebook
A white man has confronted a black woman and her daughter and asked them 'whether they showered' before entering a hotel swimming pool in Pasadena, California.
The incident was caught on video by Texas resident Carle Wheeler at the Westin Pasadena, California, and posted to Facebook, where it has had more than 1 million views and 32,000 shares.
In a caption titled 'Swimming While Black', Ms Wheeler accuses the man of approaching her and her daughter at 10am on 11 June, the only two black people using the hotel's swimming pool, and asking them whether they had showered before taking a dip.
He then approached the woman and her daughter again, under the pretence that he worked for the health department.
The incident then escalated, with a female hotel manager, named Ofelia Dolliver joining the scene, who proceeded to tell the man that it was inappropriate for him to ask the woman and her daughter such a question.
In the video, the man insists he was perfectly within his rights to ask such an intrusive question. He says:
I simply asked them if they showered. I'm sorry.

Because that's part of the rules. And I don't know about you guys, but I'm tired of getting into pools that people consider baths. 
Ms Wheeler can be heard in the background saying:
You didn't ask anyone else! You asked me if I showered!
He retorts that she was the only one in the pool. Carle responds that there were plenty of people in the pool at the time of the incident.
There were plenty of people in the pool! There are three other people over there - you didn't ask them. When you asked me they were over there.
After the female manager says that his question was inappropriate, he tells them to 'google' the diseases that are in pools. Ms Wheeler also asks for her five-year-old daughter to be removed from the scene so that she doesn't have to hear it.
Next, a white male manager from the hotel comes over to deal with the situation. Predictably, he tells the white man to leave, and continues questioning the black woman. He then threatens to call the police.
Ma'am, please step over here, because I don't want to call the police. And if I do, it's going to be a big headache for everybody.
Ms Wheeler asks why the manager has allowed the white man to leave without finding out who he is. The manager insists that he will follow up with him, and discuss what happened.
The video is yet another instance of the everyday racism that black people face while doing day-to-day things in America.
After the incident, Ms Wheeler posted a follow up video to her Facebook account, in which she expresses her sadness that these issues are still prevalent in 2018.
It's just sad that in 2018 we are still dealing with these issues and still having to teach our children things that people had to teach their children in the 50s and 60s. Nothing has changed.
The Westin Pasadena didn't immediately reply to indy100's request for comment.