Kevin Winter/Getty Images and RDJ Twitter
Robert Downy Jr and Chris Evans are proper pals.
Their off-screen acrimony as Iron Man and Captain America is literally the plot of an entire movie (Captain America: Civil War) but their real life friendship is solid.
The pair are constantly gushing about each other. Last year, Evans called RDJ the "epitome of what a movie star is".
I feel like he walks in a room and he just glows. He owns the oxygen... I feel so much safer when he's around. It's like when you're a kid- if Dad's with you nothing bad can happen. Not to make Downey seem like my father, but there's something about him that makes you feel very protected.
And there are these lovely birthday messages Evans sent his bro:
The bromance is real you guys, and they're at it again.
Downey posted a photo of Bambi and his wife Faline. Beneath it, he posted a picture of himself and Chris Evans.
He captioned it: 'All the way down to the eye colour.'
Well.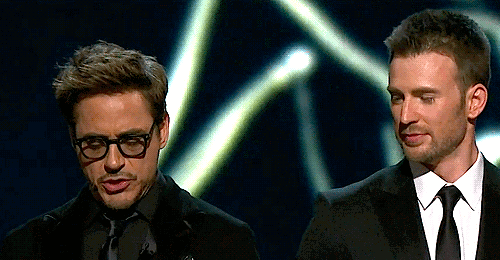 Not one to miss out on the love, Evans responded with a tweet of his own featuring Buzz Lightyear and Woody.
The whole thing is about as cute as that Twitter account filled with puppies.
We stan them.