Natalie Martinez
Ten years ago, Sink the Pink founders Glyn Fussell and Amy Zing had an idea as they drank a jug of Pimms in their garden.
The previous night, they'd been all over London. They'd queued, paid entry fees to get into numerous clubs and subsequently been asked to leave for being "naughty". To top it all off, Amy's favourite bag had been stolen.
As they tried to keep the inevitable hangover at bay, the pair dreamed of their ideal club night. Glyn explains:
I remember it like it was yesterday. We weren't finding our community and we felt like outcasts. It was a bit of a let down when we'd moved to London to feel less left out.

We wrote a list of things that would make up our perfect evening. We wrote things we liked and things we didn't like. It was as simple as that.
Fast-forward a decade and Sink the Pink has become one of the most innovative nights in London. Famous for its colourful party-goers and glittered-up drag queens, the vibrant collective aims to change the way we approach clubbing and gender by creating a space for people to look as wild as they choose.
With four parties a year in venues such as The Troxy and Bethnal Green Working Men's Club, Sink the Pink is fighting the corner for queer spaces on a backdrop of high-profile LGBT+ nightclub closures across London.
The current threats to LGBT+ nightlife coincide with a rise in anti-LGBT+ hate crime. With this in mind, Glyn and his team have taken precautions to ensure that Sink the Pink is a safe space.
We are living in a time that's unsettling and worrying. It means that stupid people right now feel like they have power.

The best way to fight against this is to be more visible and loud, but we are definitely over the top with what we plan in terms of security for our events.
Having discovered so much about himself in queer spaces, Glyn feels a responsibility to keep facilitating these experiences for others. Safe spaces allow communities to thrive, and ten years down the line Sink the Pink extends beyond the walls of venues.
I f****** love East London because when everything gets stricter and more conservative it digs its heels in and stands tall and proud.

I wouldn't be here without queer spaces so it's important to me to keep providing that for other people.
When reflecting on what queerness means to him, Glyn describes a freedom and fluidity that is not restricted by any particular class, race or gender.
Whatever minority you are, for me queer means freedom. Free to be, to express, to love and to choose. To do all of those things however you choose.

It's about a frame of mind and how you choose to live and what you expect from others in return.
In summer 2017 Sink the Pink launched Mighty Hoopla festival. With headliners including Years & Years and Charlotte Church, the day-festival welcomed 10,000 people to Victoria Park in Hackney. This year, held in South London, the event promises to be even bigger.
I've always wanted to do my own festival. On day three of a festival, gender, sexuality, colour and size doesn't matter anymore because you're all bonded together. That's what I wanted to create.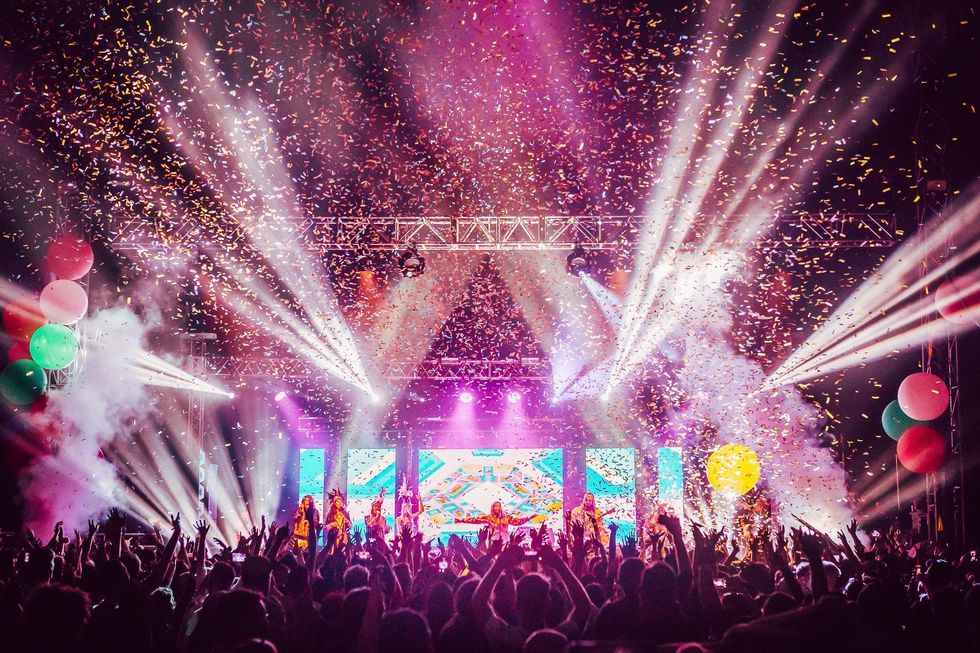 Luke Dyson
Without the name recognition that Sink the Pink enjoys today, creating such an unashamedly queer brand was an "up hill battle" at first. But now Glyn counts brands such as Selfridges as regular collaborators. The collective's adults-only, immersive pantomime is returning to the luxury department store later this year.
Glyn believes that building bridges with different brands and communities requires an honest and upfront approach.
I am unapologetic about what we do while remaining positive and upbeat. If a brand or venue wants to work with you they've got to commit to everything you are and I'm never going to water down what we do.
Although it may seem out of the blue, Sink the Pink's collaboration with Selfridges is in keeping with his strategy of combining queer spaces with mainstream LGBT+ visibility.
I've never wanted to be in the underground. I don't want to ghettoise what we do. I want people to see it - I'm proud of it!

We can only change peoples' minds if we're as visible as possible. I don't want to live in the shadows or have my friends be scared to walk down the street. The only way you can change things is to be proud and be visible.
As the LGBT+ community continues to change and evolve, Glyn remains committed to responding to the needs of his friends, peers and customers.
These people are my friends and my life. It really is a community. It's a responsibility that I gladly take on I'll always keep my mind open and listen to people.
Discover more about Sink the Pink or buy tickets to the Sink the Pink Pride Colour Ball in Brixton.
Buy tickets to Mighty Hoopla