A teacher is being praised following a campaign to raise money for a struggling former student went viral.
Chicago-based teacher LaShonda Carter took to Facebook to share her story. She had received a call from Larresha Plummer, an 18-year-old former student, at approximately two or three in the morning. She told CNN:
We always talk, even though I left Harper, I still keep in contact with all of my students.
Plummer, who used to attend Harper High School has a now five-week old baby girl called Taliyah. Her mum needed to go to a job fair but didn't have anyone to take her, or to babysit her child.
So she reached out to her former teacher.
'There was no way I would have let her take a baby in a bus, I told her right away that I would pick her up in the morning,' Carter said.
Carter dropped off the 18-year-old and waited in the car with the baby. And then, she did something heart-warming.
In a Facebook video, she appealed to people and asked them for donations of clothes and 'baby things'.
I'm reaching out because I need you alls help. I need my village because this beautiful little baby needs some things.

I'm going to do what I can as much as I can as an educator.
Following the job fair, Carter got Plummer to apply for Women, Infants and Children to get milk for the baby, and she started a GoFundMe page for additional help.
She has raised $2,390 since the page was created on 24th August.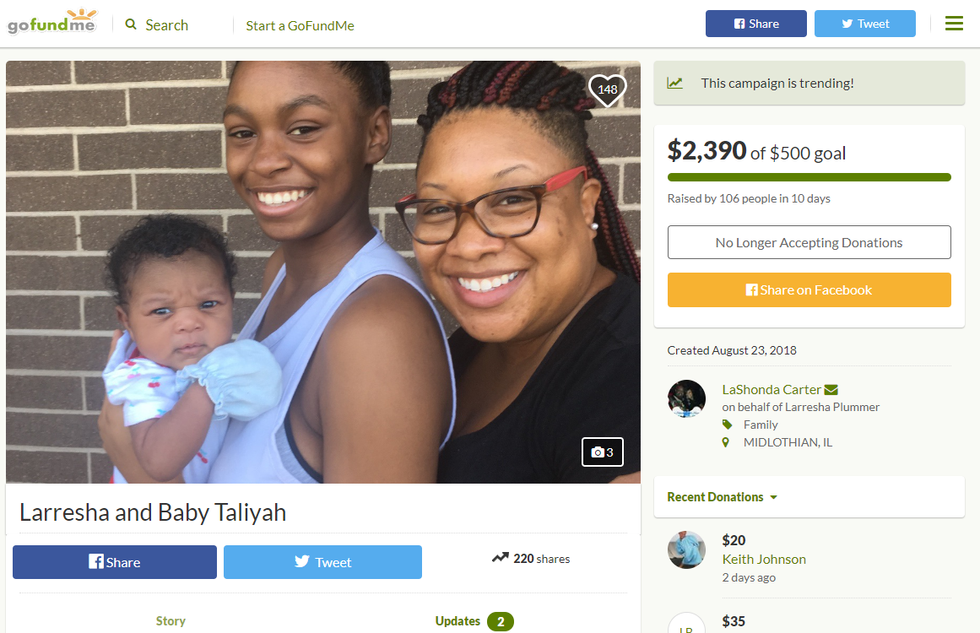 Picture: GoFundMe
'My previous student needs to know she can still be successful, even though she's a teenage mother. A teenage mother does not equal failure,' she wrote on Facebook.
People are praising the teacher, who emphasises the importance of the 'heart of the educator.
'Sometimes, our job as educators goes beyond the classroom,' she had said
Facebook user Joseph Hall praised her decision to help her ex-student
Your [sic] one of the best teachers on earth a child could ask for. You have gone above and beyond. Thank you
Another gushed: 'Such a beautiful thing you're doing. God Bless
According to Carter, she now has a job and is planning to go to university.