Controversial columnist Rod Liddle has penned an article conflating this year's The Great British Bake Off with "uncontrolled immigration".
The article, titled 'What the Great British Bake Off really says about Britain' for the latest issue of The Spectator, is a masterclass in questionable logic:
It was won by the charming Nadiya Hussain. But does that mean that unlimited immigration is perfectly OK?
Liddle's piece joins many other voices in the right wing media who have taken to their keyboards over the past few weeks to decry the thoroughly deserved victory of Nadiya Hussein from Leeds, who is of Bangladeshi heritage, as among other things, "full-scale ideological warfare".
But the Spectator journalist doesn't know whether Nadiya's work was better than the other "infidel cakes" on offer.
And besides, Liddle wrote that Nadiya was only on the show because she was "plucked from a group of typically 'diverse' human beings which the BBC presumably thinks is representative of modern Britain. Or perhaps wishes was":
A gay here, a foreigner there, a BME Brit and of course Nadiya. As the TV columnist Ally Ross put it, the BBC must have been dancing a multicultural jig of joy.
But, he wrote, just because Nadiya won doesn't mean "unlimited immigration" is "tickety-boo". Which, coincidentally, is an argument no one has tried to make.
...because a veiled Muslim woman won a reality TV show, a show which embodies great British virtues such as eating cakes and drinking tea, unlimited immigration is perfectly tickety-boo?
Twitter has been quick to point out Nadiya isn't "veiled" - no more than a nun is, anyway.
The article has gone down a treat with far-right group the English Defence League, which was quick to praise Liddle's piece for injecting "common sense" into the 'Bake Off' "charade".
Funny. The only charade we can see here is the forced connection between a baking show and "unlimited immigration".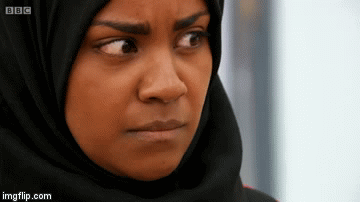 More: The Great British Break Off's Nadiya had the best response to the Daily Mail's criticism
More: Nadiya won The Great British Bake Off and Daily Mail readers aren't having any of it