The Daily Express and the Daily Mail's Thursday front pages are on a similar theme.
They condemn the newly released government employment figures, which show that unemployment fell by 60,000 between October and December to 1.69 million.
This constitutes a decade-low rate, although growth in earnings remains slow.
The tone of the front pages seems a little odd, given the overall positive figures, and seeing as the publications have been labelling foreign-born people in Britain as "scroungers", or words to that effect, for years.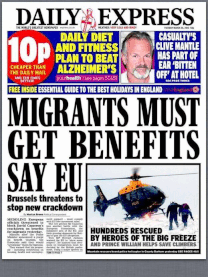 We'd have thought they'd be happy that foreign-born people are "contributing" to society and getting paid work?
In 2014, 92.6 per cent of working age benefit claimants were British, while 2.5 per cent were EU nationals.
The Office for National Statistics (ONS) shows for 2014, 86.99 per cent of the population were British, while 5 per cent were EU nationals...
...and we don't have to tell you what this means in terms of who is using the benefit system more.
NB: While releasing the figures, the ONS said that the statistics showed changes in the total of people in employment, not the proportion of new jobs that had been filled by UK and non-UK workers.
They also said the figures should not be used to describe migration into the UK.