An American dentist paid £32,000 to kill one of the most famous lions in Zimbabwe - and people around the world are furious with him.
Walter Palmer, who killed Cecil the lion earlier this month, is the focus of the internet's outrage since news emerged that the the animal was lured out of Hwange National Park before being shot with a crossbow. Forty hours later the hunters tracked him down and killed him with a rifle. His decapitated and skinned body was found later still.
Tributes to Cecil have poured in across the world:
But so too has hatred for his killer, who it turns out is well known in big-game hunting.
JusticeforCecil quickly began trending online, and since Palmer killed Cecil dead, digital vigilantes have decided to do the same to his reputation.
First up, his dental practice's Yelp page was flooded with one star reviews (and lots of comments pointing out they always knew dentists are sadists):
The surgery shut its doors after protesters put up posters and toy animal tributes outside.
The surgery's website overloaded because of traffic, so some people decided to create Palmer some fake business pages on Facebook:
Some of the online vitriol has taken a more sinister turn as people attempted to dox the dentist by posting his surgery's address and phone number online, and others threatened to kill him.
Palmer's name is currently trending on Twitter:
And The Endangered Species Coalition is using his face to promote a new petition against the slaughter of endangered animals.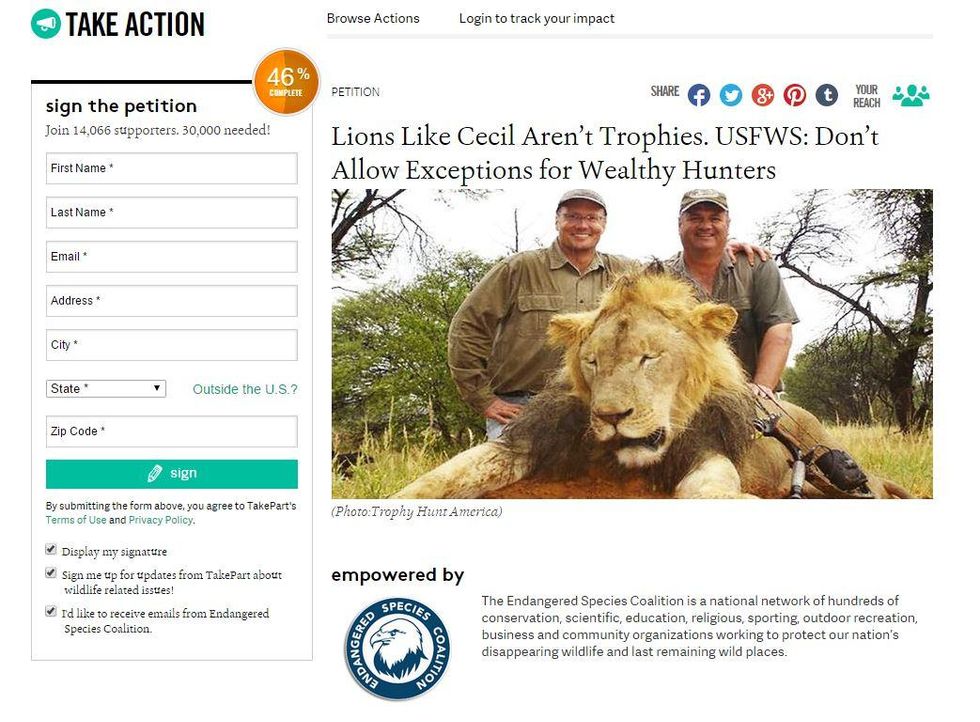 Of course, no internet witch hunt is complete without celebrity endorsement:
And you know something must be pretty bad if you're on the same side as Piers Morgan.
Palmer issued a statement on Tuesday saying he was sorry that he killed a famous lion, rather than just a regular one.
I had no idea that the lion I took was a known, local favourite, was collared and part of a study until the end of the hunt.
The dentist added that has far as he knew the hunt was entirely legal but the Associated Press reports that he is now facing poaching charges in Zimbabwe.
That's not good enough for People for the Ethical Treatment of Animals (Peta), though: