A general election is happening on 8 June, have you heard?
That means politicians around the United Kingdom are cluttering up your doorsteps, filling your mailbox with flyers and coming into your places of work with hard hats and hi-vis vests.
Even Theresa May is pummeling the pavement, campaigning for her re-election and for a 'strong and stable' Conservative government to lead the country during those crucial Brexit negotiations.
The Prime Minister gave a speech today in the Black Country.
During said speech she refused to clarify exactly what kind of tax policy the Tories would inflict on the country if they were voted into power in June, but she did assure people that it would be a 'strong and stable' government.
That key message was almost lost in the 13 minute long speech, so she made to sure to mention the word 'strong' 28 times and 'stable' 15 times.
Seriously... We counted.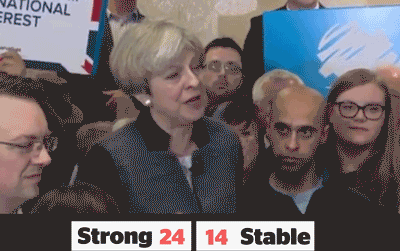 Gif: indy100
8 June feels a long, long way away.