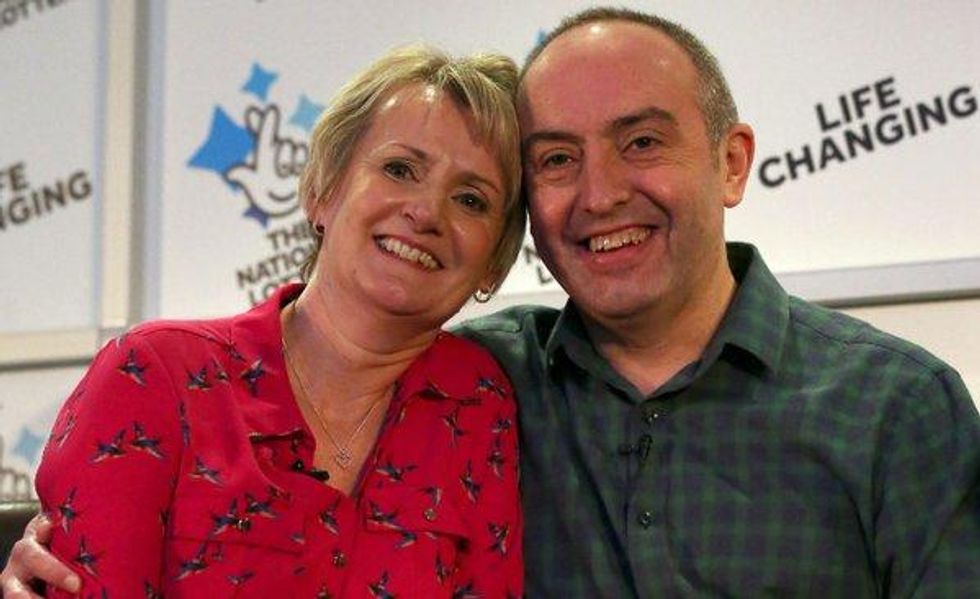 The couple who have won half of Britain's biggest lottery jackpot ever have revealed their reactions after finding out about their luck.
David and Carol Martin, both 54 and from Hawick in the Scottish Borders, said in a news conference today they were in "stunned silence" after they found they won the lottery. Their first words to each other after five minutes of just looking at each other were: "What have we done?"
Mr Martin revealed they didn't even check their ticket until Sunday, during a late breakfast of "bacon and black pudding rolls".
"We never usually watch the lotto [on Saturday night], so we didn't know the results or the numbers or anything till the Sunday," he said.
The first thing the couple will be spending on is a first-class flight home from Australia for their daughter, who was the first person they told.
Mrs Martin said she phoned her daughter, who was initially worried because "we usually Skype".
"We don't really phone to Australia because… because it costs a lot of money," said Mr Martin. "But who cares [now]!"
The couple are planning to take early retirement, but they said it was difficult this week "telling lies to employers and phoning in sick".
Mr Martin has worked for a housing association helping disabled and elderly people for the last eight years, while Mrs Martin worked in a chemist.
However, both the couple's employers are now aware of their winnings, and are "pleased" for them.
"We're more relaxed now we've told our work colleagues," said Mr Martin. "We were both still in a bit of a shock but everytime we spoke to somebody, they were so, so happy for us.
"It's a really weird feeling, but it's good."
More: A lesbian couple made a much better version of 'I saw mommy kissing Santa Claus'