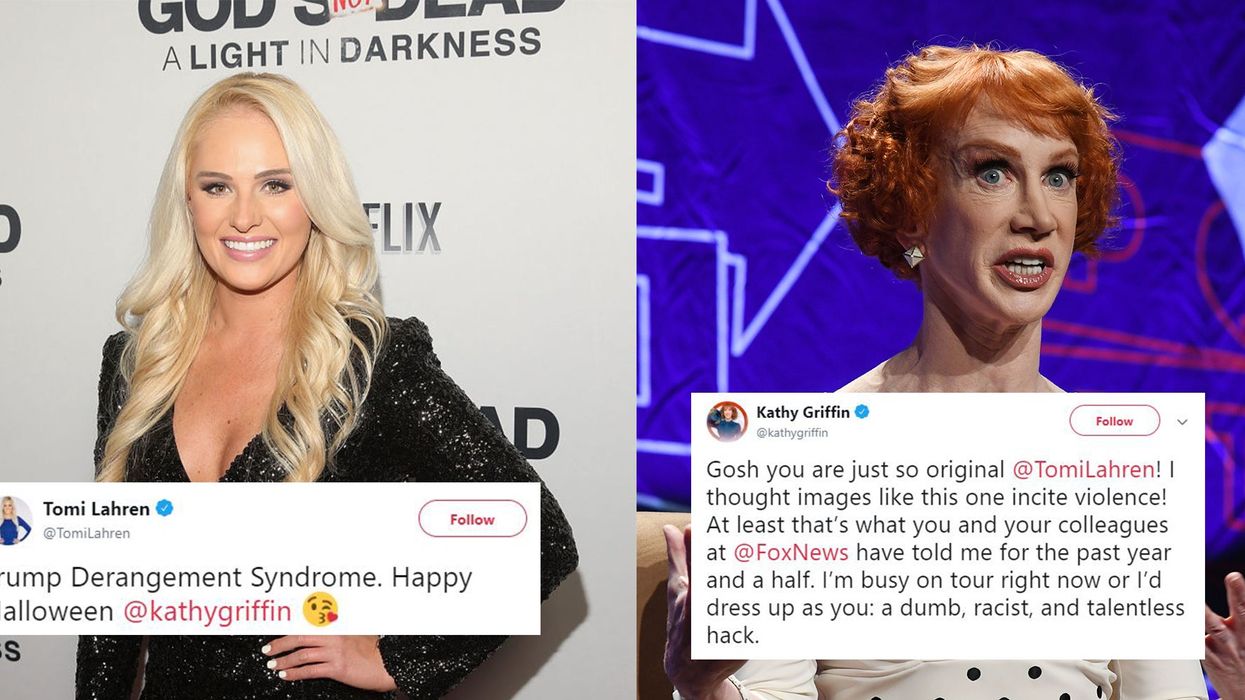 Jesse Grant/Getty Images/ Marl Ralston/ AFP/ Twitter
Right-wing commentator Tomi Lahren's attempts to mock a critic of Donald Trump's with her Halloween costume but it appears to have backfired.
The 26-year-old conservative provocateur is pretty good at putting her foot in it, but she really should have done her research before dressing as the comedian Kathy Griffin.
Let's just fill you in on the backstory of what this costume is supposed to represent.
In May 2017, 57-year-old Griffin took part in a gory photo shoot with photographer Tyler Shields, where she held up a pretend decapitated head of Trump.
At the time, the image sparked a debate, with many thinking that it was a step too far from Griffin, with others attempting to defend her.
The controversy resulted in Griffin losing her job as the co-host of CNN's New Year's Eve party, but it didn't seem to phase her much as she has continued her criticism of Trump on social media.
Obviously remembering the discussion and the outrage that the image caused amongst conservatives, Griffin decided to point out Tomi's hypocrisy in her scathing response.
This provoked a clap back from Lahren, who we can consider to be well and truly 'triggered'.
It's not quite clear what sort of statement that Lahren was trying to make here, as she clearly didn't succeed in mocking Griffin and made the situation a lot more confusing by replacing Trump's head with a scary clown mask.
Does she think that Trump is a clown? Or evil?
Needless to say, it wasn't only Griffin that called Lahren out on this epic-self own.
Even people who you'd presume would side with Lahren began to turn against her.
Oh well...just another day in the collective lives of the US right wing and Trump's America.
HT Someecards