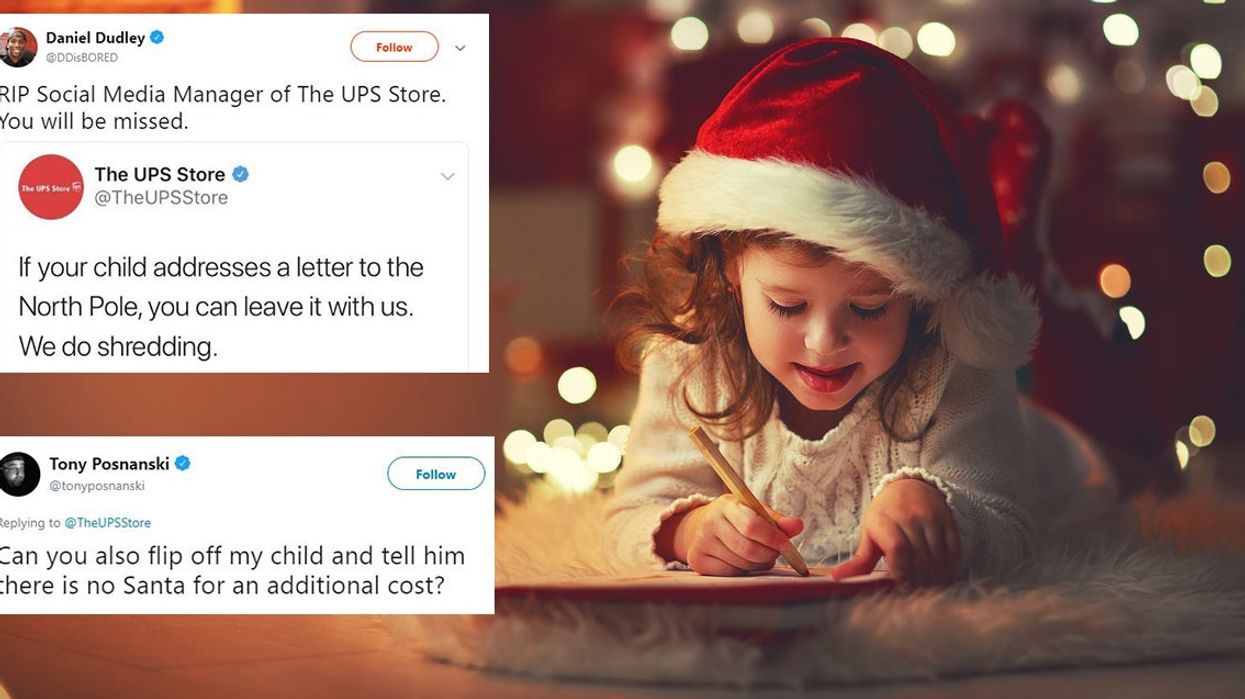 Getty Images/iStockphoto/ Twitter
At Christmas time it's very easy to become cynical and fatigued, effectively forgetting what the true meaning of the season is.
That appears to be what happened to the social media manager of The UPS Store on Sunday who put out a rather un-festive tweet about children sending letters to the North Pole.
The now deleted tweet read:
If your child addresses a letter to the North Pole, you can leave it with us. We do shredding.
What was obviously intended as a very dark joke, faced a comprehensive backlash as Twitter users deemed it inappropriate and 'too dark' which is pretty bad considering this was posted on Twitter, where all manner of horrible stuff gets shared.
@TheUPSStore Dear UPS - this is not a good look. Hellooooooo @FedEx!

— Ariane Bellamar (@Ariane Bellamar) 1545073665
The UPS Store, which is the same company as the UPS delivery service did tell BuzzFeedthat their tweets are outsourced by a third party-agency who often post 'fun' and 'light-hearted' tweets but decided to remove it on Monday due to the negativity it was attracting.
In a statement given to BuzzFeed, Stacy Reidinger, said that they thought the tweet would be seen as funny but realised it didn't quite hit the spot.
We do a lot of puns that have second- or third-level meanings in our posts. We thought this was going to be one of those

We're very sensitive to what we do on social, and if we see things that are going in the wrong direction, we want to say, 'OK, we're going to back off of this.'

We did not want to take away from the magic of Christmas. [The tweet] was just to get people laughing.
She added that they will give their tweets a more critical overview in the future and have made the employee who posted the tweet aware of the problems it created but will not be taking any disciplinary action.
HT BuzzFeed