This week it was revealed that HSBC's Swiss subsidiary had helped wealthy clients from around the world evade hundreds of millions of pounds worth of tax.
While the bank says it is "accountable for past control failures" it also claims to have "fundamentally changed".
Following the news, YouGov and the Times newspaper asked voters why they thought British people would want to hold Swiss bank accounts.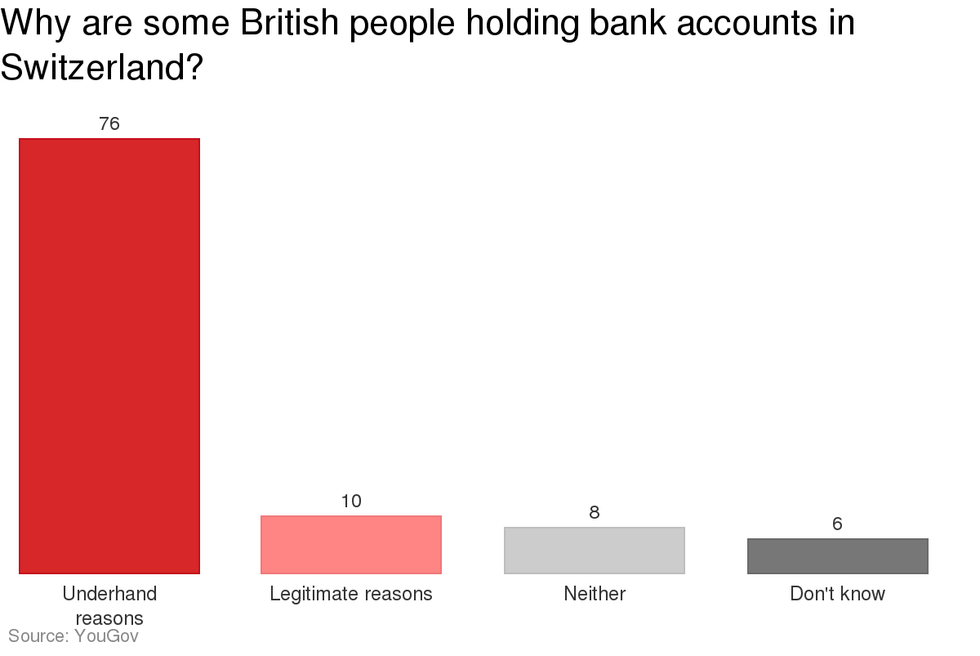 Clearly, the majority of Britons (76 per cent) think people hold accounts in the highly secretive country for underhand reasons, while just one in ten believe they do it for legitimate reasons.
We put this question to some tax experts to find out some plausible reasons why people would keep their money offshore.
Switzerland is a respected financial centre, not as sophisticated as London or New York but it does have some good quality banks.

You can arrange all your investments - for instance, a portfolio in stocks and shares - in Geneva or Zurich. In the main, because they, quite legitimately, have a better tax incentive for doing so.

This is particularly true for non-doms - if you came over here from somewhere like Saudi Arabia or the Emirates, you live here full-time but you're not a citizen.

If all your money was made overseas and never taken into the UK, then somewhere like Switzerland is a good choice.

Many others do have illegitimate reasons of course...
Patrick Stevens, tax policy director for the Chartered Institute of Taxation
Jason Collins, the head of tax at Pinsent Masons law firm, told BBC Newsnight on Tuesday that some people use the privacy of Swiss banks to guard their own personal safety - if the net worth of an individual is publicly known then they can become more liable to kidnapping, he explained.
However, the idea that people have the accounts for illegitimate reasons was backed up by Markus Meinzer of the Tax Justice Network when he spoke to i100.co.uk:
Swiss banks have been known since at least the 1930s to be the most secretive to hide assets and wealth.

They enable people undertaking nefarious activities to escape the laws of other countries. Prison sentences for breaches of banking secrecy laws have made it an allure for illicit funds for decades.
Markus Meinzer, senior analyst for the Tax Justice Network
A spokesperson for the Financial Conduct Authority simply told us: "I'm not sure it's for us to say why. You'd have to ask someone who's opened a bank account in Switzerland."
More: Tax avoidance v benefit cuts: What David Cameron has done this week
More: We went on a tax justice tour through the heart of London