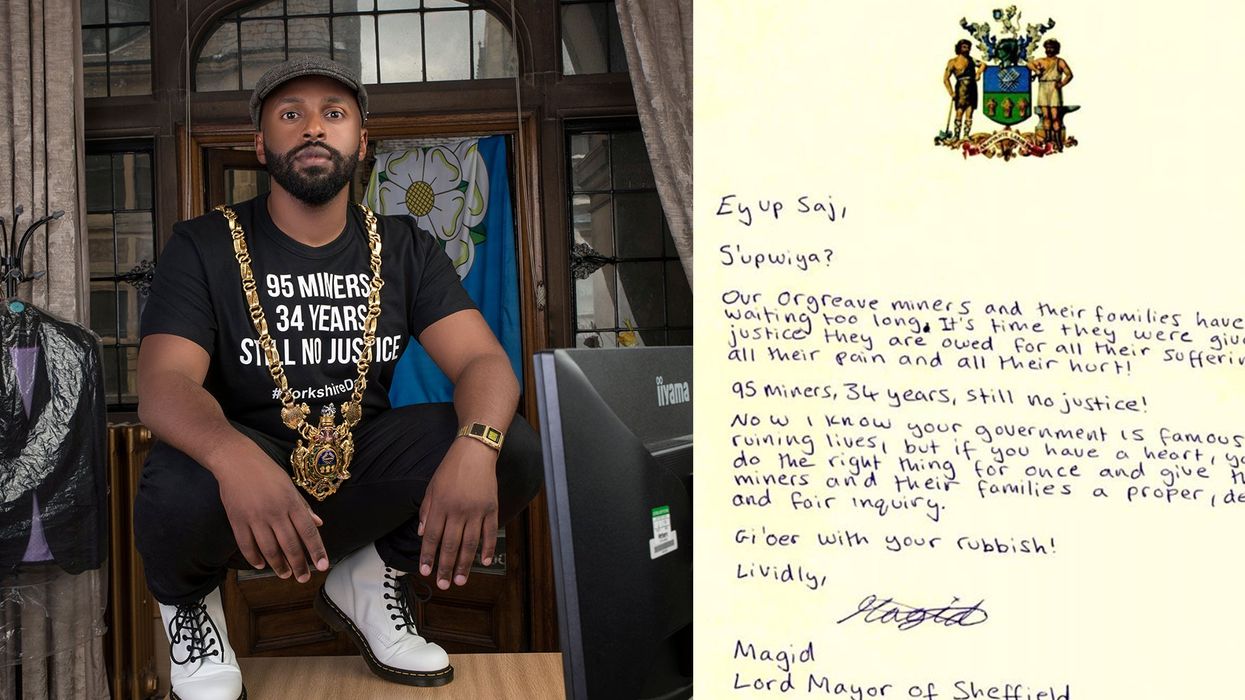 Magid Magid/ Twitter
The Lord Mayor of Sheffield Magid Magid has called for justice for the Orgreave miners on Yorkshire Day.
During the miner's strike of 1984, 95 miners were arrested by South Yorkshire Police and charged with riot offences.
They were later acquitted of the crimes on claims that the police had fabricated evidence. There were also examples of pickets being beaten unconscious by the police.
The events of the day are still yet to be answered for and The Orgreave Truth and Justice Campaign continue to seek justice for those that were affected by the incidents.
Today, on annual Yorkshire Day, the flamboyant and outspoken Lord Mayor of Sheffield, Magid Magid has written an open letter to the current Home Secretary, Sajid Javid to demand justice for the 95 miners.
Not only does he demand justice but the letter has been written in true Yorkshire dialect. Magid writes:
Ey up Saj,

S'upwiya?

Our Orgreave miners and their families have been waiting too long. It's time they were given the justice they are owed for all their suffering, all their pain and all their hurt!

95 miners. 34 years. Still no justice!

Now I know your government is famous for ruining lives, but if you have a heart, you'll do the right thing for once and give the miners and their families a proper, decent and fair inquiry.

Gi'oer with your rubbish!

Lividly,

Magid

Lord Mayor of Sheffield
Please do the same and let him know that #TheNorthRemembers and that we won't be silenced. https://t.co/8jRQ1qxm04

— 🚀MΛG!D (@🚀MΛG!D) 1533121541
In October 2016, former Home Secretary Amber Rudd declared that there would be no inquiry into Orgreave.
At the time she said:
This has been a difficult decision to make, and one which I have thought about very carefully.

I have now concluded that there is not a sufficient basis for me to instigate either a statutory inquiry or an independent review.

I know that this decision will come as a significant disappointment to the Orgreave Truth and Justice Campaign and its supporters.