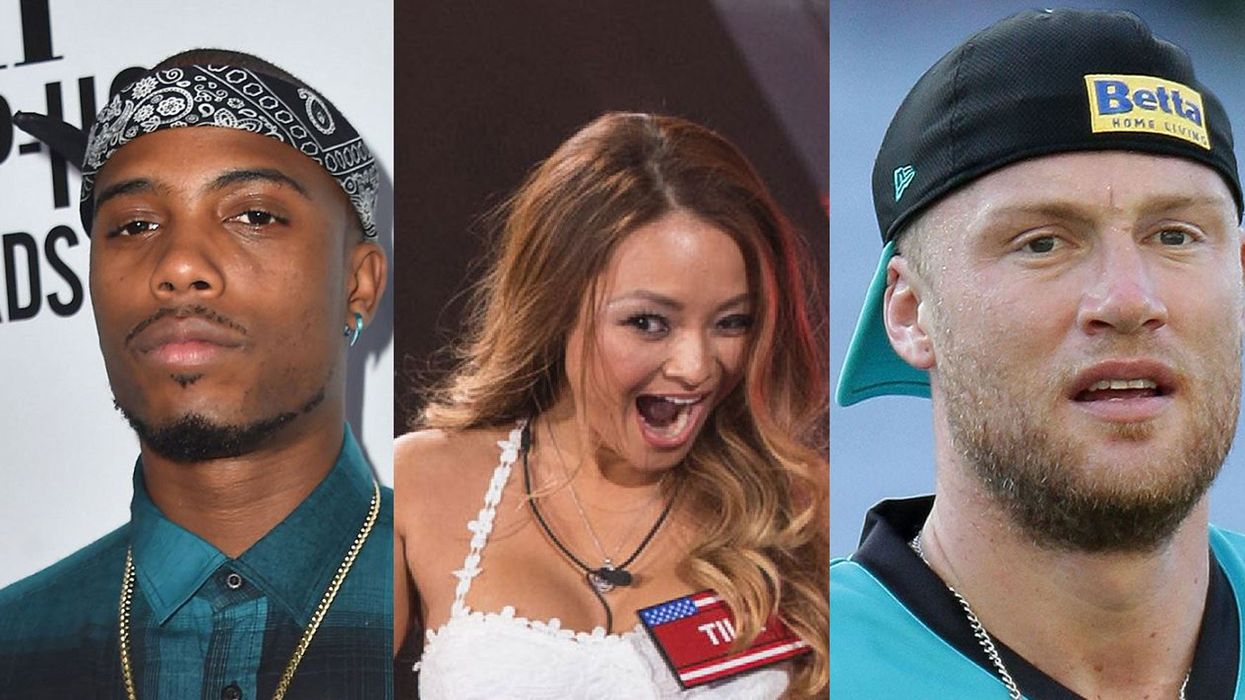 Getty
It's pretty difficult to comprehend exactly why the flat earth Earth conspiracy is so popular.
Is it simply a trend, like Hipster Beards and weird wriggly eyebrows, to be discarded on the eve of the next big thing?
Or is this just the flat world we live in now?
Whichever way you look at it, here are some celebrities who have expressed support for the theory that our Earth is in fact flat in the past.
1. Kyrie Irving
During a podcast with some of his team mates, Irving, who plays as a guard for the Cleveland Cavaliers' basketball team, shared his thoughts on the flat Earth theory.
He said:
This is not even a conspiracy theory.

It's right in front of our faces. I'm telling you, it's right in front of our faces. They lie to us.

If you really think about it from the landscape of the way we travel, the way we move, and the fact that -- can you really think of us rotating around the sun and all planets aligned, rotating in specific dates, being perpendicular with what's going on with these planets?

The truth is right there. You've just got to go searching for it.
We're not sure if this was a prank or not, because a number of basketball players, including Shaquille O'Neal, have said the world is flat in jest.
2. B.o.B
In 2016, he tweeted a succession of strange comments supporting the idea that the Earth is flat.
In 2017 he tweeted his support again.
He even created a GoFundMe page to raise funding to help prove the theory.
3. Tila Tequila
The American social media personality tweeted hundreds of bizarre comments challenging scientists to 'prove her wrong dammit!', citing the shape of the buildings in New York City as her example of why the Earth is flat.
Though her account has since been suspended, Observerquoted her.
She tweeted:
Why are all the buildings in NYC standing straight up? If earth was round then some of the buildings would have a slight tilt. #FlatEarth
And
I WILL STOP MY #FLATEARTH TALK IF SOMEONE CAN SEND ME A GOD DAMN PHOTO OF THE HORIZON WITH A CURVATURE! OTHERWISE IT IS FLAT!
#Conspiracy
IF I GET KILLED IN 2016 YOU'LL ALL KNOW IT'S BECAUSE I EXPOSED THE EARTH AS BEING FLAT. #TRUTHEXPOSED
Oh dear.
4. Freddie Flintoff
Speaking on a podcast for BBC 5 Live, the cricketer shared his thoughts on the subject.
He said:
If you're in a helicopter and you hover, why does the Earth not come to you if it's round

The middle is the North Pole; around the outside is the South Pole which is like a big wall of ice.

 This is why all governments now have bases on the South Pole.
5. AJ Styles
The wrestler has since attempted to distance himself from comments he made during Talking Smack, a wrestling after show in which he said the flat earth theory "made sense".
He has specifically said he is not a Flat Earther.
I do not think the world is flat...I'm just saying there's some stuff about it, that's all.
6. Daniel Shenton
In 1984 musician Thomas Dolby released his second album, appropriately titled 'The Flat Earth'. It led Daniel Shenton,(now president of the Flat Earth Society), down the rabbit hole.
He said:
It was the late 1990s and I started doing research into what the Flat Earth Society was. I had heard of it and, when I did some more research, I eventually ended up believing its ideas were true.
​H/T IFL Science
More: Freddie Flintoff thinks the Earth is flat
More: Elon Musk just made the most perfect point about the Flat Earth conspiracy
Watch: Flat earth theorist: 'All the world's a stage'