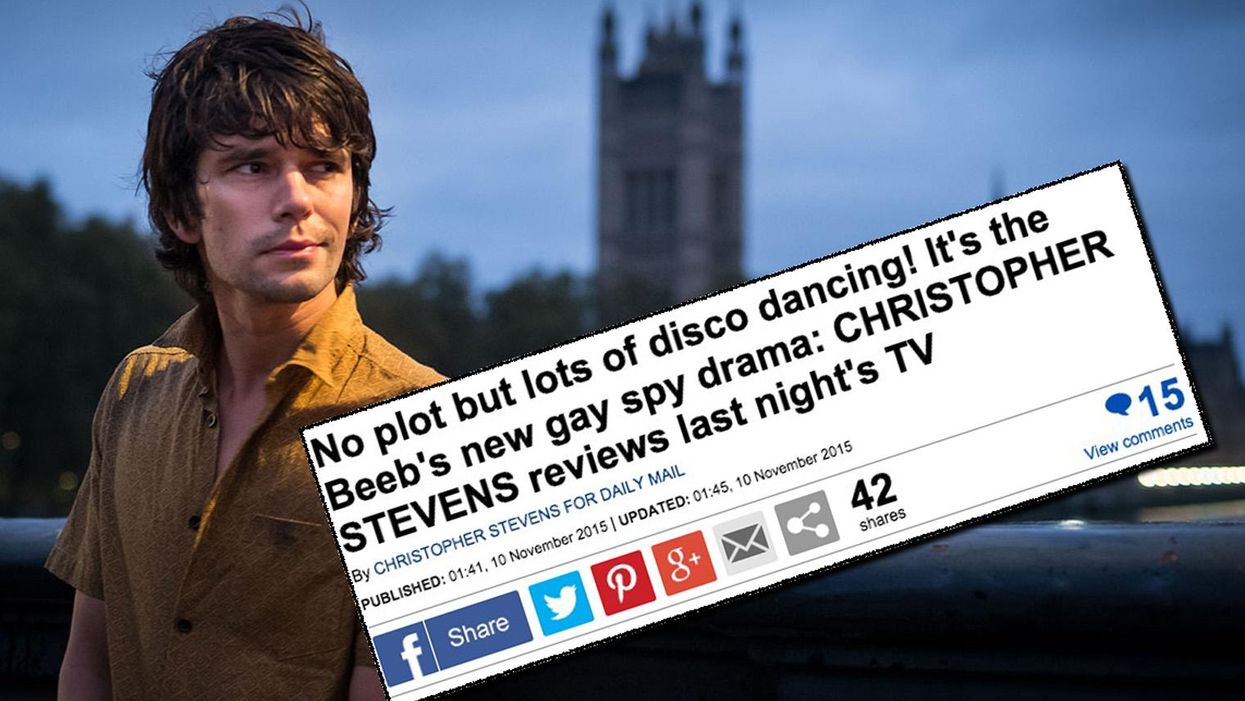 A Daily Mail review of a new spy thriller series has been widely criticised for obsessing over the sexuality of the lead characters.
London Spy, a new BBC2 series, is described by the corporation as follows:
A romance between an MI6 code genius and an ordinary man promises happiness. But tragedy strikes when the spy dies in suspicious circumstances, forcing his lover to pursue the truth behind his death.
Daily Mail TV critic Christopher Stevens opened his review, on a rather different tack:
Believe it or not, BBC execs reckon there is not enough gay drama on the Beeb. You might think that it's become impossible to switch the telly on without seeing two men locked in a naked clinch, or in drag, or snogging.
He continued:
The story wasn't merely gay: it was as exclusively all-male as an old-fashioned gentlemen's club. Ben Whishaw (Q in the Bond movies) played Danny, a lost soul desperate for love who spent every spare hour doing drugs in nightclubs. We were left in no doubt about his sexuality from the start, because he was dancing down the street to Donna Summer's I Feel Love.
One sentence in particular, read:
Then they got down to being gay, which involved smouldering in profile, lying around with their shirts off in sepia light, having baths and mumbling a lot.
The review has been roundly criticised for the reviewer's perceived obsession with the sexuality of the characters, otherwise widely regarded as only a small facet of the plot.
The top-rated comments on the article at the time of writing, read:
It's not a gay spy drama. It's a spy drama and some of the characters happen to be gay. Grow up DM.
Could not disagree more- the drama and performances were brilliant. A slow burner which was not at all gay propaganda- it was a great drama where the main characters happen to be gay, thats all. Great ending- i expect the pace will pick up once we find out more about alex and that mystery item!
Why is the main characters sexuality got to do with it?????
Well played DM commenters. Well played.
A 'Where We Are on TV' 2015 report by Glaad found that of the 881 regular characters scheduled to appear on prime-time broadcast in the United States, only 4 per cent (35) were identified as gay, lesbian or bisexual.