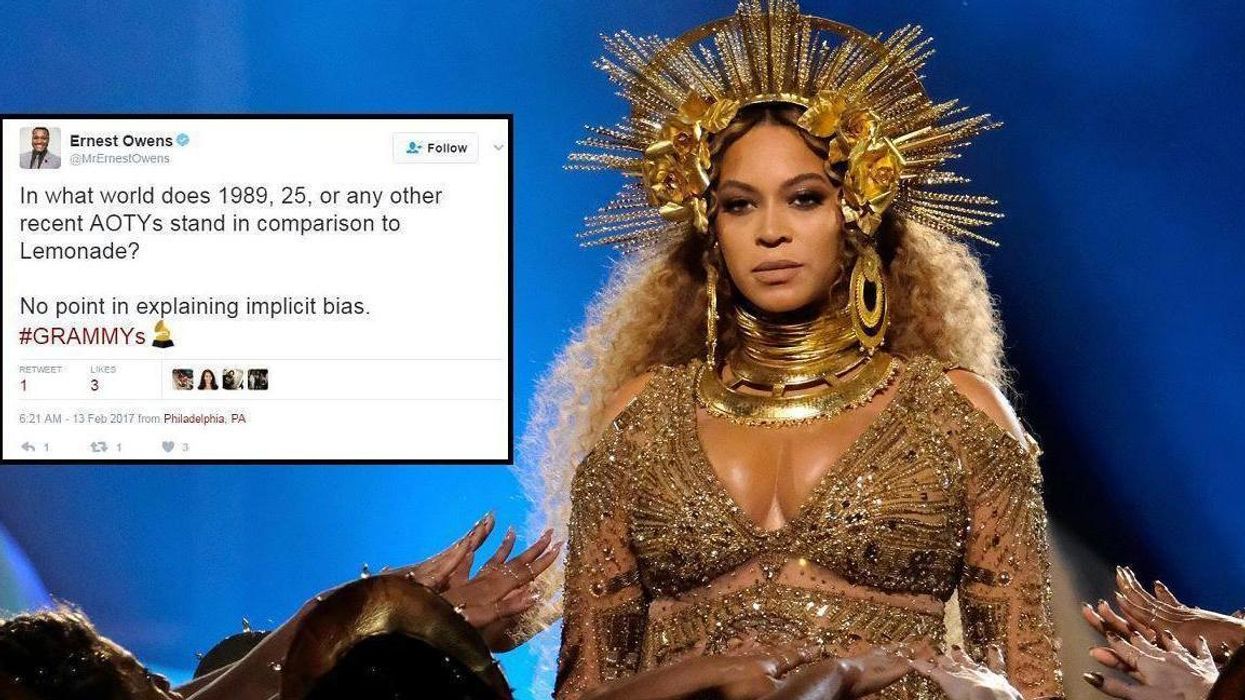 LARRY BUSACCA/GETTY
Millions of people tuned in to the Grammy Awards on Sunday – tp celebrate musical talent across genres and cultures.
Adele stole the show with her triple win – swiping Record of the Year, Song of the Year and the coveted Album of the Year.
There were expectations that Beyoncé's Lemonade would pick up the award, particularly because of its empowerment of women and its celebration of African American culture.
Huffington Post's Lilly Workneh called it a "powerful ode to black women everywhere".
Beyoncé's inclusion of poet Warsan Shire and her use of a Malcom X speech are just two examples of the complex racial issues her album touched upon.
The most disrespected woman in America is the black woman. The most unprotected person in America is the black woman.
Award shows are increasingly being used to shine light upon the institutional racism that exists in the industry at large. #OscarsSoWhite became the rallying cry for actors of colour who are using their platforms to criticise the industry.
Award-winning actor Viola Davis is an outspoken critic of the lack of diversity in Hollywood, and said there was an absence "in leading roles, if you're darker than a paper bag".
Now, #GrammysSoWhite has become a vehicle of condemnation.
The fact that Beyoncé missed out on the prestigious Album of the Year is seen by many as proof that institutional racism is alive and kicking.
Others are calling the Grammys 'anti-black'
And many pointed out the years artists of colour missed out on Album of the Year:
Lauryn Hill was the last woman of colour to win the award, in 1999, and Jazz musician Herbie Hancock won it in 2008 - for an album of Joni Mitchell covers.
Adele was, for her part, praised for her acknowledgement of Beyoncé's success:
Not everyone agrees that the Grammys has racist undertones, and some argue that Adele won Album of the Year simply because it performed better:
Vox writer Todd VanDerWerff argues that the reason Beyoncé missed out was to do with the "power structures" of the music industry.
[It is] full of aging white baby boomers, who might be outnumbered in aggregate by younger, more diverse people, but who also tend to vote as a bloc and promote the sorts of things that appeal to their ears.
As a result, new, black artists tend to be sidelined in favour of "familiar" white artists in traditional genres like pop.
Frank Ocean decided not to submit his album for consideration, and last year told the New York Times it was because the Recording Academy – the group in charge of the Grammys - "doesn't seem to be representing very well for people who come from where I come from".
There are even demands that the Recording Academy release details of the Grammy voters: