Nigerian startup Comic Republic is hoping to revolutionise the comic book industry with its kick-ass African superheroes.
The small company was founded by Lagos-born Jide Martin, who has been drawing since he was old enough to pick up a pencil.
Superheroes always inspired him, Martin told i100.co.uk. Sometimes he would find himself asking, 'What would Superman do?' when in a tight situation.
As an adult Martin realised how few good quality comics were around for Nigerian kids - and all American in origin.
He founded Comic Republic in 2013, with the tagline: "We all can be heroes", in the hope that his creations will help give African children the confidence to believe in themselves and follow their dreams.
The characters, known by fans as 'Africa's Avengers', include Guardian Prime, whom Martin calls 'the black Superman':
Hilda Avonomemi Moses, who can speak to spirits
Nutech, who can control technology and magnets with his mind
Super-strong warrior Ireti
and Marcus Chigozie, a teenager blessed with supersonic speed: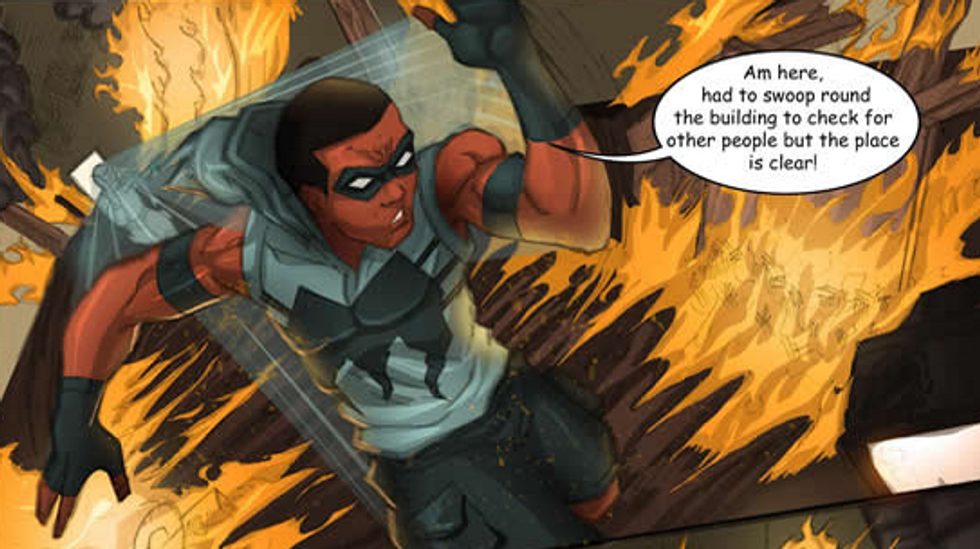 In another refreshing departure from mainstream comic culture, women feature heavily in the world of Comic Republic.
While some have criticised the fact that the female characters are usually depicted in much skimpier clothing than the men, spokesperson for Comic Republic Eduvie Oyaide said that "we do not believe that what you wear defines who you are or your capabilities and our characters reflect this."
The comics are available to view and download for free from Comic Republic's Facebook page and website, and are growing ever more popular - according to Quartz, the last issue was downloaded 25,000 times.
There's evidence that the series appeals to readers all over the world, too, since only 30 per cent of the site's traffic is estimated to come from within Nigeria.
The nine-person team hopes that they will be able to make money from advertising and sponsorship soon. Oyaide said:
Our fanbase grows daily with people excited to see superheroes of colour telling the African story.
The immense popularity of Comic Republic is part of Nigeria's blossoming arts scene, and the company says it wants to "put Africa's best food forward":
​We want the characters to be used as a medium to promote morals, values, ethics and culture.​

We hope to... show the world that [Africa] is more than is often projected in the media.
HT: Quartz