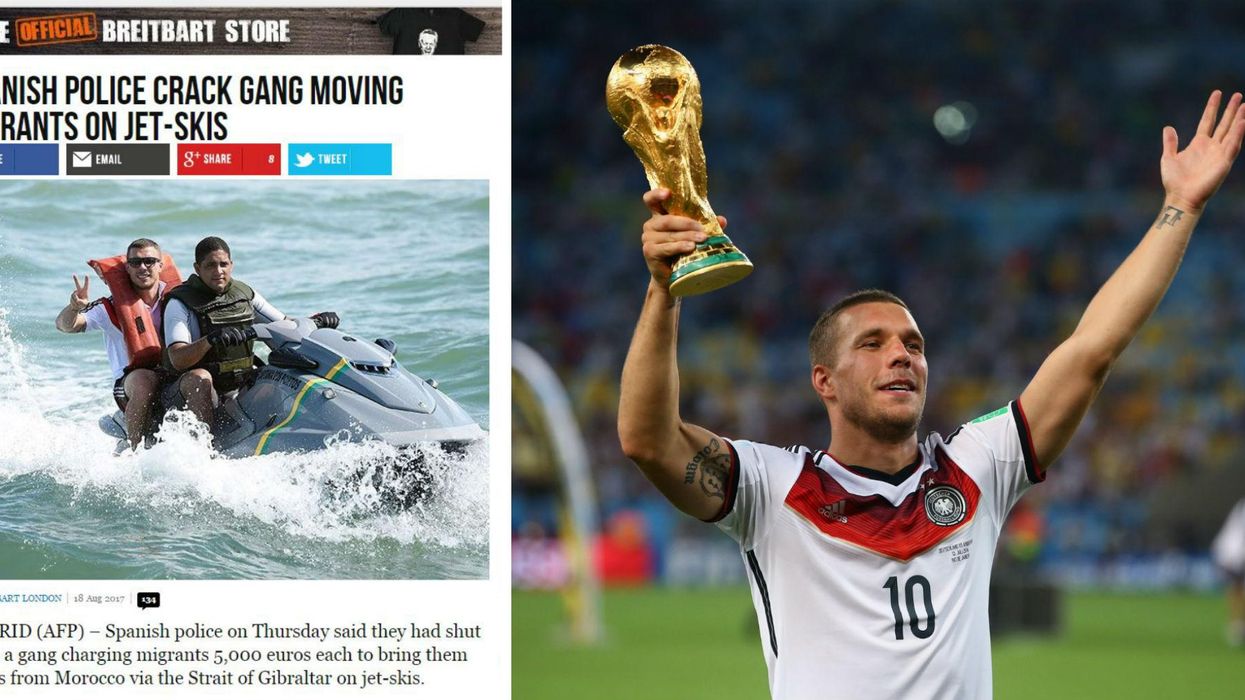 (L) Breitbart London screenshot taken 20 Aug 2017, (R) Julian Finney/Getty Images
On Friday, Breitbart published an article about human trafficking in the Mediterranean.
To illustrate it they bizarrely used a photo of German international footballer Podolski from 2014, taken off the coast of Brazil.
Podolski has no connection to human trafficking whatsoever.
The article claimed that:
Spanish police on Thursday said they had shut down a gang charging migrants 5,000 euros each to bring them across from Morocco via the Strait of Gibraltar on jet-skis.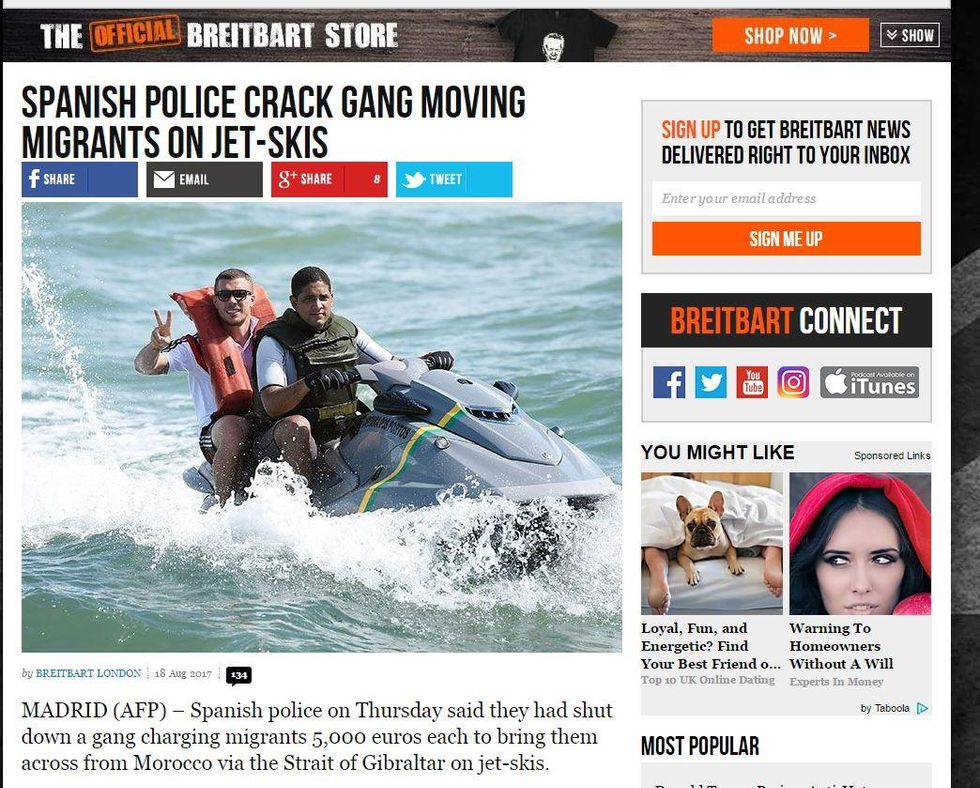 Breitbart London screenshot taken 12.27 20 August 2017.
That photo is not of a generic water ski rider.
It shows Lukas Podolski on the back of the jet ski.
Podolski is a half German, half Polish centre forward, who has played for Bayern Munich, Arsenal, and the German national team.
Here is the same photo, still available via Getty Images.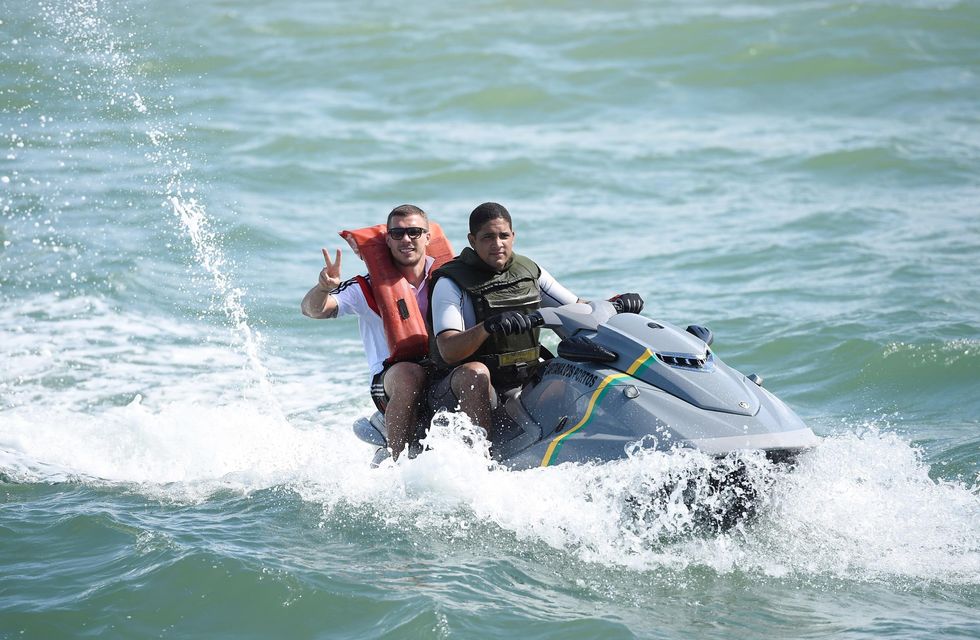 Lukas Podolski, of German football fame, and professional explorer Mike Horn
The original photo is from 10 June 2014, taken in Santo Andre, Brazil. It features Podolski taking a jet ski ride with Mike Horn.
Horn, a professional explorer and adventurer, joined the team at Campo Bahia for some pre-World Cup relaxation.
Nearly 7,000 kilometres from the Strait of Gibraltar, the location which concerns Breitbart.
It was part of a team sailing trip, ahead of the FIFA 2014 world cup - which the German team went on to win.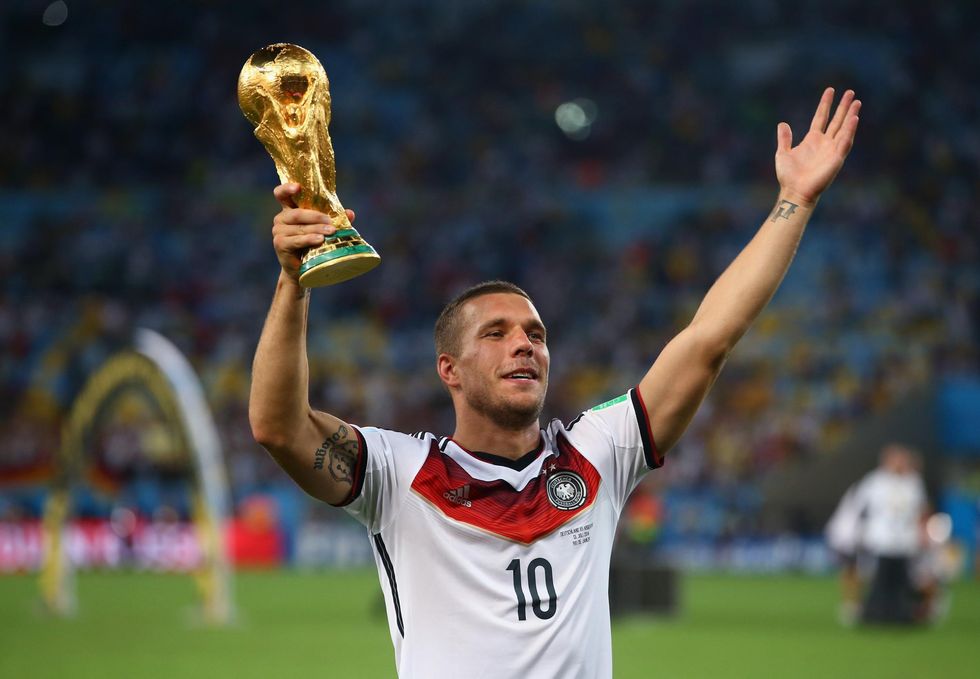 13 July 2014, Lukas Podolski of Germany celebrates with the World Cup trophy after defeating Argentina 1-0 in extra time during the 2014 FIFA World Cup Brazil Final match between Germany and Argentina at Maracana in Rio de Janeiro.
According to an article published at the time the photo was taken by Mail Online, Podolski and Miroslav Klose were taken out on jet skis while other members of the team sailed and enjoyed the beach.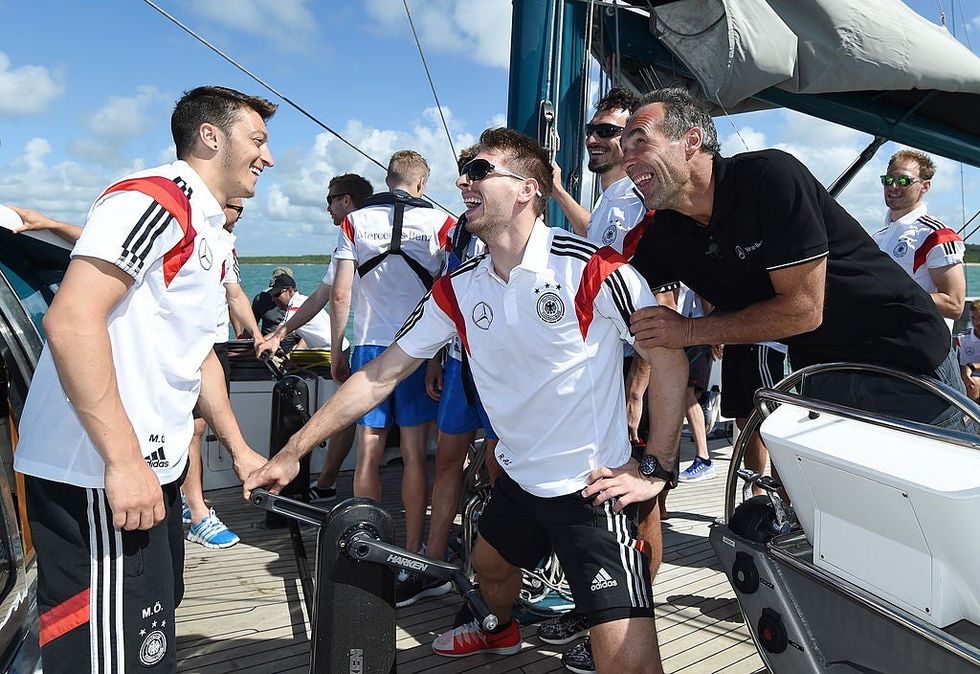 If you squint, you can tell this is actually Mesut Oezil and other members of the German National team. Easy mistake though lads.
One of those to spot the incongruous choice of image, was the Twitter account @InnerPartisan.
Comedian Dara Ó Briain also joined in to mock Breitbart's blunder.
I remember when he smuggled me into Europe on a Jet ski. Good times. https://t.co/vkS3cHFmRl

— Dara Ó Briain (@Dara Ó Briain) 1503226608
Some readers commented on the story, and similarly noted the photo choice that was only related to the Breitbart London news story in that it showed two men on a jet ski.
The Breitbart Network, is an anti-globalist platform run by former White House chief strategist Steve Bannon.
It has been criticised by anti-racism groups such as Hope Not Hate for peddling 'fake news' and making unsubstantiated claims.
Editor-in-chief of Breitbart News London Raheem Kassam responded to indy100's request for comment, regarding why this particular photo was used:
Humans are being trafficked, and the Indy100 is more concerned with a picture of a jet ski appearing on an AFP [Agence France-Presse] wire story on Breitbart. Just let that sink in.
indy100 has contacted representatives of Lukas Podolski for comment.