UFC fighter Conor McGregor is never far from controversy.
On Thursday night, the 29-year-old Irishman attacked a bus carrying UFC competitors after the UFC 223 press day in New York City.
McGregor was filmed throwing objects at the vehicle, which broke a window and injured some of the people on board.
Fights that were scheduled to take place on Saturday have been cancelled and McGregor has since handed himself into police.
This comes just days after McGregor was stripped of the lightweight title, a championship he won in November 2016 and never defended.
This is far from the first time that McGregor has attracted negative headlines for his actions and words, which tow the line between egotism and shock value.
A prime example of the man's confidence came in 2016 when he was asked at a press conference who his dream opponent into Octagon would be.
The dream fight. There isn't really any. I'd love to fight myself if I really could.

Imagine the numbers that would do if there was two of me.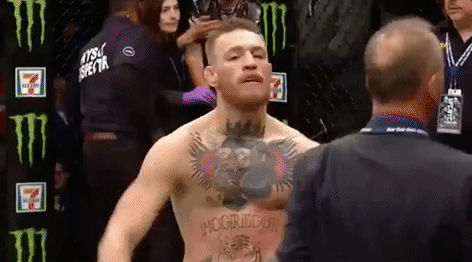 Via: Giphy
In the build-up to his fight with Rafael dos Anjos in March 2016, McGregor had the gall to compare himself to higher beings, declaring that he is done with mortals.
Me and Jesus are cool. I'm cool with all the gods. Gods recognise gods.
That particular fight never happened as Dos Anjos broke his foot, leading McGregor to face Nate Diaz instead.
McGregor's reaction to Dos Anjos' injury wasn't exactly sympathetic and could be interpreted as misogynistic.
They all have sore vaginas lately, it's crazy. There's something going on, I don't know. 

Dos Anjos broke his foot and his vagina in the same damn day.
He's also of the opinion that he can improve not just his life, but also your own, just by his mere presence alone.
At the 2016 GO Big Event he said:
I can make you rich. I'll change your bum life. When you sign to fight me, it's a celebration.

You ring back home, you ring your wife – baby, we've done it. We're rich, baby.

Conor McGregor made us rich. Break out the red panties.
Via: Giphy
McGregor isn't above insulting competitors in other sports either.
We all know about his rivalry with boxer Floyd Mayweather, which culminated in the ring last summer, but he's not been above insulting professional wrestlers either.
In summer 2016 he was asked whether he would be interested in joining WWE in the future. His response?
For the most part, those WWE guys are p*****s, to be honest.
Strangely, he isn't a big fan of clowns either. During an interview with Lad Bible, McGregor expressed his violent disdain for clowns.
Come near me, I'll slap the head off you anyway.

But if you're in a clown suit, I'll slap the head off you even more so.
He doesn't appear to have a high opinion of the Queen either. In October 2015, a picture emerged of McGregor wearing a poppy at a 2013 UFC show.
Given the politics surrounding Britain and Ireland, a fan online questioned his right to wear such a symbol.
This provoked a response from McGregor where he didn't mince his words.
I know where my allegiance lies and what I do for my country.

I don't need a stupid little flower with a 100 different meanings to tell me if I do or do not represent my country. Check the facts of its original meaning.

ALL soldiers. ALL wars. I have the blood of many nations on my gloves. Fought and beat on the world stage.

You have a pint in your hand and a Celtic jersey on in your local. F**k you and the Queen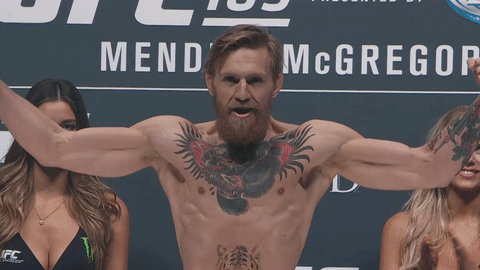 Via: Giphy
One of his most controversial quotes came in March 2015 ahead of his scheduled fight against the Brazilian Jose Aldo, where he claimed that he would have invaded favelas in a different life.
I own this town, I own Rio de Janeiro, so for him to say that he is the king and I am the joker, if this was a different time, I would invade his favela on horseback, and would kill anyone who wasn't fit to work.

But we're in a new time, so I'll whoop his ass instead.
McGregor also likes to let people know how much his clothes have cost him and how many people may have died while making them.
After a victory over Max Holloway in August 2013 he said:
These custom-made suits aren't cheap. This solid gold pocket watch, three people died making this watch.

I need to put people away. I need those big fights. I'm going to end up in debt pretty fast.
When it's all said and done though McGregor is more than happy to offer up an apology... not.
After beating Eddie Alvarez at UFC 205 in November 2016 he attempted an apology for all the things that he had said to the fellow fighters - and quickly retracted it.
I've ridiculed everyone on the roster. I just want to say from the bottom of me [sic] heart. I'd just like to take this time to apologise.

To absolutely nobody! The double-champ does what the [expletive] he wants! This is what I dreamed into reality.