BBC Breakfast
Right now, some of the biggest names in boxing are YouTubers – and they're opening up the sport to new audiences like never before.
More young people than ever are getting interested into the sport though non-traditional avenues, and they're getting inspired by the likes of Logan Paul and KSI, who takes on Tommy Fury this weekend .
But what are the best things to do if you're wanting to get involved and give boxing a go yourself? Well, we got an expert opinion.
Kingsley Walker is a former boxer and the owner of Mamba Gym group and he's seen more people than ever before coming into the gym.
While he admits he believes the phenomenon of YouTube boxing is doing more harm than good at the very top level , the benefits at grass roots level are very clear indeed.
We spoke to Kingsley and asked his expert advice on the five steps people should take if they're looking to get involved in the sport for themselves for the first time.
Join your local boxing club
KSI is leading the way for YouTube boxing Getty Images
If there was one piece of advice for people inspired to pick up boxing, it was to seek out their local boxing club.
It sounds simple enough, but the importance of specialist coaching in what is a growing industry can't be understated.
"The best route for them is to look up their local boxing club," Kingsley said. "Our sport has been growing and growing since the 2012 Olympics. We've had a lot of funding put our way. And that's just great, especially when it comes to female boxing as well which is massive.
"Pretty much every town in the country has an amateur boxing club. From a safety perspective, I would go down that route as well, because all England Boxing Clubs have to be DBS checked and have the right safeguarding and licences… Go down for a trial session, most of them do your first session free."
Avoid sparring without expert supervision
iStock
It's tempting to get a pair of gloves on and get going straight away, but Kingsley stressed just how important it was to spar while under expert supervision.
When asked what to definitely avoid, he replied: "To spar without proper coaches and people overseeing it".
Speaking about the dangers of doing so without , he said that it can result in "people just getting absolutely knocked out" and added that it "looks so bad on the sport".
Come into the sport with the right attitude
If there's anything people know about boxing training from the outset, it's how hard it is.
The sport is not meant to be easy, after all, and Kingsley stressed that people coming to it for the first time should have the right attitude – and never assume it's going to be easy just because they've seen their favourite YouTubers give it a go.
Describing newcomers as a "blank state", he said that in his experience they often "don't realise how tough the sport is until they actually start training."
"They think it's easy. And that changes quite quickly," he added.
Don't be intimidated
iStock
Sure, it's not easy – but people shouldn't be intimidated when it comes to getting involved either.
"The whole point of amateur boxing is to get as many youngsters involved in the gym as possible and get them on the right path" Kingsley told us, referencing how gyms had changed over the years.
"The old style of boxing clubs being rough, intimidating places just doesn't work anymore because there are so many options.
He added: "We spend a bit of money on making our gyms look nice and welcoming because we want as many people in there as possible. Places have got to move in the times. Otherwise, they'll find people will just go elsewhere."
Boxing clubs are for everyone, so don't be afraid to get involved.
Once you've found your feet, try Tabata workouts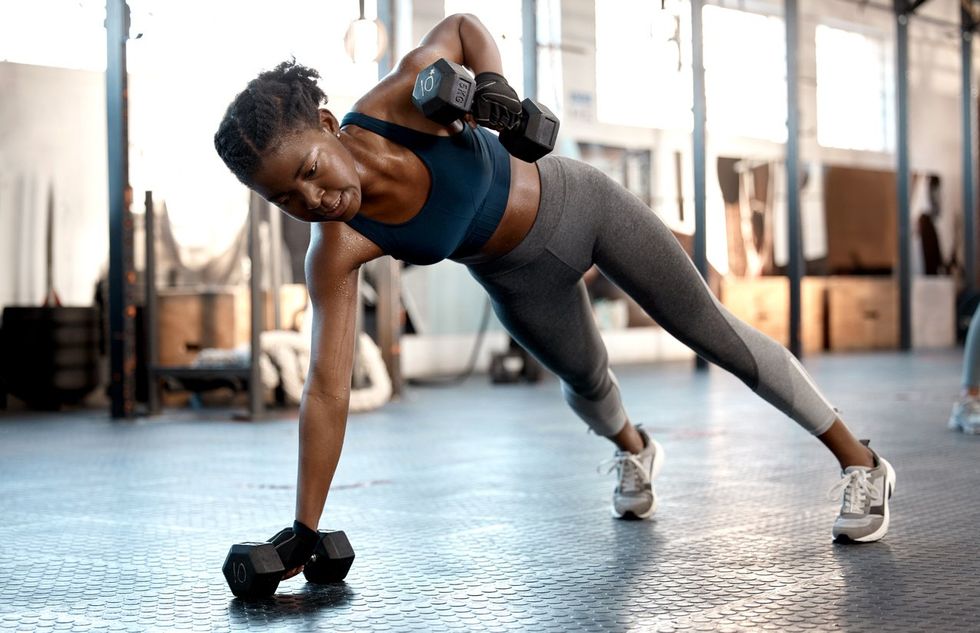 iStock
There are plenty of athletes out there who'll tell you boxing training is the hardest in the world – and Tabata is the thing that'll get you in the best shape for it, according to Kingsley.
But what exactly is it? Essentially, it's intense interval training which will prepare your body for the experiences of sparring in a competitive environment.
The exercise was founded by Japanese scientist Izumi Tabata in the late '90s, and it's a form of high-intensity interval training (HIIT).
"It's the sort of training that can best replicate what it's like competing, because you're getting you balance the intensity with rest," he said.
Explaining what the workouts involve, kingley explained that it involves short blasts of around 20 seconds, before resetting for 20 seconds, then going again.
As an initial kickstarted, Tabatas are the way to go. Once people start getting more serious, that's when the other endurance training starts.
"Once you start competing and training you can start doing the running," Kingsley said.
Sign up for our free Indy100 weekly newsletter
Have your say in our news democracy. Click the upvote icon at the top of the page to help raise this article through the indy100 rankings