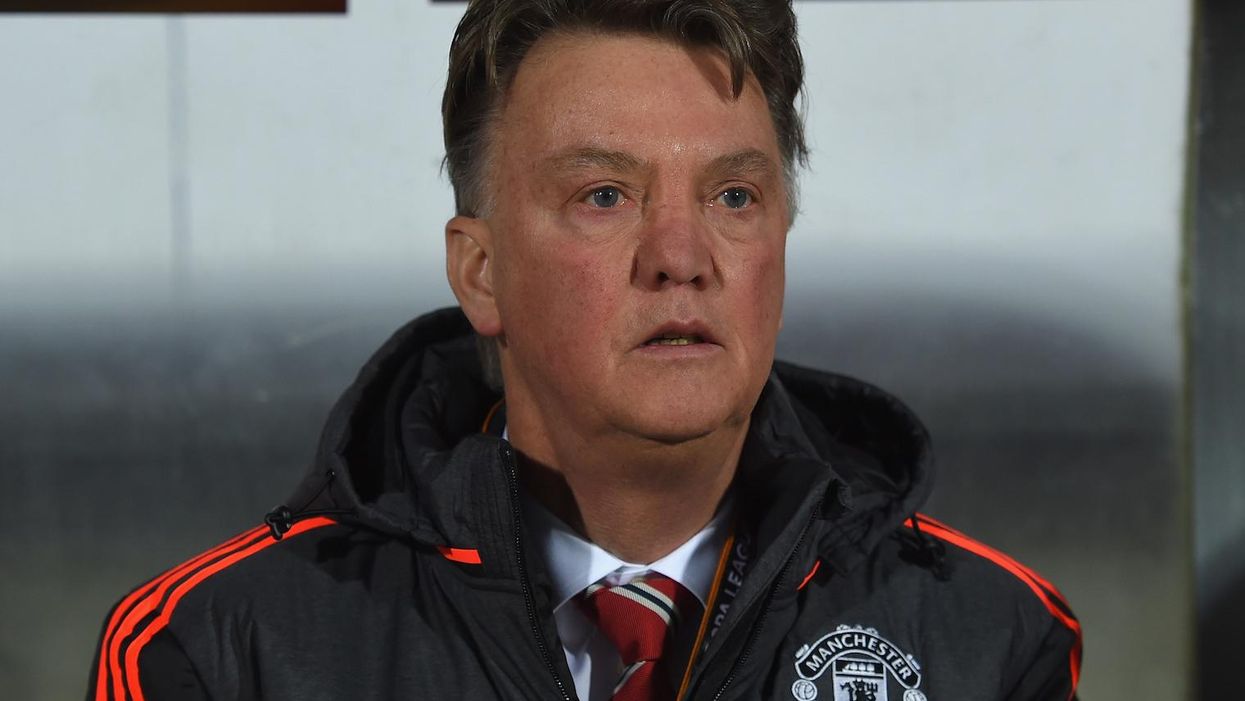 Manchester United manager urged his players to get "horny" ahead of their Europa League fixture against FC Midtjylland on Thursday night.
The Dutch manager appeared to be searching for a synonym for passion, but it did not stop the laughter which permeated the press conference, including from Juan Mata sat beside him.
It's the latest in a series of gaffes from the man who needs to overturn a 2-1 first-leg deficit to progress to the last 16 of the competition.
Let's take a brief retrospective of his premiership at Old Trafford and elsewhere:
1. He called a journalist 'fat man' as he walked out of a press conference
Van Gaal labelled Neil Custis "fat man" after he felt he had unfairly criticised the form of striker Wayne Rooney.
Either way you look at it, certainly unprofessional behaviour from a Premier League manager.
It inspired a pounds v points challenge, since which United have seven points from five Premier League games.
2. He spent £153m in one summer
His net spend was the largest in the Premier League (£124.45m) last summer and it has showed no immediate results with this season ranking among Manchester United's worst for a generation.
It was the 6th highest spend by any manager in Premier League history and only £65m behind Alex Ferguson's total spend over 21 seasons.
3. He did this to Ryan Giggs
We can't really do justice to his full, 'erratic' evening at the club's Christmas party, you need to see it in its full glory here.
4. He rebuked Gary Neville for doing his job
After Neville criticised the playing style of the Manchester side, acting in his role as a pundit, Van Gaal warned him to "pay attention to his words", claiming that as an "ex-legend", one needs to watch what they are saying.
5. The sheer number of strikers he has sold while short of attacking options
Robin Van Persie, Angelo Henriquez, Javier Hernandez, Federico Macheda, Danny Welbeck, Jack Barmby, Bebé, Wilfried Zaha, with Ashley Fletcher, Will Keane and James Wilson on loan.
Well, at one point Angel di Maria was also playing striker, in front of Rooney, so him too we guess. The team is currently averaging only 1.37 goals per game in the league.
6. When he handed out a dossier about long ball
After then-West Ham manager Sam Allardyce accused the United boss of playing long-ball at Upton Park, Van Gaal produced a series of diagrams, charts, facts and figures, leaving the press conference, and his press officer, speechless.
7. When as Ajax manager he outright called a journalist stupid
8. When he dropped his trousers to his players to establish authority
Italian striker Luca Toni said during his time at Bayern, Van Gaal treated his players like "interchangeable objects":
The coach wanted to make clear to us that he can drop any player, it was all the same to him because, as he said, he had the balls.

He demonstrated this literally (by dropping his trousers). I have never experienced anything like it, it was totally crazy. Luckily I didn't see a lot, because I wasn't in the front row.
9. When he proved he's an eccentric live TV booking
This is one way to react to being replaced as a pundit on Sport 1's football discussion show.
10. When he leaped acrobatically to appeal to the referee
Upset with a high challenge against Ajax in the 1995 Champion's League final, Van Gaal made his case elegantly.
What a time to be a Manchester United fan.