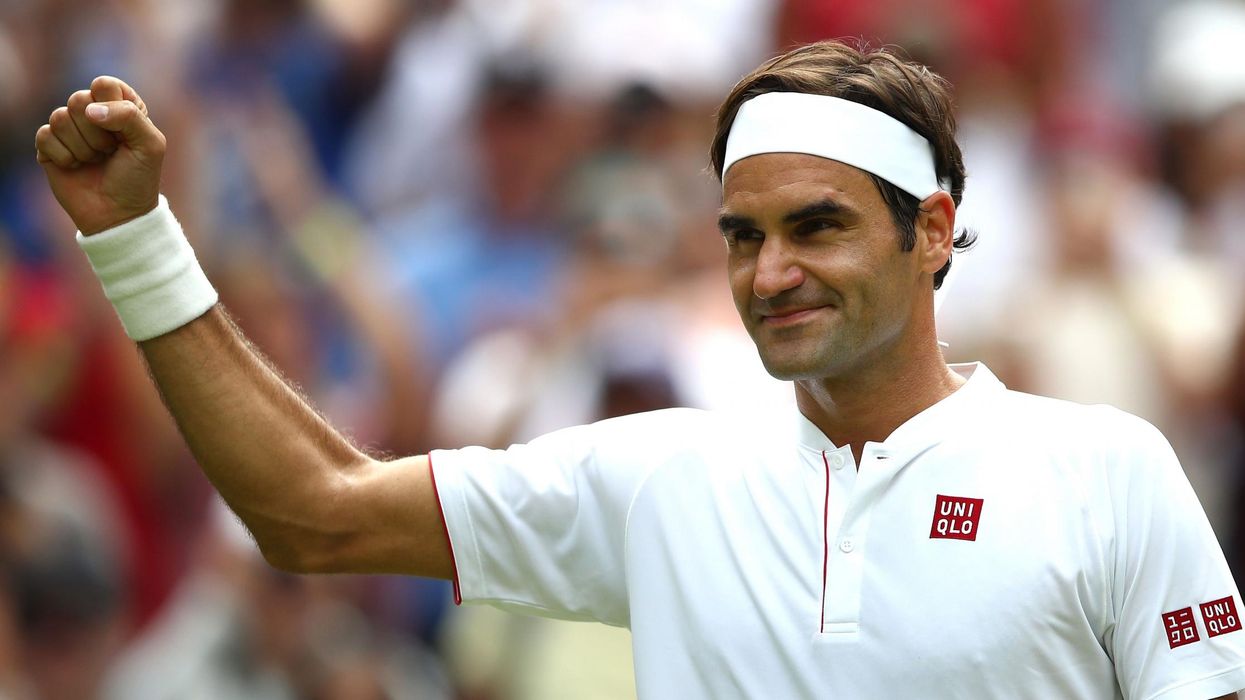 Getty Images / Clive Mason / Staff
There is more than one major sports tournament happening in the world right now.
While most of the world's eyes are on events in Russia others are showing an interest in a tennis tournament in South West London otherwise known as Wimbledon.
The world's oldest tennis tournament first began in 1877 and is still the only major competition played on grass.
Many greats have lifted those famous trophies from Martina Navratilova to Bjorn Borg and Roger Federer to Serena Williams.
Away from the tennis though there are lots of unique stories and facts that reverberate around SW19 every year that are just as interesting as any use of eagle eye.
So while you are wasting time between sets have a little glance at these interesting tidbits that have happened at Wimbledon over the years.
Ball boys and girls
Perhaps one of the most iconic images of any Wimbledon tournament is the astonishing timing and coordination of the ball boys and girls who keep games running smoothly every year.
Although there are only ever a handful on the court during the match it is estimated that around 250 boys and girls from the local area are recruited every year to help out.
However, it a slightly less encouraging fact ball girls weren't allowed on to the prestigious Centre Court until 1985. Thankfully a lot of things have changed since the 1980s.
Rufus the Hawk
If you live in London you'll be more than aware that pigeons are a bloody nuisance and will literally take over any spot with the remote chance of getting some food.
We don't wish to deprive our feathered friends of food but it would be a bit annoying if, say, Rafael Nadal was serving for a match and a pigeon landed on the net and distracted everyone.
That's where Rufus the Harris Hawk comes into play. Rufus has been scaring away other birds from Wimbledon for the last 15 years and is let out every morning before gates open to get his job done.
Strawberries and cream
One of the staple treats of visiting Wimbledon is eating the now traditional delicacy of strawberries and cream.
According to the official Wimbledon website, approximately 28,000 kg of strawberries will be eaten during the tournament accompanied by 10,000 litres of cream.
It should also be noted that the dessert has remained at the price of £2.50 since 2010. Take that inflation.
The queues are torture
While you are watching from the comfort of your own home and have the pleasure of the best seat in the house spare a thought for those trying to get actual tickets.
During the intense summer sun, Wimbledon patrons can often queue from the early hours of the morning to just stand a chance of getting a ticket for one of the main courts (some even choose to camp).
This can often come with its dangers. The Guardian reports that 190 people had to be treated by St John's Ambulance in just the first three days of the 2017 tournament.
LGBT+ winners
Wimbledon, as well as tennis, has one of the richest histories in supporting LGBT athletes and many of them have succeeded at Wimbledon.
Perhaps the most famous of these is the incomparable Martina Navratilova who has won the Women's Singles competition nine times and doubles 11 times.
Other notable LGBT players to have competed at Wimbledon include Billie Jean King, Helen Jacobs, Bill Tilden, Gottfried von Cramm and Amelie Mauresmo.
Flying ant invasion
Remember when we were talking about those pigeons and how Wimbledon to deal with them? That was an easy problem to solve but what do you do when a tennis court is being attacked by flying ants.
During the 2017 tournament players were literally being swarmed by flying ants during their matches with the winged insects causing havoc for many.
The likes of Sam Querrey, Johanna Kontra and Aljaž Bedene all suffered because of the ants but it was Frenchman Jo-Wilfried Tsonga who seemed to get the worst of it.
That was strange. Sometimes you have them in the US at night and in Australia.

This was different. It was in my nose, in my hair. 
Loud noises!
A cliche that is often unfortunately thrown at tennis players, especially women, is that they are too loud and vocal when playing the game.
We aren't talking about John McEnroe complaining his way through a match but the actual grunts of physical labour that they let out when returning a backhand smash.
The loudest grunt that was ever recorded at Wimbledon was in 2009 and came courtesy of Russia's Maria Sharapova whose registered 105 decibels, which is roughly the same as a motorcycle engine.