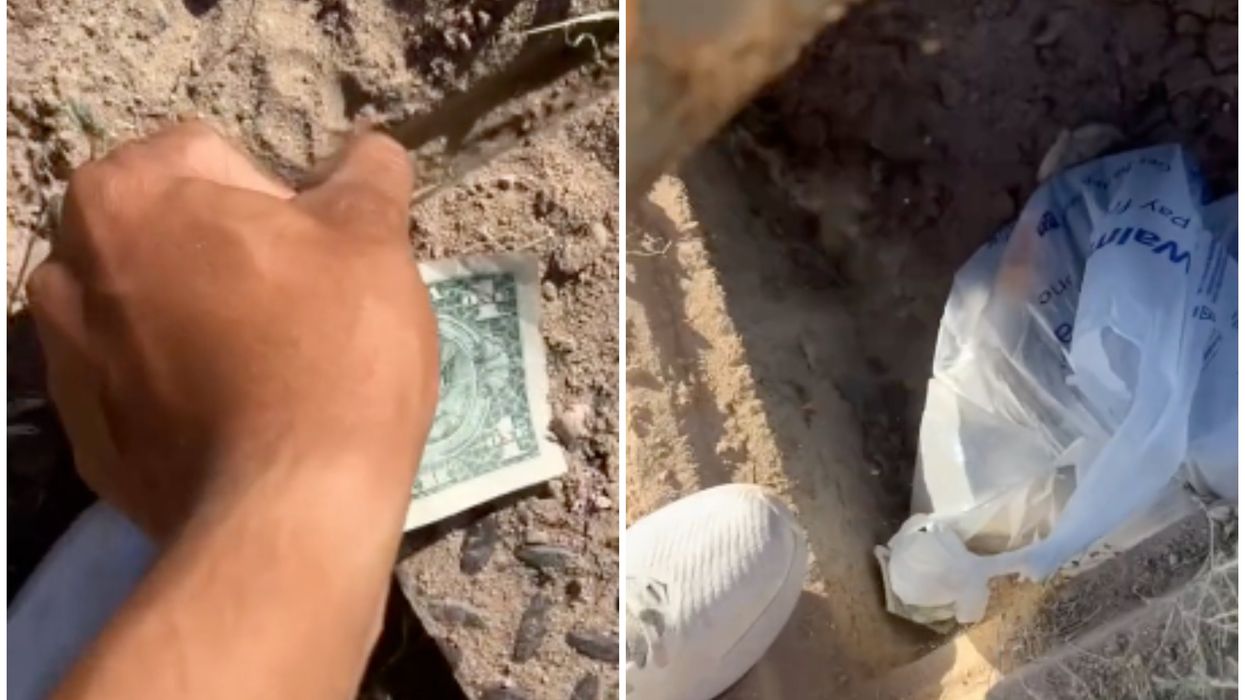 @adrian_peru/TikTok
A TikTok user has found a hidden load of cash, but people have urged him not to celebrate.
The content creator, called Adrian, uploaded a video allegedly documenting the moment he found dollar bills poking out from a drain cover.
Under the heavy metal lid, he also found a plastic bag containing more cash, a wallet, a binder, and a pill bottle.
"What the f**k?" Adrian asked as he rifled through the bag. "No way. What?"
Then, in his home, Adrian opened up the binder, which included a message that read: "To Georgia." Inside the binder were several hundred-dollar bills — and a wad of what appeared to be human hair.
The wallet contained scraps of paper saying things like: "Call Hugh (Georgia)," and featuring dates, dollar amounts, names and doodles.
@adrian_peru

I dont know what I stumbled upon #Crater #Underground #Paperwork #Money #Hidden #Georgia #Sketchy
Commenting on the video, people urged Adrian to leave the stash where it was, fearful that it was left there by potentially dangerous drug smugglers.
"Put that back," one said. "That's a paper route. Lol they'll find it"
"Not him posting this omg," another said.
A third said: "Bro about to be in a Netflix Crime Documentary".
In a follow-up clip, he explained that he'd shown the bag to his family and they urged him to put it back, so he did.
However, he said police then came to his door to quiz him about the find. But when they returned to the spot, "there was nothing in there," he said.
@adrian_peru

Here's the update yall been wait for… #Crater #Underground #Paperwork #Hidden #PaperRoute #Rollerworld
But fellow TikTokers were still not satisfied. One said: "Now it has your fingerprints [on it]. What if the hair was of a dead person…"

And another said: "Just call the police."
But not everyone thought the video was real.
"This is obviously staged... nice try," wrote one sceptic.
Either way, someone went to a lot of effort here.
Sign up to our free Indy100 weekly newsletter
Have your say in our news democracy. Click the upvote icon at the top of the page to help raise this article through the indy100 rankings.