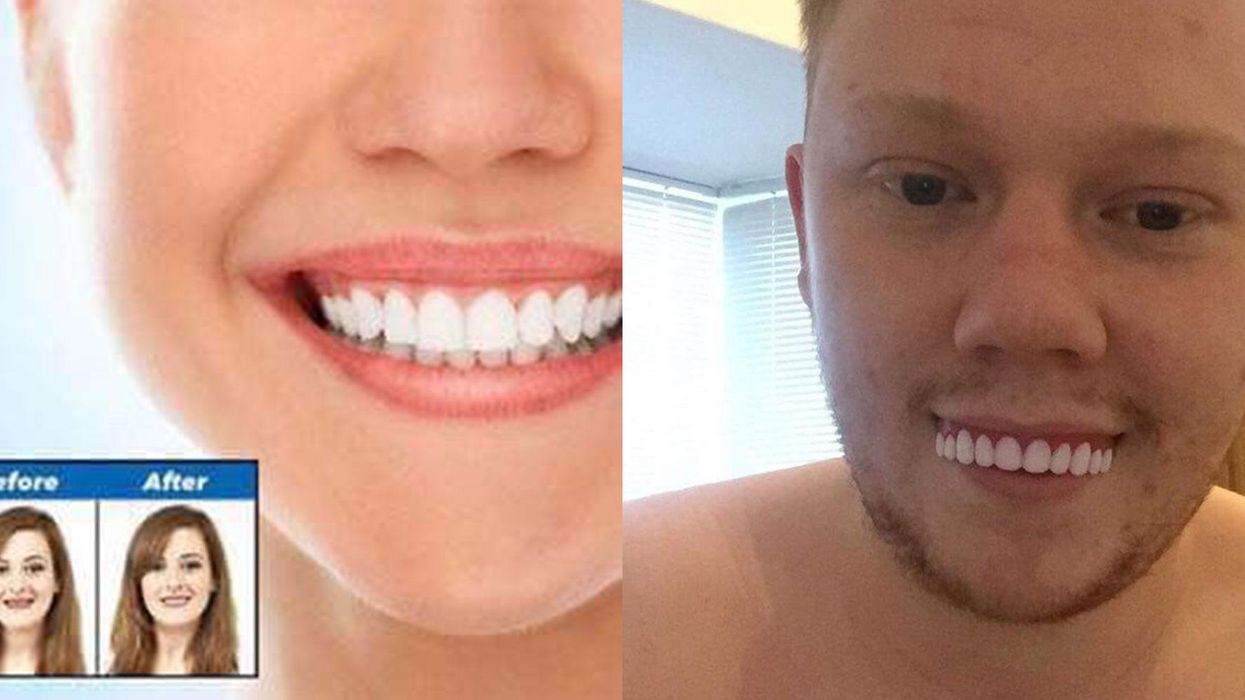 Twitter / @mollie_cooper
You'd think people would have learned by now that buyers should beware on the internet.
Thankfully - well, for the sake of comedy, anyway - people just keep falling for too-good-to-be-true bargains on the web.
Ben Watson, a 19-year-old student, ordered a set of £42 veneers in search for a "Hollywood smile," he explained to indy100. But the result was more horror than Hollywood.
His best friend Mollie didn't hesitate in sharing the results with the world.
Normally veneers cost around £500 to £1000 per tooth. So, this is what £42 gets you.
Ben told indy100 that he bought the veneers as he didn't like the way his teeth looked in photos with flash - he thought he'd got a bargain at first.
I thought they were such a cheap price as well. 

I thought it'd be a really good investment. 

I thought for the sake of going out, I'll put these in and thought nobody will be able to tell the difference. 
On reflection, though, he admitted:
I don't know what I was thinking when I bought them to be honest!
When Ben first saw what the teeth looked like, he said:
I just saw the teeth and thought it was the biggest mess up of my entire life.
It turns out that buying cheap veneers can have some unexpected results.
I went food shopping yesterday.  And a mother and a daughter tapped me on the shoulder asking 'Can I take a photo with you? You're the guy with the veneers.'

It's the craziest thing.
Understandably, Ben has now vowed never to buy anything like that online again.
By the way, this is what Ben normally looks like.