SNARR/Facebook screengrab
A dog whose face was disfigured when he was just five weeks old by an attack has been re-homed.
Woody was left with a crooked face after another dog attacked him and it remained that way because his former owners refused to take him to the vet.
The owners moved out of their home in Tennessee and abandoned him, chained and without food, outside the property.
Speaking to The Dodo, Courtney Bellew, director of Special Needs Animal Rescue & Rehabilitation (SNARR) said:
He was just left chained up.

I guess people in the neighbourhood were feeding him.
After six weeks of this, someone got in touch with Bellew, who immediately picked him up.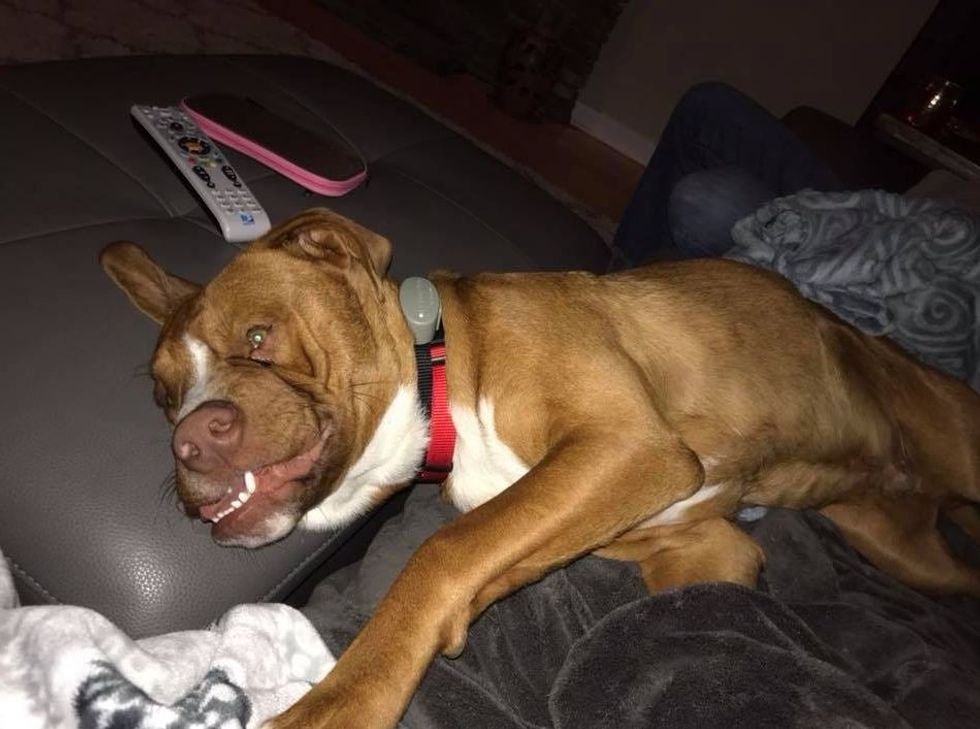 Picture: SNARR/Facebook screengrab
I first met him when he came off of transport last weekend in New York City, and he's absolutely hilarious.

His personality matches his kind and goofy face. He's a big puppy. We think he's about eight months old, but he acts like he's about eight weeks old. 

He's very playful and very affectionate. He's a typical goofy pittie puppy.

Because his face is kind of cute and silly looking, the personality and face together just make him extra adorable.
After a few days in the rescue centre in New York, Bellew's friend Jamie Bond decided to foster him, opening her home to Woody just in time for Christmas.
Picture: SNARR/Facebook screengrab 
She told The Dodo:
He is a total sweetheart and we are so lucky to have him as part of our foster family.

While his face might look funny, he doesn't think he's any different than the other pups in the house.
indy100 contacted SNARR, who were happy to report that Woody has since been adopted.
HT The Dodo